Busy Monday (Normal)
Mondays are always nuts. Plain and simple. And today was no different.
–
THE DAY IN GENERAL
I managed to say goodbye to the caged raccoon I had been feeding all weekend to keep alive so it could be hauled away.
Then off to walk with another professional writer and talk about a session or two he and I will be doing at the Master Class in October. Great discussion while we got exercise walking in circles around a mall parking lot. Usually we walk around the mall, but it's crazy tourist season here and the mall if full of herds.
Then I went off to the snail mail, grocery store for lunch, then to WMG Publishing to do workshops and I worked on other stuff.
Home when Kris got there at 7:30 p.m. to watch some news, nap a little, then dinner and dishes before getting into this office to do assignments at 10 p.m. This is the worst day of the July and August workshops for me, so I worked on them until midnight, went to watch some television to take a break, then back at 1:30 a.m. and worked until 3 a.m. to get them all done.
I think tonight was the most I have ever done in one night. Glad this doesn't happen very often.
Then at 3 a.m. I went to write on the novel. Got 1,100 words done and came back to this computer to work on another chapter on the blurb book.
Four chapters now. Twelve of the thirty-two blurbs written. Gaining on it.
However, the novel is snailing along… got to do something about that.
1,100 words on the novel, 1,000 words on the sales book.
–
TOPIC OF THE NIGHT: Another cat picture
Since I spent time doing chapter four on the sales book, and you folks have that to read instead of a topic of the night, you get another cat picture.
Our third cat and the guy who runs the household is named Galley. He is very annoyed at the issues of Smith's Monthly I have on the couch. I took this back over a year ago when there were only five issues out. (There are now 21 and another coming in a week or so.)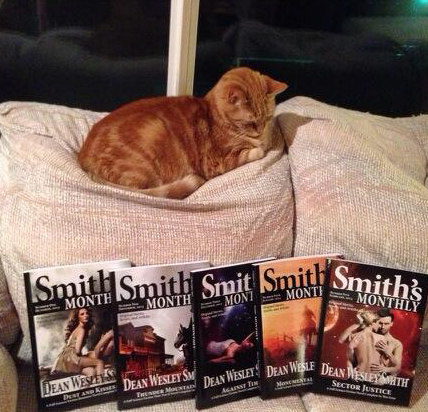 ———-
Writing of Heaven Painted as a Cop Car
Day 1… 2,100 words… Total Words to date… 2,100 words.
Day 2… 2,300 words… Total Words to date… 4,400 words.
Day 3… 0,000 words… Total Words to date… 4,400 words.
Day 4… 2,400 words… Total Words to date… 6,800 words.
Day 5… 2,100 words… Total Words to date… 8,900 words.
Day 6… 1,100 words… Total Words to date… 10,000 words.
–
————
Totals For Year 3, Month 1, Day 10
Writing in Public blog streak Day 740
— Daily Fiction: 1,100 original words. Fiction month-to-date: 10,000 words  
— Nonfiction: 1,000 new words. Nonfiction month-to-date total: 6,400 words
— Blog Posts: 500 new words. Blog month-to-date word count: 5,400 words
— E-mail: 56 e-mails. Approx. 2,400 original words.  E-mails month-to date: 322 e-mails. Approx. 10,600 words
— Covers Designed and Finished: 0. Covers finished month-to-date: 3 Covers
——–
You can support this ongoing blog at Patreon on a monthly basis. Not per post. Just click on the Patreon image. Extra stuff for different levels of support and I will be adding in more as time goes on. Thanks for your support.
Or you can just toss a tip into the tip jar with a single donation at PayPal. Either way, your support keeps me going at these crazy posts.
And thanks.