How to Write Fiction Sales Copy: Chapter Three
HOW TO WRITE FICTION SALES COPY
CHAPTER THREE
(Summary. This book is coming about because I need to write 32 story blurbs for the 32 short stories I wrote in July for a book titled Stories from July.)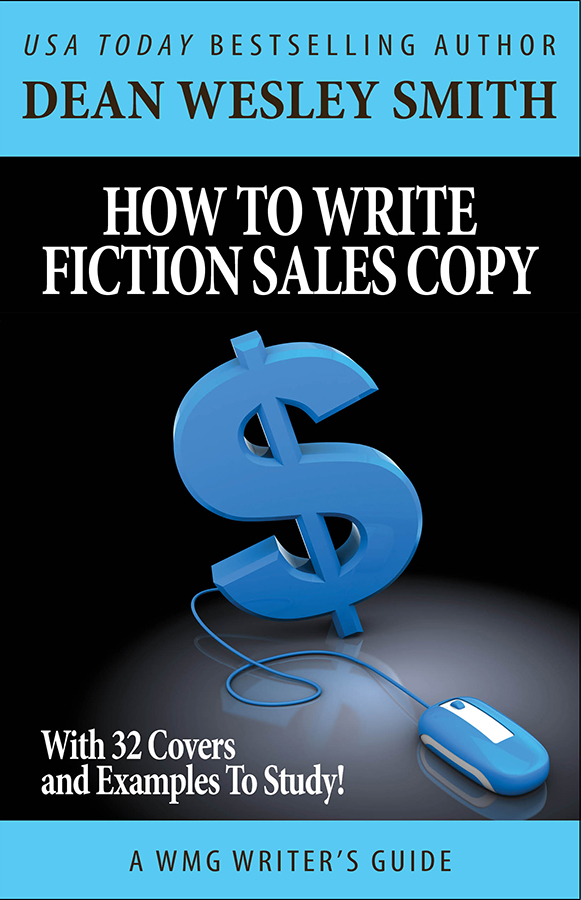 In the first chapter of this book, I touched on what I call "The Author Problem" and gave a basic formula that I sometimes use to give blurbs a structure.
And in chapter two I laid out another formula for writing blurbs.
This chapter, my friend, professional fiction and extraordinary comic book writer, Lee Allred put in the comments on my web site a great way of looking at blurbs to stay out of author problems.
What he uses is the first three parts of the Algis Budrys plot structure to open a blurb.
1) Character. 2)In a Setting. 3)With a Problem
Then, as he said, if you are using the try-fail cycles that Algis Budrys talks about in his plot summary, you are deep in the weeds of plot-telling.
So Lee suggests opening with Character in Context with a Problem, use no passive voice, and a strong hook line for the last line.
I can only agree completely, Lee.
And I have seen a bunch of Lee's blurbs and he has written some for the upcoming Poker Boy relaunch and they are stunning.
Thanks, Lee.
Yet another way to approach these. In three chapters, that's three ways.
So no onward. Let me see what I need to do on a few more covers.
—-
Roses Around the Moment: A Ghost of a Chance Story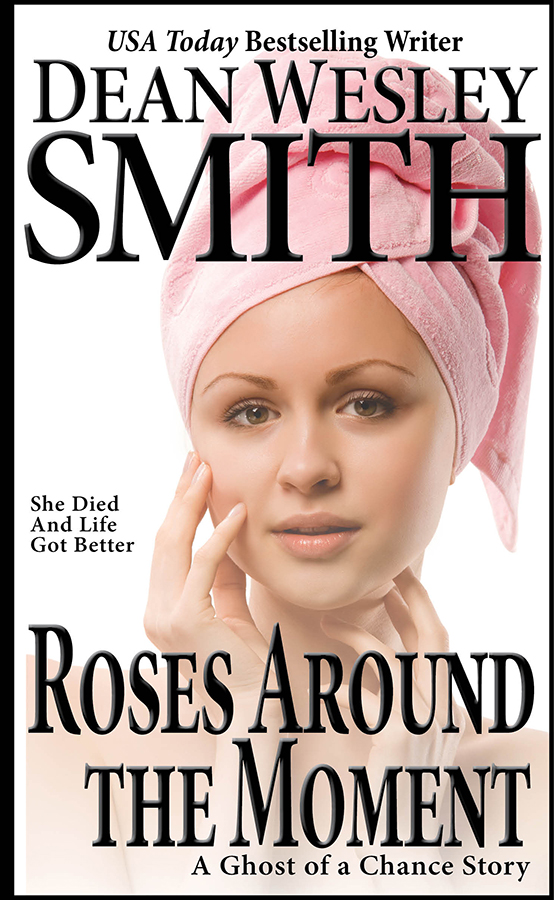 Eve Bryson died so fast that she felt fine, standing on a twisting mountain road in the rain, not realizing her body lay broken in her Miata down a slope. 
Then hunk-of-a-man Deputy Cascade steps into her life, arriving on the scene to investigate her death.
Wet, cold, hungry, and needing to pee, she finds herself dead and in lust. Then things really start to happen.
Eve died. And life got better.
—
I have written three Ghost of a Chance novels, but I think this was the first short story in that world. The story stands alone, but it is clear that these two characters, one a ghost, another a superhero, will have their own novel.
This is another tie across to my Poker Boy world. The Ghost of a Chance agents are basically a team of ghosts that run around and save the world, sometimes working with Poker Boy and his team.
However, not a bit of that could be in this blurb. Not a bit. This story stands alone and is a great introduction to a ghost and a superhero cop. So I had to focus on the story.
So I did what Lee suggested here in a way.
I also used a romance trope. (This story would be a meet cute in a romance novel.) Introduce her and setting. Then introduce the hero. (Actually a superhero, but she doesn't know that.)
Give her lust after the hero. Set her opening setting even more firmly.
Then tag line. Which is also on the cover.
With three novels, the author problem was strong in this one to try to explain all that. I refrained.
—
For the Delusion That Waited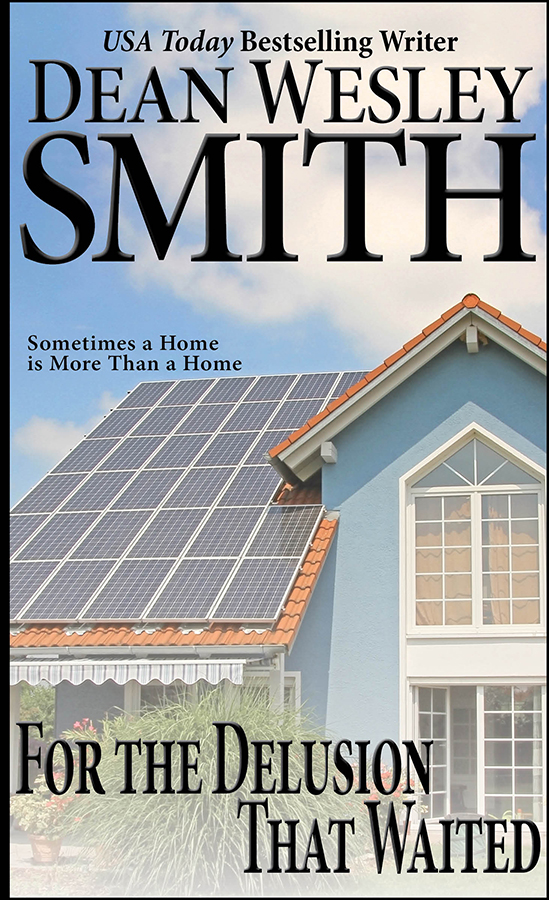 Modern homes take care of themselves more and more. Called "Smart Homes," new features get added every year.
Imagine a spotless, five-bedroom home, self-cleaning, self-sustaining, and furnished with the best 2051 furniture human styles offered.
The home named Matilda also repaired itself.
A simple short story that asks a standard science fiction question: What if this goes on? 
—
This story is the shortest of all the stories I wrote at 1,250 words. It is a biting science fiction IDEA story.
But the problem with that is I didn't dare take any of the power away from the story in the blurb or the cover. Huge author problem here. One slip and I would ruin the story completely.
So I went back to my first chapter's formula for blurbs for this story.
Paragraph one idea set.
Paragraph two set the scene, such as it was. But I wanted to set the year to make sure this was clear that it was in the future.
Paragraph three added in that the house was an AI and had a name.
Last paragraph nails the genre and I hope gets readers interested in reading about what might just happen if smart homes went on. At least 1,200 words of reading.
—
Here to Stay on the Edge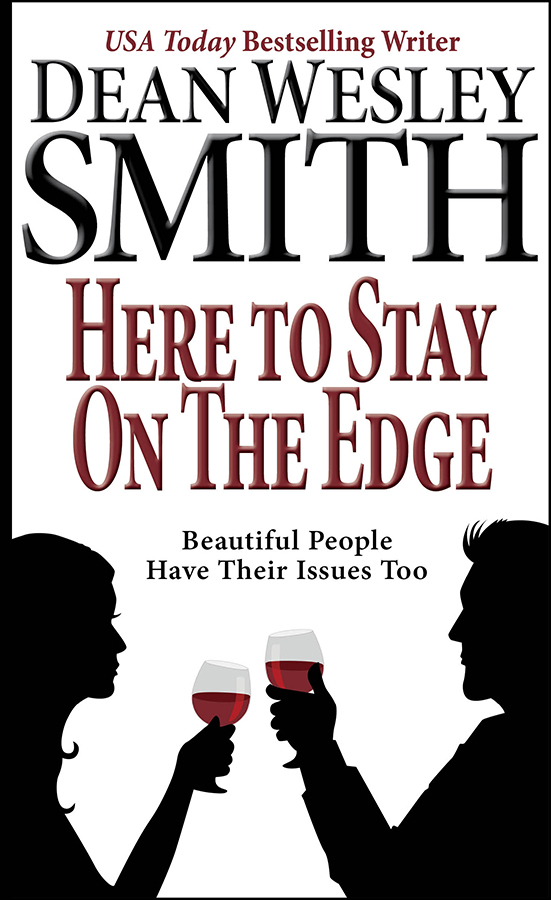 Stunningly beautiful Carol Lynn once again finds herself stood up on a blind date. A romantic patio, perfect warm evening, the smell of roasted duck in a thick cheese sauce, and a glass of red wine in her hand. 
Perfect. If the bastard showed up. But the empty chair across from her spoke volumes. 
Then the most handsome man she might ever dream about sat across from her. Not her date. And not in her league.  
A sweet story of a romantic dinner. And a possible future.
—
This story is a meet cute romance short story. So I needed to set the stage first.
This I used Lee Allred's form more than any other.
Character, in a setting, with a problem.
Problem came in paragraph two.
Romance form required the male side of things to come on stage. Paragraph three.
Last paragraph punches the romance element solidly.
Again a story with a bunch of fun stuff in it that I didn't dare reveal in the blurb, so author problem caused me to write and then back up a few times on this blurb.
—
Author Problem Check
Did I get into any author problem on any of these three stories? All were difficult because of author problems. But I think I stayed out of them.
Were there any passive verbs in any of the three blurbs? Nope, none that I can see, but a couple on the covers of two of the books, which is fine for tag lines there.
Did I once go "and then this happens" with the plot I did reveal? Nope
I think all three of them don't have any author problems. But all three wanted to have more plot in them.
Onward to more blurbs. And thanks, Lee Allred, for adding in yet another form.