The Magic Bakery: Chapter Seven
Chapter Seven…
I knew I was going to need to talk about this topic in a chapter and honestly, have dreaded it. Writers, especially newer writers have no understanding of the value of their own work and how others value it.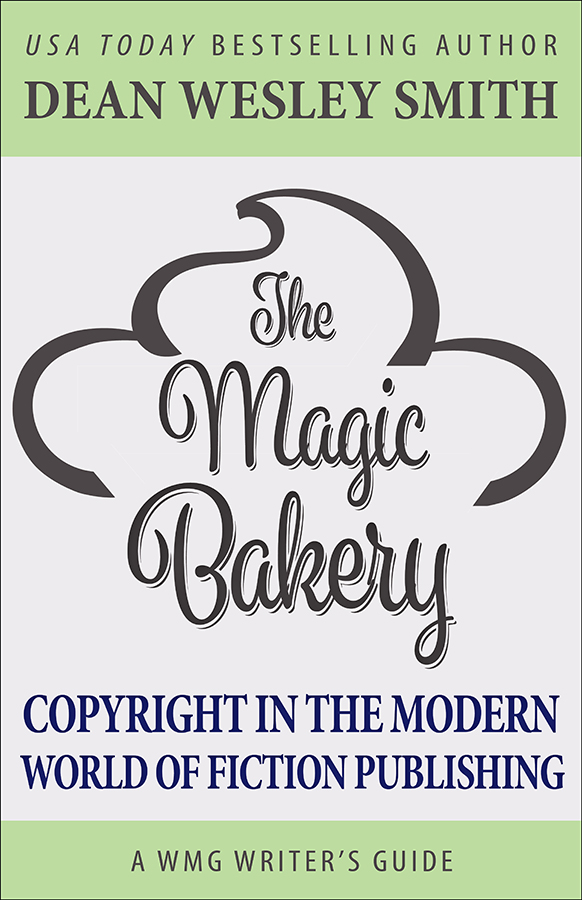 So with that problem in mind, I am going to try to add a level of understanding of value of copyright to this book. For most of you, I will fail at this, but at least I can say I tried right here in Chapter Seven.
I'm calling this chapter "Perceived Value" of the inventory in the Magic Bakery.
I cannot even begin to count the hundreds and hundreds of times I have heard a new writer say, "I'm new so I should give my stuff away or sell it for only 99 cents."
I will not get into a pricing discussion here. There are lots of other places out there in the vast world of the inner-tubes to shout about your price being better or worse than another price. Go to it.
I am talking about "Perceived Value."
The Dollar Store
Here in the US, there are numbers of chains of stores known for selling things at one dollar. To make sure I was correct in my perceived value of the goods in the Dollar Store, I stopped by the one here on the coast a few days ago.
Lots of small toys, all cheap. Lots of household stuff you could get for a buck in any supermarket.
Everything that was either normally a buck in another store or some cheap knockoff. The entire store.
Now, if I had gone in there looking for a fine bottle of wine, I would have been very disappointed. But I went in there knowing I would be finding exactly what I found. Cheap stuff worth less than a buck.
My "Perceived Value" of that store was right on. I went in expecting cheap and I got cheap. Both in price and quality of the goods.
Let me repeat that: I got cheap price and a cheap quality of the goods.
And I was not surprised.
So I log onto a web site for a writer I do not know. (Most writers, both experienced and new. I have no way of knowing the difference. And neither do readers.) And I see nothing but free and 99 cent books. What do I expect?
I expect a cheap and lower level of goods.
And since I like to be entertained and only have so much reading time, I will go find another author. Yes, I will pay more. But my two hours of reading won't be wasted.
Quality wine vs a buck bottle of whine. Sorry, I like a good wine.
Readers are no different. (Sure, there are the only buy cheap or free reader and they sometimes find something worth reading. I got that. Not my customer.)
The Discount Mall Principle
Perceived value is a major art form in discount malls. We have a massive discount mall here and all of the stores in that mall show the original price on every item and then the discount price and the sale price and then for today only take off another 25% if you can stand on one leg and snort.
But that original price is right there on the tag. You can get a $200 coat for today only if you snort loud enough for $49.99.  The customer has a perceived value of the coat at $200. Wow, what a deal and they grab it.
Also top brand-name stores are in the mall. Nike for example. Just by walking in that door the customer knows of the perceived value of a Nike shoe.
The Magic Bakery Value.
Since you own your Magic Bakery and create all the product, you have the freedom to set your own prices. A logical way to do that is to figure out what other books in your genre are selling for. Then look at what Amazon suggests is a sweet spot.
In other words, toss out all your emotions about the lack of value of your work and do the research to figure out what is a good price range for your genre.
It really is very simple. And then, if you have the price stated clearly, you can do those special one-day sales to see how well your customers can snort.
You set the perceived value of your work.
Do not set it with emotions and fear and self-loathing.
Pretty sure self-loathing is not a principle in business pricing economics. (Except for young writers in fiction. Since new writers gained this control, they have taken self-loathing of their own work into the gutter of pricing. Stop now. Just stop.)
The New Traditional Model of Perceived Value.
Here is where things get tough and I will not turn one person's head, but I have to talk about it.
Intellectual property (IP) is what makes up all the pies and cakes in your bakery. Everyone got that?
IP has a value. (Yeah, Dean, we know, we know.)
But alas, you do not know at what level.
Ever wonder why over the last ten years traditional publishing contracts have gone to all-rights for the life of the copyright?
Ever wonder why it is almost impossible now to get books back from traditional publishers once you have sold all rights?
Because IP has a value. Not just a sales value of possible income earned. An accounting value to major corporations.
There are many, many companies now that are buying IP and have no intent of ever marketing it or publishing it or making it into a movie. They simply want the IP.
Yes, your IP. (Your pie, your cake.)
I'll bet you didn't know that there are a ton of major companies out there with the only job, the only reason they exist, is to value IP for other companies.
Don't believe me? Simply Google "IP Valuation" and then do some reading.
THIS PRACTICE HAS ONLY BEEN AROUND FOR A DECADE OR TWO. Yeah, about the time traditional publishers stopped putting in even decent claw-back clauses for your rights and bought everything.
They bought your entire Magic Pie and they took it out of your store and they know how to value it. They do not care if anything is ever made. They need the value for their bottom lines in the accounting.
Your pie adds value to the big corporation base.
At the moment there are four or five ways that are basic ways that these valuation companies value your IP. But a couple of the sites said there are over 25 other alternative methods.
Trust me, traditional publishing, after grabbing your IP for next to nothing, leaving your bakery with your pie, know all the tricks of making your IP far, far more valuable to their bottom line than what they actually paid.
There is even one method called "Relief from Royalty" that allows the valuation to be made up in case they needed to sell the movie rights, or the translation rights, or whatever. And assuming all those rights did sell in this made-up "arms-length" scenario, that would be the value of your IP.
And did you know one major thing about IP??? It is a property and thus can, under certain circumstances, be deprecated by the corporation.
So they buy your IP for $5,000 because they promised you a movie. They now own it.
They value it under one of the many ways of valuation far, far higher than what they paid and get some major valuation company to sign off on it.
Then they start depreciating it to get the tax deductions on other money coming in. Only one minor way.
Another method is the "Venture Capital Method" which is a name for what I try to get writers to understand about the value of their copyright over the 70 years past death. This method basically values the possible future cash flow OVER THE ASSETS LIFE. And there is no adjustment to any probability of success.  Just a wild guess as to what it might make over its lifetime. Yup.
Your wonderful pie is nothing more than an accounting trick.
(If you want to read one good article about this on the IP Watchdog site, it is here. But do the Google search. It will blow you away.)
Summary
— Never sell all rights. Never let your pie leave your bakery for any reason or any amount of money.
— Research and learn the common indie prices for your books, both paper and electronic. (Ignore traditional publishing prices, as you have just figured out, they sort of don't much care any more.)
— Grow a sense of self-worth that your writing has value. Then treat it as it has value.
How your readers perceive your work is everything in this new world. Start making sure they don't think of your stuff as cheap plastic doomed for the dollar store.