Wonderful Dinner Tonight…
Got my five miles in today, had a great meeting for WMG this afternoon, then spent some time doing Smith's Monthly covers.
Then my best friend and I went out to dinner. He and his wonderful wife are in town for the week and it has been great fun hanging around with them. I have known him now for 53 years and he has put up with me and supported my craziness for all that time.
So by the time I got home it was almost 11. I did some e-mail, watched some television, then did some more Strengths Workshop homework and read some wonderful stories from those in the Short Story Challenge starting in May.
Then I finished up the Magic Bakery chapter I have been dreading writing. It is above this.
—————-
JUNE ONLINE WORKSHOPS…
All have openings at the moment. Information at
www.wmgpublishingworkshops.com
Any questions at all, feel free to write me. And if you are confused as to which workshop to take first, we have a full curriculum posted on its own page.
Class #51… June 6th … How to Edit Your Own Work
Class #52… June 6th … Point of View
Class #53… June 6th … Writing Mysteries
Class #54… June 6th … Speed
Class #55… June 6th … Teams in Fiction
Class #56… June 7th … Depth in Writing
Class #57… June 7th … Expectations (Writing on the Rails)
Class #58… June 7th … Character Development
Class #59… June 7th … Writing Secondary Plot Lines
Class #60… June 7th … Advanced Depth
———
MAJOR WRITING BUNDLE
Just leaving this post here because this only has about a week left. Don't miss this one.
Amazing stuff for only $15 or $20 bucks.  And AbleGamers is the charity on this bundle, which is one of the best causes I have ever seen.
Authors in this are Mary Buckham, Tonya D. Price, Kristine Kathryn Rusch, Lawrence Block, me, Maggie McVay Lynch, Leah Cutter, Chuck Heintzelman, and Joanna Penn. Plus a $50 lecture from WMG, a discount to get Jutoh, and a discount to all the stuff at a Writer's Cafe.
You can get it all for $15.00 or $20.00 and give some to AbleGamers. If you are serious about learning your craft and business of writing, this is about as cheap as it comes, folks.
—————
The Writing of HEAVEN PAINTED AS A SUNSET: A Ghost of a Chance Novel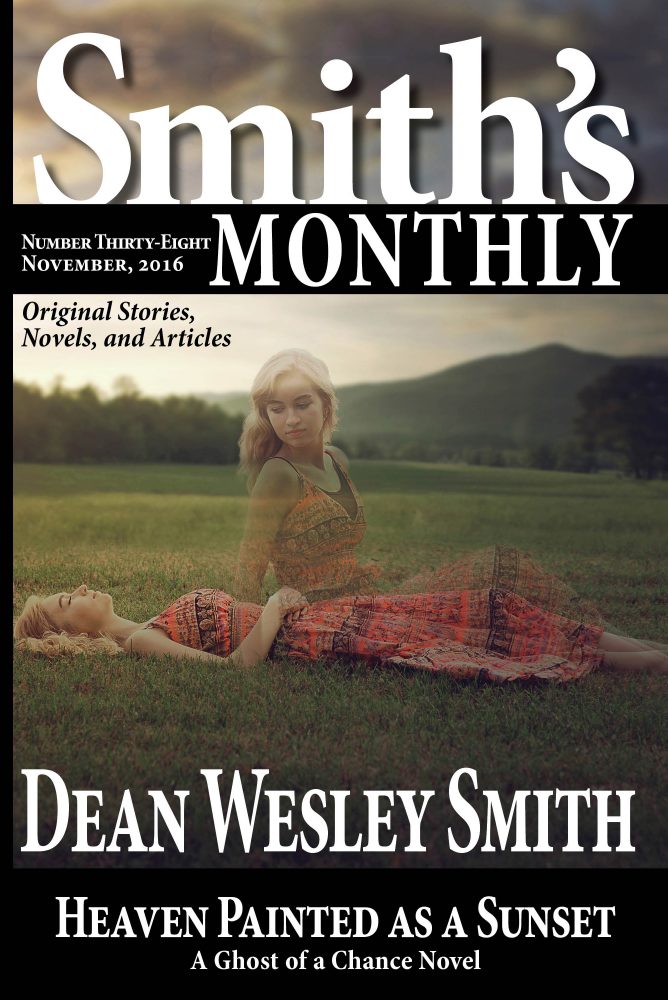 Left off on January 5th before writing the book in Las Vegas. Left off at 28,500 words.
Cut back to 16,500 word mark. Restarted. 
 Day 1 (of restart)… Words written… 1,100.  Total so far… 17,600 words.
 .
—————-
Tracking Running… May 3rd, 2017
5 miles. No running.
Weight 195. (Goal 170)
Month to date distance: 14.5 miles
————–
Tracking Word Counts… May 3rd, 2017
Totals For Year 4, Month 10, Day 3 (Year started August)
Writing in Public blog streak… Day 1,322
— Daily Fiction: 00 original words. Fiction month-to-date: 1,100 words  
— Nonfiction: 00 new words. Nonfiction month-to-date total: 00 words 
— Blog Posts: 1,600 new words. Blog month-to-date word count: 2,500 words
— E-mail: 21 e-mails.  Approx. 1,800 original words.  E-mails month-to date: 92 e-mails. Approx. 7,000 words
— Short Fiction Goal: 120 stories (July 1st to June 30th). Stories to date: 38 stories.
— Novel Goal: 12 Novels. Novels finished to date: 5 novels.
———-
You can support this ongoing blog at Patreon on a monthly basis. Not per post. Just click on the Patreon image. Thanks for your support.