Took A Couple Hours…
And met with an antique dealer friend here in Vegas and sorted marbles. She has a shop that I have been buying marbles from and when I showed up today she started pulling out bags and boxes of unsorted marbles, so for two hours I helped her stock her display case and figure out which marbles were new and which were older and expensive. To a marble collector like me, that was heaven.
I also bought a antique 30s or 40s leather marble bag with the word "marbles" on it and a cowboy on a horse. No idea what or when it came out, but way cool. Metal crimp on the tie tells me before the war.
And I got about three hundred marbles at a good price. Haven't really started sorting them in any way yet. They were just in bags, so I dumbed them into a wooden padded display. So a fun day flashing back to my old life in collecting. Only two collections left in my life, marbles and digests. Both still fun. Both collections in storage except for these new marbles I have been buying. Maybe someday. (grin)
I did find a few of these I noticed at a glance when dumping the bags, two Clam broths and two Joseph Coats of varying color. They are German hand-made in the 1800s. Amazing glass for kids survived that long, and the four I got that I noticed as I dumped the bags were in the same conditions as these in the pictures from BuyMarbles.com.
First picture is of marbles called Clam Broths. The black on the left in the middle and the brown and blue next to it are identical to the two I got today. The rough spot at the top is the pontail.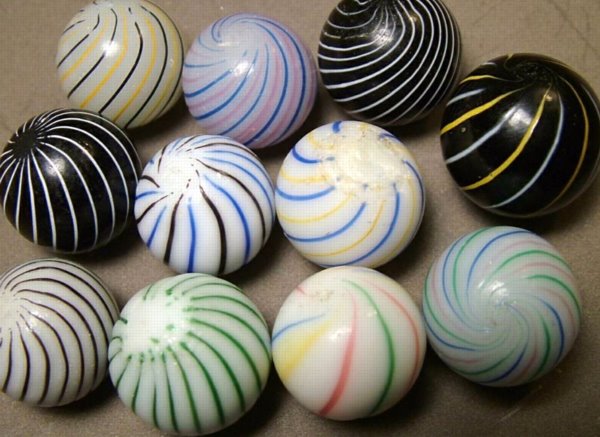 Next picture is of Joseph Coats. They are amazingly beautiful.