Title Problems
For two years I had a simple title at the top of all these daily blogs. I just had to change a number every day.
Got old after two years so decided to title each day.
Yeah, that's working. But it seemed like such a good idea at the time on August 1st.
–
THE DAY IN GENERAL
The day was the day.
But I can say it was full of workshop stuff. Today, tomorrow, and Tuesday are cross-over days, when I have homework from the last of the July workshop and the first week of the August workshops.
Three days every few months are busy like this, so it's no big deal, but it ate the day.
However, I did get a cover done for the new Sales Copy book.
Got workshop stuff done around 2:30 a.m. and went to work on some writing..
By 3:15 I had 1,100 original words done.
Took a short break, then managed another 1,000 original words by 4 a.m.
So again a sort of suckie (sucky?) night at 2,100 words.
The fiction writing night sucked, how's that? Don't even talk to me about the deadline.  I still need to hit it. (grin)
I had part of chapter three done on the Sales Copy book, so I finished that third chapter.
I want to thank Lee Allred for the great comment and a third method of doing blurbs. I used it for one of the stories.
–
TOPIC OF THE NIGHT: Sales Writing
Nothing tonight again. Read chapter three above… Or all three chapters if you haven't yet.
And all Patreon supporters, you will get the book for free when it comes out this fall.
So since there is no topic of the night, you all must suffer with another cat picture for the second night in a row. The horror, the horror…
This is Miss Ella and she slept on my lap for the first time ever while I took a nap tonight.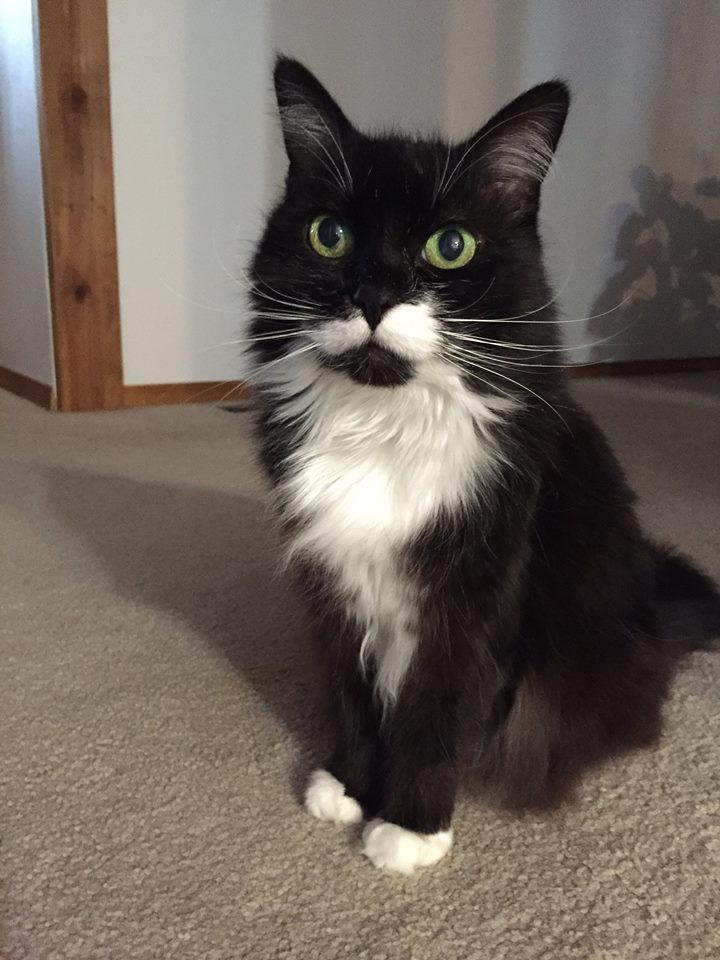 ———-
Writing of Heaven Painted as a Cop Car
Day 1… 2,100 words… Total Words to date… 2,100 words.
Day 2… 2,300 words… Total Words to date… 4,400 words.
Day 3… 0,000 words… Total Words to date… 4,400 words.
Day 4… 2,400 words… Total Words to date… 6,800 words.
Day 5… 2,100 words… Total Words to date… 8,900 words.
–
————
Totals For Year 3, Month 1, Day 9
Writing in Public blog streak Day 739
— Daily Fiction: 2,100 original words. Fiction month-to-date: 8,900 words  
— Nonfiction: 1,000 new words. Nonfiction month-to-date total: 54,200 words
— Blog Posts: 300 new words. Blog month-to-date word count: 4,900 words
— E-mail: 39 e-mails. Approx. 1,600 original words.  E-mails month-to date: 266 e-mails. Approx. 8,200 words
— Covers Designed and Finished: 1. Covers finished month-to-date: 3 Covers
——–
You can support this ongoing blog at Patreon on a monthly basis. Not per post. Just click on the Patreon image. Extra stuff for different levels of support and I will be adding in more as time goes on. Thanks for your support.
Or you can just toss a tip into the tip jar with a single donation at PayPal. Either way, your support keeps me going at these crazy posts.
And thanks.