Book #2 of 70 Book Challenge
Just Came Out on November 17th…
So two books in the first week of the challenge. How fun is that?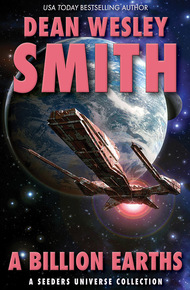 The challenge is to publish 70 major books while I am 70 years old. And just like the first book, this book is now premiering in a nifty new Space Opera Storybundle curated by Robert Jeschonek. The first book of the challenge is still in the Crime Storybundle.
A Billion Earths: A Seeders Universe Collection of five major stories in my Seeders Universe.
And the Storybundle it is in is flat out amazing.  You don't want to miss those books if you are a fan of space opera.
Now technically, the book is not published out wide yet, and won't be for another three weeks. But it is still available in this Space Opera Storybundle as an exclusive to the bundle, so you can still get it along with some other really nifty books.
So don't miss this storybundle, folks. And get my new collection. If you haven't read any of my Seeders novels, you might be in for a surprise. Trust me, the title is not an exaggeration.