I Met Kristine Kathryn Rusch…
I was living in Moscow, Idaho, in an apartment on the second floor in the Moscow Hotel right in the middle of the town and over a bar called The Garden Lounge. My second wife and I were no longer together, although I consider her a friend. I was an assistant manager and tended bar at a billiard bar. And I still drove school bus at times if they needed me to fill in. My house on the Oregon Coast had burned down one year earlier and I had lost most of the writing I had done in the previous three years, plus my first two written novels. (Working on a typewriter at the time, fire started in an electrical panel in my office. Lost all paper, all my books, and it melted my typewriter.)
So a year later I had not really gotten back to writing yet. Just felt pointless. Late one night, at the bar, I get a call on the office phone from Algis Budrys inviting me to a workshop in Taos, New Mexico. He was going to invite what he said were the most promising 12 young writers in the nation and he and Fred Pohl, Gene Wolf, and Jack Williamson was going to teach. It was going to be an experimental workshop that turned out to be the Writers of the Future workshop they do now.
Of course I said yes. Duh. (I really didn't have much money, but no chance was I going to miss that, even though I wasn't writing much if at all at that point.)
I had one week to get from the University of Idaho to Taos, New Mexico. I had to pay my own way and all expenses, but the workshop was free. I quit both my jobs because they wouldn't give me two weeks off and I headed out two days later, with a stop in Berkley for the Nebula Awards along the way.
The day before I was supposed to get to Taos, I was staying at my father's place in Arizona and I once again got a call from Algis Budrys. (How he found my father's phone number, I never asked. More than likely he called my ex-wife, who he liked and she gave it to him. She didn't even know I had left town, but more than likely guessed I would stay at my fathers at one point on my way to New Mexico.)
AJ asked if I would mind stopping in Albuquerque on the way to Taos to pick up two other writers who had flown in to there, but had no easy way to get up to Taos. I said sure.
One of those writers was Kris.
The other writer sat in the front seat and talked about herself all the way to Taos, while all I wanted to do was talk to Kris who was riding in the back seat. I would ask Kris a question, this other writer would answer for her. Finally Kris said, "I can answer for myself."
Kris and I  were not really apart for the rest of the week.
After the week, she went back to Madison, Wisconsin and I went back to Moscow, Idaho.
The bar gave me my job back and Kris and I talked every night for almost a week before I finally said, "Enough."
Once again I quit my job, paid my rent two months ahead and locked my apartment door and climbed into my white Firebird and headed for Madison.
We celebrate the day I picked her up in Albuquerque which was 36 years ago today. Kris reminded me now that I have been with her now more than half my life. Clearly the best half as far as I am concerned.
She talked to me about writing the month we were together in Madison, and while we were driving around the country looking for a neutral place to live, and slowly she got me back from losing everything in the fire to writing again. I doubt I would have been able to make that climb without her.
We were both strong and opinionated and the early fights while learning to be together were epic as our friends from that time period will tell you. But we made it with a fantastic amount of love and laughter and caring.
Together for 36 years, married in December for 30 years. Before Kris I never had a relationship or marriage last more than four years. So 36 is stunning and wonderful.
Thanks, Kris, for the great years and many more to come. Love you.
Some fun early pictures… First photo by Nina Kiriki Hoffman about 36 years ago. 1986.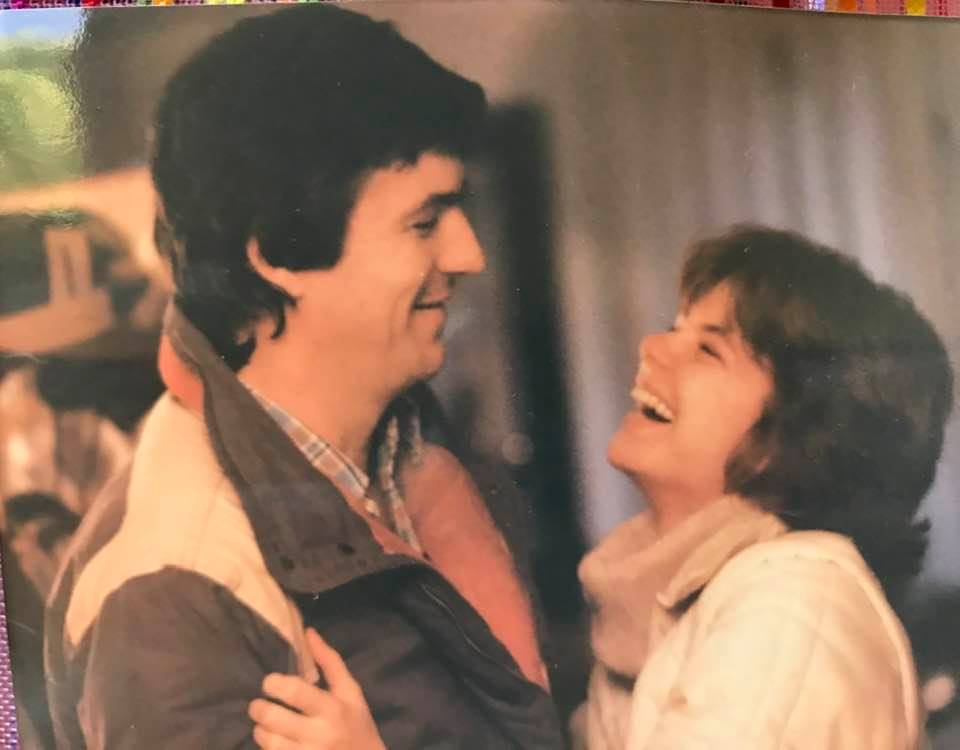 Kris and I with the third issue of Pulphouse Hardback Magazine in the workshop we started in Eugene Oregon in 1987. Sitting next to Kris is Pat Price, at the time the editor of Amazing Stories. About 1988.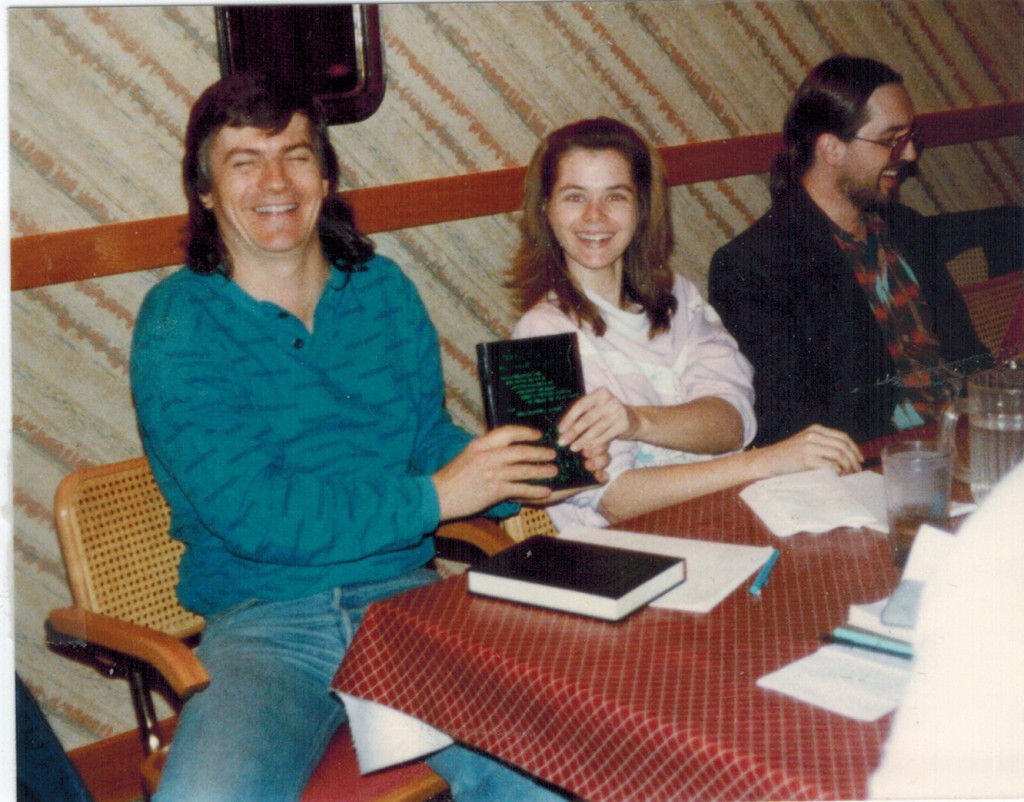 Kris in a normal pose around 2012 in Lincoln City. My white cat Walter is with her and her cat Galley is above her head. (Now we have two cats that look exactly like them, Cheeps and Gavin.)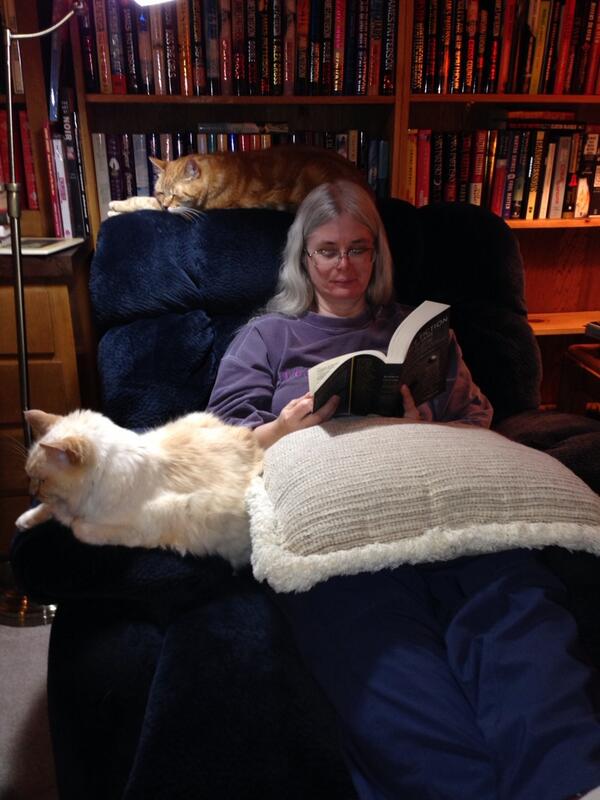 Kris and I at a concert here in Las Vegas. 2019.