Topic of the Night: Writing a Novel in Seven Days: Chapter Two
WRITING A NOVEL IN SEVEN DAYS
Chapter Two
This is going to be fun. I want to repeat that often.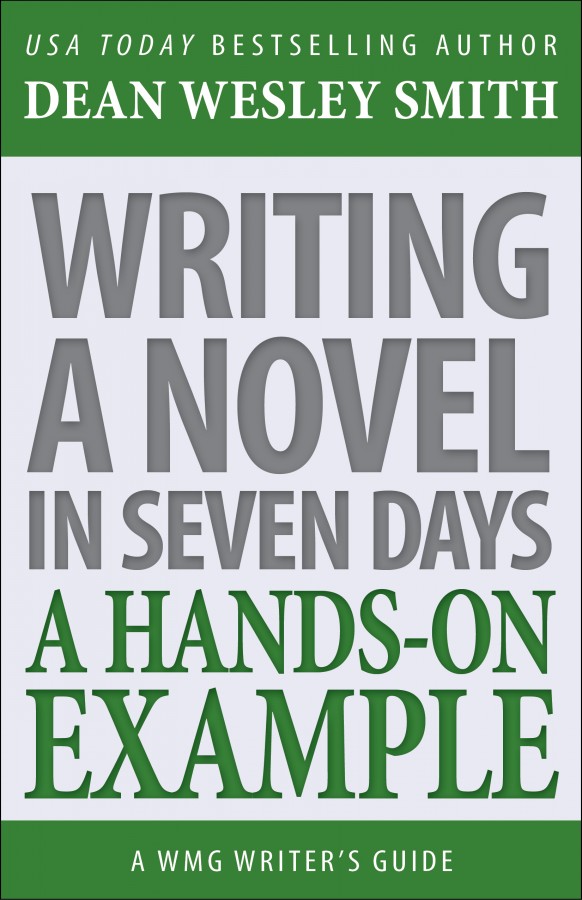 The Challenge is Simple.
Day One: 3,000 words.
And then each day after that add 1,000 words to the amount needed. Seven days, if my math is right, I will have a 42,000 word novel.
3,000… 4,000… 5,000… 6,000… 7,000… 8,000… 9,000 words.
7 Days.
Writing into the Dark
Two days until I start writing. Tonight is Thursday, I plan on starting the novel on Saturday.
So am I planning the book at all? Nope.
This book I have a rough idea, more than normal, because of the short story in Stories from July. that I am jumping off from. But past that, I honestly am giving the book no thought at all. I'm just going to trust the process and sit down on Saturday and start writing.
Why Not Outline?
For me, if I pretend to make up some story idea in an outline, I am bored instantly. I love to read good stories and the fun for me in writing is very much like a reader. I love to explore the story and find out where it is going and how it will end.
If I know the ending, what is the point of writing it? I write for entertainment and fun. I know that just flat shocks a bunch of younger must-write-to-market writers. Shrug. If they survive the next twenty years they can talk to me about how successful they have been writing to market.
Another reason I don't outline is that outlining is from my front brain, my critical brain, and even though I can explain certain things about writing in workshops, my critical brain sucks at making up stories. Always has and is no better now than it was thirty years ago.
But my creative brain is damn good at it.
I write from the creative brain, and I just let that part of my mind play when writing. I basically sit down and say, "Let's go play."
And that's what I am going to do starting Saturday and going for seven days. I'm going to be playing.
But What About All the Writing Problems?
I expect to be worried I won't finish.
And stressed.
And afraid of getting stuck.
And bogged down.
And stuck in the plot.
And all the other stuff that happens through the process of writing a novel.
Let me say that again. I expect all that.
Most writers have trained themselves to fear those things, to worry about all of them, to stress over every silly detail that might or does go wrong.
Me, I find those elements part of the process, part of the excitement of the process. I can't imagine writing an entire novel without most of those things happening at one point or another.
I think of it this way.
When I climb into a seat on a roller coaster, I expect to have ups and downs and twists and turns and thrills. If the coaster just went out and came around smoothly and stopped, I would ask for my money back.
When I write, when I sit down and strap in on Saturday, I expect a roller coaster ride through the novel. And I find that exciting.
I will detail it all, I promise.
And I want to be clear one more time here. This will be my only draft of this novel. It will go directly from these seven days to my first reader (Kris) and then to WMG Publishing to be in Smith's Monthly and as a book later.  I will not write sloppy.
So What Am I Doing to Get Ready?
On the writing side, nothing at all.
On the work side, I'm trying to get a few publishing and workshop things done early. That's all.
And strangely enough, Kris is helping because we're watching a couple shows per night of television we are backed up on so that next week we can get backed up a little again.
So in other words, I'm not doing much at all except writing these blog posts/chapters each night.
What Can Someone Else Do to Get Ready?
I have a hunch a number of people are going to try this challenge, or some extended version of it that fits each person's world and life and family.
So what do I suggest for someone not as experienced as I am at this sort of thing?
Here are a few suggestions.
1… Make sure your friends and family know what you are going to try.
Critical. Get them on board and make sure your schedule is as clear as it can be.
2… Do some writing ahead of time on other projects.
Say if you are going to start on 1,000 words per day and add 100 words, then have a few days of 1,000 plus writing ahead of time on another project like a short story.
In other words, get used to sitting down and writing if you haven't already been.
3… Figure out an area or a series or something you are going to write in.
Don't outline, but instead know the series. For example, I know the series I am going to write into is Thunder Mountain and I know the book title, The Idanha Hotel, and I even have a cover for it.
All of that has got my creative voice wanting to play, to get going. I won't spend any time when I am ready to sit down trying to figure out what to write. Off I will go.
4… Clear out negative thinking.
Expect problems, treasure them as part of the process. Figure out what day the one-third point will hit, or what general time.
We all know that 1/3 part of a novel is a bog-down point, so expect it. For a 40,000 word novel, the one-third point will be about 14,000 words in. That means on Tuesday I need to be prepared to go through that.
So clear out negative thinking and prepare where you can for the issues.
5… Repeat over and over and over that the challenge will be fun. And exciting.
And that you will have fun.
And now that I look back at my suggestions, I realize I have done them all as well. All but the word count on another project. Oh, wait… I have written over 3,000 words on this new book project already.
Guess I am doing all five as well.
So one more time: This will be fun.