DAY BEFORE THE START
All work on Smith's Monthly formatting. And went through Kris's comments on my last finished novel and got all that in. Just need to write an introduction to get that issue of the magazine turned in.
———–
THE DAY
Did errands and worked on formatting Smith's Monthly, the issue that has a Thunder Mountain novel in it called Grapevine Springs.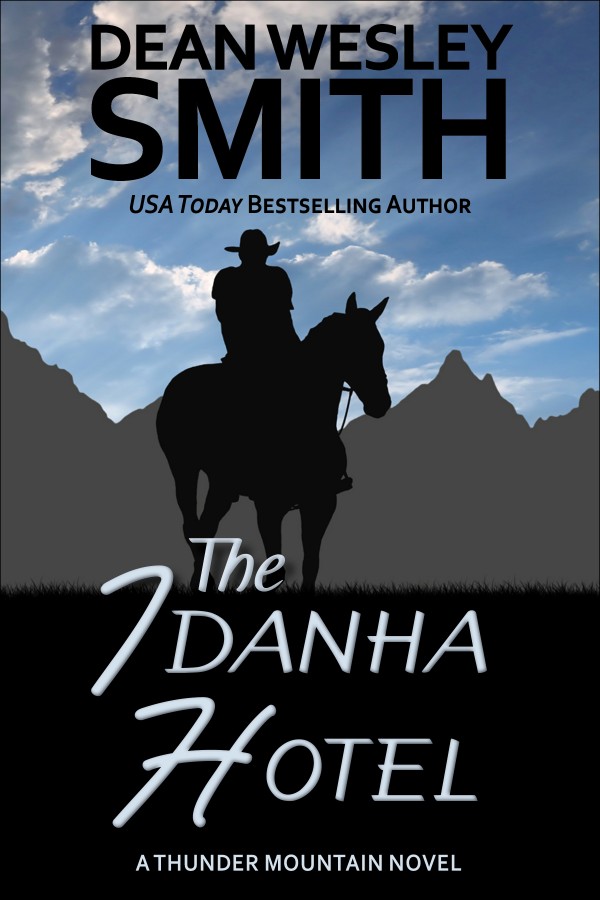 So got to go through a Thunder Mountain novel before the writing challenge starts tomorrow. That was lucky. Sort of put the series back solidly in my head.
Once again I want to put here the nifty cover for the book I am going to do in the challenge. I love it.
Not much else, actually. Kris cooked dinner tonight and has offered to cook on a few of the challenge writing nights later on in the week.
I worked through the Dead Hand novel and followed a few of Kris's suggestions and ignored a number of her smaller suggestions. But her two main suggestions took almost no time to fix and made the book much, much stronger.
Thanks, Kris.
And since I am writing a Thunder Mountain novel, I am putting up the books from the series as featured books of the day. They all stand alone, but there is a reading order above if interested in starting from the beginning. Tonight is book three in the reading order.
And even more fun, Avalanche Creek is the name of a room in the Idanha Hotel.
———–
FEATURED BOOK OF THE DAY
Avalanche Creek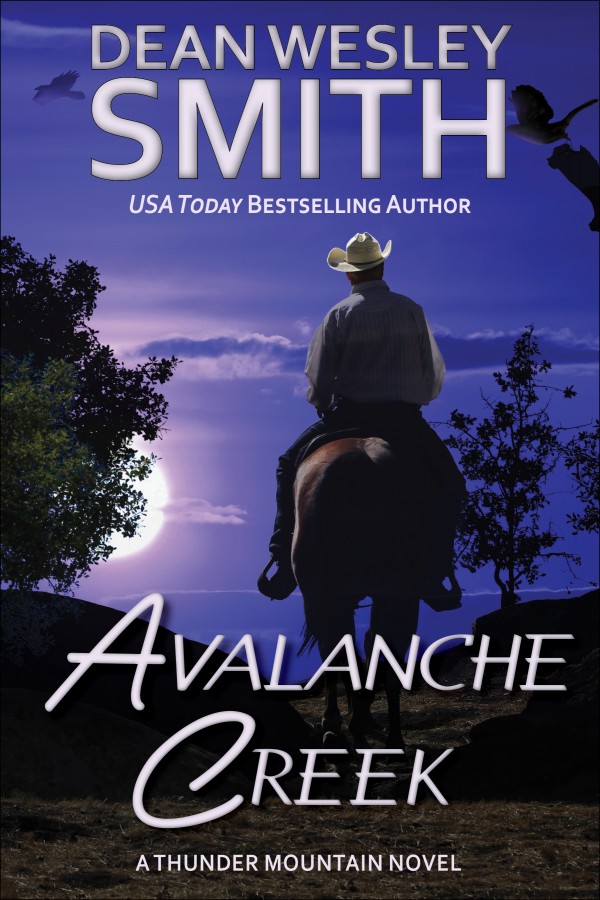 Returning to the time travel western world of Thunder Mountain, USA Today bestselling author Dean Wesley Smith weaves his most complex story to date.
In one timeline, to help with an advanced math problem, Bonnie and Duster Kendal hire Brice Lincoln.
In a second timeline, to help with an advanced math problem, Bonnie and Duster Kendal hire Dixie Smith.
When Brice and Dixie finally meet in the past, instant attraction. And instant problems.
A time travel western that stretches across timelines from the Idaho Wilderness to an old Boise hotel with a very special room.
Available in:
ebook, $5.99
Trade paperback, $14.99
ISBN 978-1-56146-620-7
audiobook
Powell's
Amazon
Kobo
B&N
iBooks
Smashwords
and many others.
For information about all my novels in this series,
click on the Thunder Mountain series tab above under the series reading order tab.
——
APRIL ONLINE WORKSHOPS
All but the one noted of the April online workshops below have openings, but a couple are getting close. This is a great bunch of workshops this month.
Remember, each regular online workshop is six weeks long and takes about 3-4 hours per week to do at your own pace and your own time during the week. And yes, still room in Author Voice. All workshops but Author Voice limited to 5 writers.
All workshops have openings.
Class #31… April 4th … Author Voice
Class #32… April 4th … Character Voice/Setting
Class #33… April 4th … Adding Suspense to Your Writing
Class #34… April 4th … Ideas into Stories
Class #35… April 5th … Character Development
Class #36… April 5th … Depth in Writing
Class #37… April 5th … Plotting With Depth
Class #38… April 6th … Designing Covers
Class #39… April 6th … Writing and Selling Short Stories (FULL)
Class #40… April 6th … Advanced Depth
Classic Workshops and Lectures are also available at any time.
Full descriptions of the workshops and how to sign up under the Online Workshop tab above.
——–
TOPIC OF THE NIGHT: The topic above on attitude
Not much extra here. But I do think I might have insulted a few people with critical voice turned on high in the chapter above. Ahh, well.
———-
Totals For Year 3, Month 8, Day 25
Writing in Public blog streak… Day 918
— Daily Fiction: 00 original words. Fiction month-to-date: 10,700 words
— Nonfiction: 850 new words. Nonfiction month-to-date total: 6,650 words
— Blog Posts: 400 new words. Blog month-to-date word count: 12,300 words
— E-mail: 7 e-mails. Approx. 200 original words. E-mails month-to date: 426 e-mails. Approx. 22,400 words
— Covers Designed and Finished: 0. Covers finished month-to-date: 1 Covers
——–
You can support this ongoing blog at Patreon on a monthly basis. Not per post. Just click on the Patreon image. Extra stuff for different levels of support and I will be adding in more as time goes on. Thanks for your support.
Or you can just toss a tip into the tip jar with a single donation at PayPal. Either way, your support keeps me going at these crazy posts.
And thanks.


If you would like to leave a tip just hit Paypal.me/deanwesleysmith (Goes to WMG Publishing account, but I'll get it just fine.)