Topic of the Night: Writing a Novel in Seven Days: Chapter One
WRITING A NOVEL IN SEVEN DAYS
Chapter One
This is going to be fun. I want to repeat that often.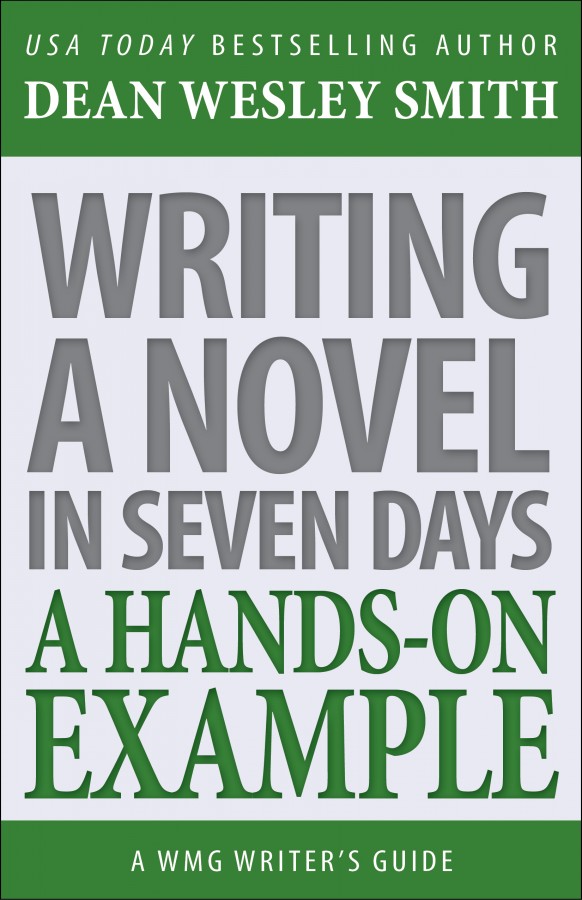 The Challenge is Simple.
Day One: 3,000 words.
And then each day after that add 1,000 words to the amount needed. Seven days, if my math is right, I will have a 42,000 word novel.
3,000… 4,000… 5,000… 6,000… 7,000… 8,000… 9,000 words.
7 Days.
Why Does This Structure Work?
Going to see if it will work, but pretty confident it will if life events leave me alone.
And if you are reading this in a paper or electronic book instead of on my blog, you will know it did work. I won't be publishing this book about writing a novel in seven days if I don't actually write a novel in seven days.
So this will either be a fun blog project or a book project. A two book project, actually.
Why the structure works is pretty simple on the surface.
And yet, under the simple idea, the reasons are complex. So let me see if I can point three of the main reasons out. And in later chapters I'll talk more about the deeper reasons this challenge can work.
Reason One: A daily writing deadline and pressure.
This is the surface reason and it is very valid for many, many writers, me included. I work well under deadlines, while complaining about them at the same time. Yeah, human nature there.
And knowing a deadline allows a writer to prepare and plan for the deadline.
When I was working in traditional publishing, either ghosting a book or writing a media book, I would get a contract to write a novel with a hard, set deadline.
Actually, usually not a contract. I could write a book faster than any traditional publisher could issue a contract or cut a check. I learned after getting burnt a few times that they had to issue the check at least before I would even start writing. Turns out when they needed a project very quickly, they could cut a check in less than two weeks. Shock, I know.
I would look at the project after I was hired, then figure out approximately how long I wanted to take to write the book, which was always worked backward from the deadline that the publisher needed it done by.
So if was due June 1st was the deadline and I was hired on April 15th, I would set my start writing date around May 1st like a sane person.
I would look at the length, the type of book it was, and other factors such if it was a project that I loved or just one I didn't mind and did for money.
Basically, I would figure out the time I needed comfortably to write the book and set that May 1st start date. More than enough room for emergencies built into that date.
Then I would be too busy with something else to start on the start date. Or I forgot about it, more likely. Or I just didn't feel like writing it yet, being a pouty writer.
So I would look at the project again and come up with a second start date, one that would make me work harder, but still had some give in it. For a June 1st deadline I would try for May 10th start writing date.
And I would ignore that deadline as well, letting the clock tick down until I had to start the novel or I wouldn't get the book done on time no matter what.
Then I started, often writing the book in seven or ten days, one draft, and turning it in on time. I never missed book deadlines.
With this challenge, there is no missing the start date. This is a book backed against the deadline.
That's part of the fun of this challenge for me. The start date is real if you want to do this challenge.
Reason Two: Focus
You can't write a novel in seven days if you are not focused on writing a story and producing words.
No excuses, nothing to take my attention away besides major life issues which I hope won't happen. Focus is on the writing only.
And this, as with all my books, will be one time through only. (I don't rewrite, remember?)
So if I run into a research problem, I have to solve it quickly. And I often do have research problems and time problems in the Thunder Mountain series, since they are historical time travel novels.
So the focus will be on the writing, no excuses, no playing in research. Get the detail I need and get back to the writing.
For a few days running up to the start of the challenge and the seven days of the challenge, my focus in life will be on producing a new novel.
(I do not outline. I write into the dark and I will talk about that in a future chapter as well. And why this challenge is suited for that as well.)
Honestly, being completely focused on writing like that is a ton of fun. I seldom get that freedom unless I force it these days with all the other things and jobs I do. (Just as everyone does.)
Three: Ramp up of word count
By starting at 3,000 words on the first day, that allows a writer to start at an easily attainable word count.
If 3,000 words is too many for you in your normal writing, this structure is a bad idea.
But you could change the challenge to start at 1,000 and add 100 words per day. It will take a lot longer to write the novel, but it will get done in pretty fast order even so. Do the math.
For me, 3,000 words is very easy. But I am always slower at the start of a novel, so the start of the book  at a slower pace makes up for the lower word count needed. I am figuring the first day to spend about four hours. Maybe more.
The second day deadline is 4,000 words. I should be into the book by then and up to speed, so I expect that to take around 4 hours as well.
The third day getting 5,000 words will be a push for me, since I have job and workshop related stuff that day. And movers coming to move stuff once again. And I don't want to get too tired too early in this, so this will be the first hard focus day for me.
If I make it through day three, I don't see day four at 6,000 words being much of a problem. I often write that much in one day and Tuesday, from the day job issues looks easier.
Days five, six, and seven are just going to be a push. Nothing else to say about them. Nice thing about getting that close is that it will be harder to miss. And ends of novels always write faster for me than starts.
And on each day I will be doing chapters here about the day. So that's even more writing.
Got a hunch the chapters on the last three days will be shorter and all about the structure of the day getting through that kind of word count per day.
But by then I will be completely focused on the writing and the story. The ramp-up nature of this challenge works perfectly there.
As I said in the prologue and at the start of this chapter, this is going to be fun.