There is a Line To Walk Between the Two…
I got a great question the other day about what I have been trying to do with my exercise and losing weight. And I realized the question also applied to my getting back solidly to writing.
The question was: "Why are you pushing so hard to get back to exercise and running?"
As those who follow here regularly know, since I got to Vegas in August, I have been working to add distance to my walking and running while at the same time losing weight. Two weeks ago, in a 5K run, I was down 20 pounds and had gained lung and strength in my legs after the three months of training. That night I was running nicely and feeling great. At least for an old guy of 68 years of age.
Then I fell.
Cracked my left shoulder, cracked some ribs, knocked my back out of whack, and damaged my left hip, plus some bleeding wounds on my knee, hand, and elbow. I finished the race with a slow walk. (Then went to a very painful dinner at a nearby restaurant that I really wanted to try after the run. Food was great. Standing up from the table not so much. (grin))
Then the next evening I went out and did a half-marathon (13.1 miles… Actually I did 18.2 miles (37,350 steps on my FitBit) with getting to the course and then back to my car). I have to admit those 18 miles caused more injuries on my already very damaged old body, but I finished that as well, as was on the plan that I had been trying to get to for three years.
(Picture is of me at the ten mile mark of the run taken by Kris near our condo.)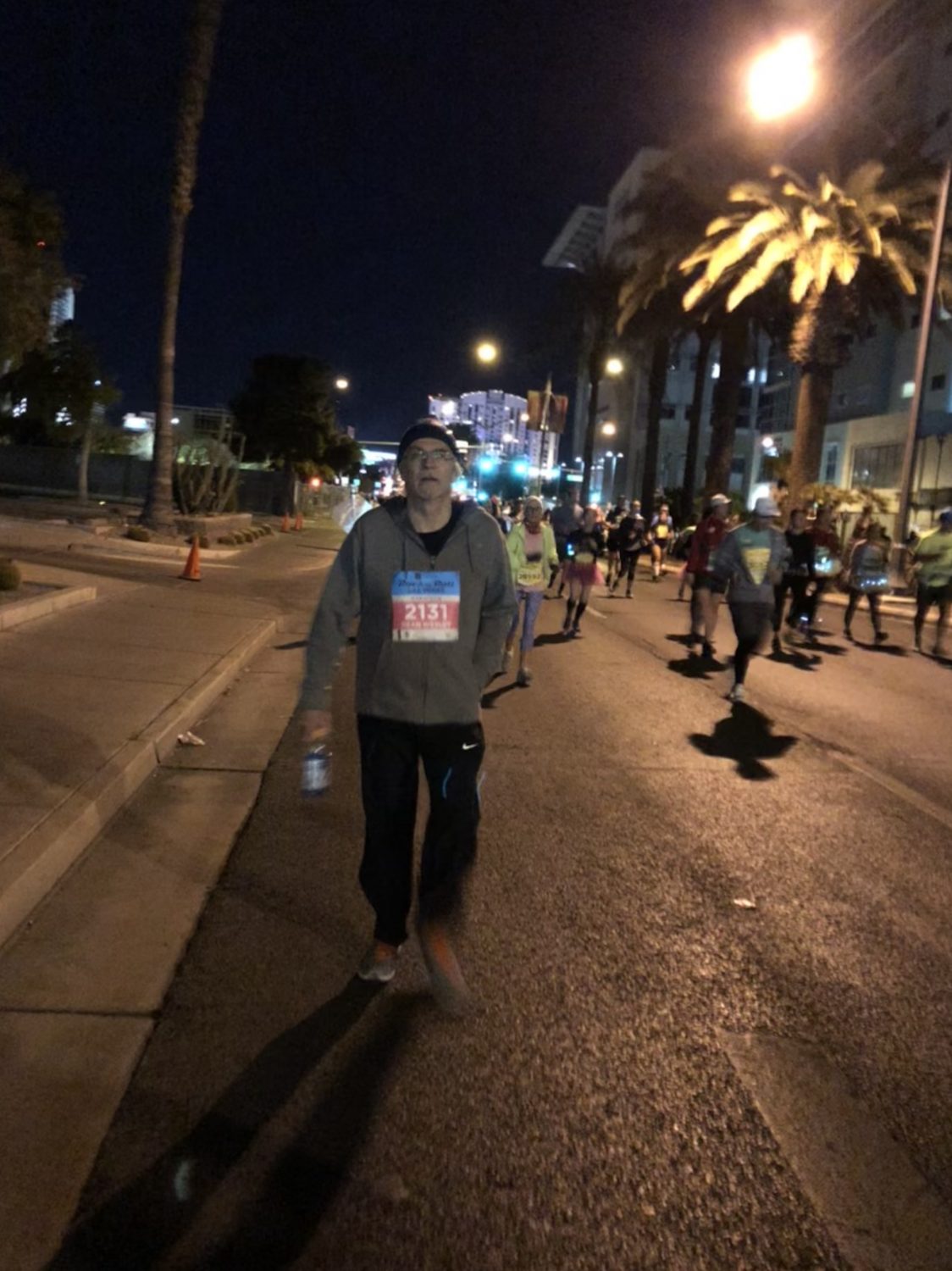 Then I dropped back into sanity and the last two weeks I have been careful, only done two 5K walk/runs, and mostly just rested everything (and tried not to ever cough or sneeze). At 68, things don't heal as quickly. And I know that and I know I had to spend two or three weeks just to get back to feeling all right.
I had been doing great right up to the fall, then pushed too hard to hit a goal, then cut back to get well. And it is working and with every day now I feel better. And next week I hope to get back to actually working on the running again. In other words, back to where I was pre-fall.
So why am I working so hard to get back to the exercise? That was the question. The answer is simple but comes in multiple parts.
First, I feel a ton better when I exercise.
Second, I have 30 more pounds to lose and I find losing weight a ton easier when not only watching what I am eating, but exercising.
Third, I want to live for a bunch more decades to keep writing. To have a chance at doing that I have to not be overweight or have high blood pressure. Exercise and low weight pretty much clean our high blood pressure and a ton of other problems.
And besides, next year I want to run the full Marathon here in Vegas the first week of November. And I want to run it and compete in my age group.
A goal. A Challenge.
How does that question apply to writing?
So this year Kris and I had a life roll that caused us to make a sudden move to Las Vegas and left me with 23 years of living in a big house to clean up over a five month period while Kris was here getting healthy. To say the least, my focus was not on writing. (I still managed 30 stories in 30 days just to remind myself.)
And when I got here in August, I was spending all my time still in move mode. So after a month I figured I could push the writing back into existence with a challenge. Writing at Pulp Speed Five challenge. (Like running a marathon goal.)
The first part of that failed completely. My mind and every day was filled with business, the move, and focusing on the exercise to get healthy. It was too early to push on the writing.
So I dropped back to November 1st restart on the writing challenge and again didn't do much. Finished a novella, did a few other things, but certainly not Pulp Speed Five.
But just as I did at the gym every day, each day I am getting stronger, more focused on the writing. And on the goal of doing the 10 novels in 100 days challenge.
So I answered why I am focused on the exercise and returning from my first major injuries. (I am sure there will be more.)
Why I am focused on this writing challenge, even though I am sputtering in the starts, is because it will get the writing back into complete focus for me.
So starting on December 1st I get back into positive exercising and I get focused on the writing. Third start is the winner this time.  And this week I will be doing a short story and working on another novel that seems to want to be written as a ramp-up to December 1st.
I might fail regularly, and fall down at times, but I never give up.
Stay tuned.