Too Many Hours
Far, far, far too many hours in front of a computer today, not a bit of it writing. I got up and moved around regularly and rested my eyes, but didn't even have time for a nap. So no writing tonight.
Back at it tomorrow and back at Heinlein's Rules as well.
——
Anthology Workshop Notice
Those in the anthology workshop, ten of you missed the first assignment. Second assignment is now posted.
——-
THE DAY
Got up early again, dealt with some business issues I didn't want to have to ever deal with, then managed to get to the store and to WMG Publishing to get it open for the Sunday writer lunch there.
Then from 4 p.m. until 7 p.m. I worked on workshop stuff.
Then I cooked dinner, then in here to work on workshop stuff.
At 3:30 a.m. I got it done. Between the online workshops and the anthology workshop, it was a lot of work. I did take a television break in there at some point, and a few breaks to pet cats.
Speaking of cats…
CAT UPDATE
New white cat now called Cheeps (instead of Mr. G) is doing great. Starting to become part of the house routines and he is still afraid of just about anything, but is calming way down. I can actually walk past him now without him jumping and running.
He's going to be a great cat once he calms some more. In his mind he's still a kitten, even though he's about 6 because he never left his cat family before now. That's why he walks around cheeping.
He's also eating well and finally starting to act and look well. And we have him out of his room and with the other two cats and they seem to accept him just fine and even sort of like him. A great sign.
Cheeps stretched out in the kitchen.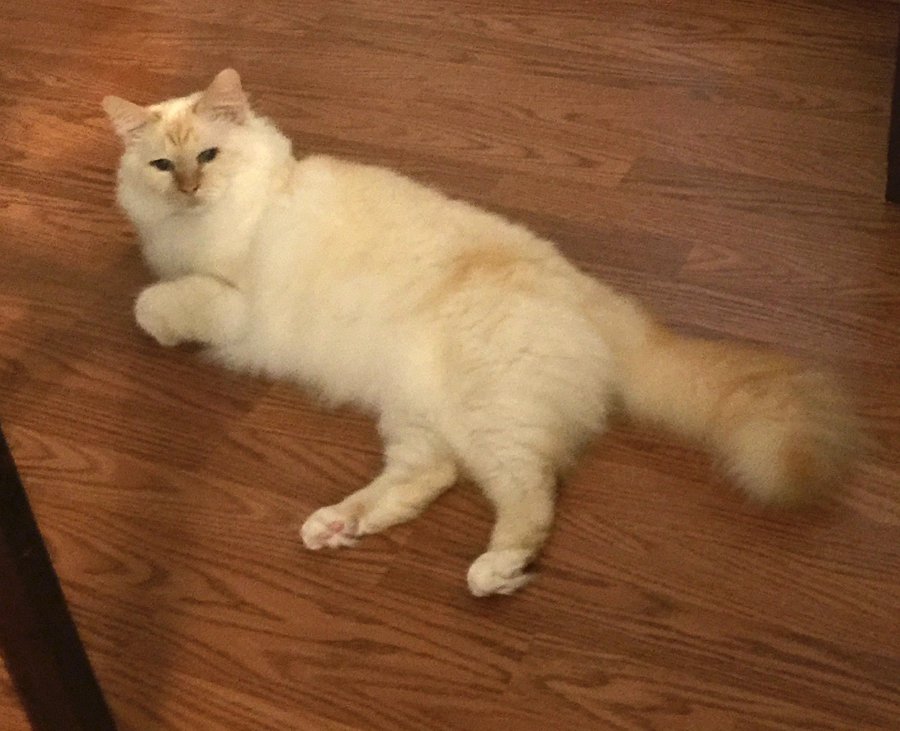 Ella looking beautiful as always. She was feral and it took us two years to train her in. She's now a love and Cheeps' best friend.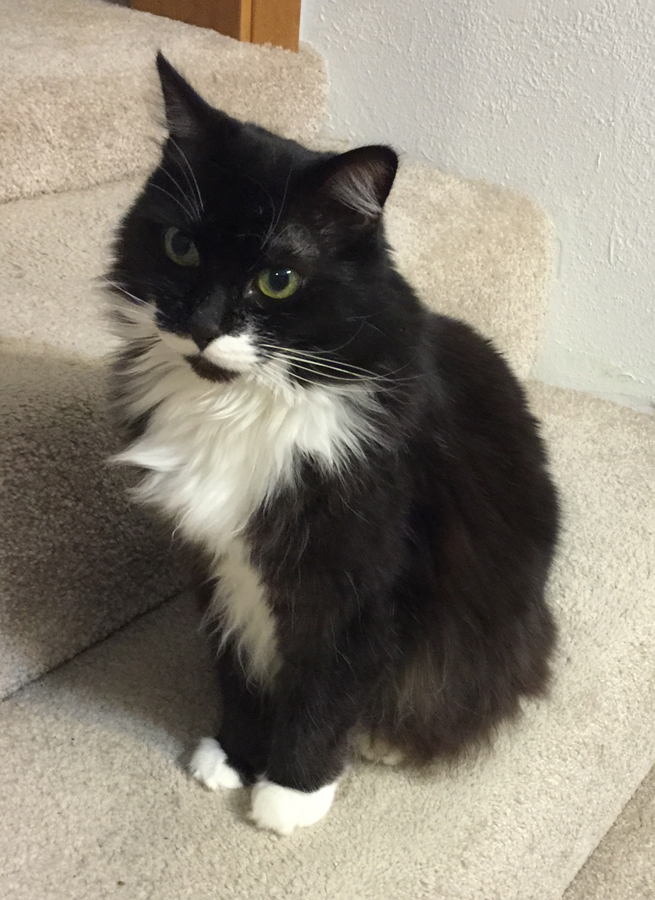 ———–
JANUARY ONLINE WORKSHOPS
All workshops have openings. 
Class #1… Jan 4th … Pitches and Blurbs
Class #2… Jan 4th … How to Write Thrillers
Class #3… Jan 4th … Adding Suspense to Your Writing
Class #4… Jan 4th … Plotting With Depth
Class #5… Jan 5th … Character Development
Class #6… Jan 5th … Depth in Writing
Class #7… Jan 5th … Designing Book Interiors
Class #8… Jan 6th … Cliffhangers
Class #9… Jan 6th … Pacing Your Novel
Class #10.. Jan 6th … Advanced Depth
Classic Workshops and Lectures are also available at any time.
—–
Topic of the Night: Too many hours in front of a computer to write.
With luck a new chapter tomorrow night of Heinlein's Rules. 
——
The Writing of Dead Hand: A Cold Poker Gang Mystery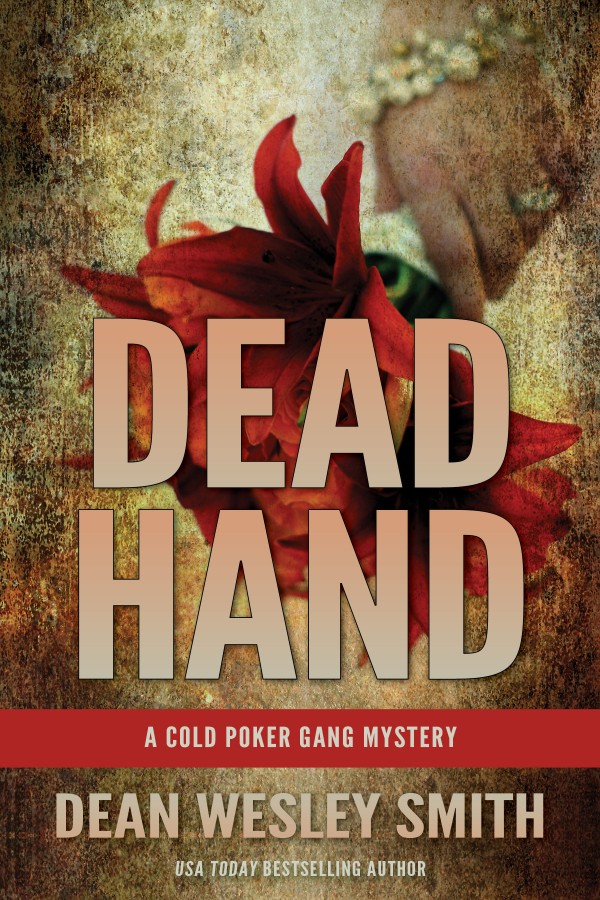 Day 1…. 700 words.  Total words so far… 700 words.
Day 2…. 1,200 words.  Total words so far… 1,900 words.
Day 3…. 1,000 words.  Total words so far… 2,900 words.
Day 4…. 1,100 words.  Total words so far… 4,000 words.
Day 5…. 1,400 words.  Total words so far… 5,400 words.
Day 6…. 2,450 words.  Total words so far… 7,850 words.
Day 7…. 3,300 words.  Total words so far… 11,150 words.
Day 8…. 1,200 words.  Total words so far… 12,350 words.
Day 9…. 1,150 words.  Total words so far… 13,500 words.
Day 10.. 2,300 words.  Total words so far… 15,800 words.
Day 11.. 3,200 words.  Total words so far… 19,000 words.
——
Totals For Year 3, Month 5, Day 13 
Writing in Public blog streak… Day 854
— Daily Fiction: 00 original words. Fiction month-to-date: 15,000 words  
— Nonfiction: 00 new words. Nonfiction month-to-date total: 3,600 words 
— Blog Posts:400 new words. Blog month-to-date word count: 5,800 words
— E-mail: 91 e-mails (but not counting most of the rest).  Approx. 4,300 original words.  E-mails month-to date: 355 e-mails. Approx. 18,500 words
— Covers Designed and Finished: 0. Covers finished month-to-date: 2 Covers
——–
You can support this ongoing blog at Patreon on a monthly basis. Not per post. Just click on the Patreon image. Extra stuff for different levels of support and I will be adding in more as time goes on. Thanks for your support.
Or you can just toss a tip into the tip jar with a single donation at PayPal. Either way, your support keeps me going at these crazy posts.
And thanks.


If you would like to leave a tip just hit Paypal.me/deanwesleysmith (Goes to WMG Publishing account, but I'll get it just fine.)