Heinlein's Rules: Chapter Three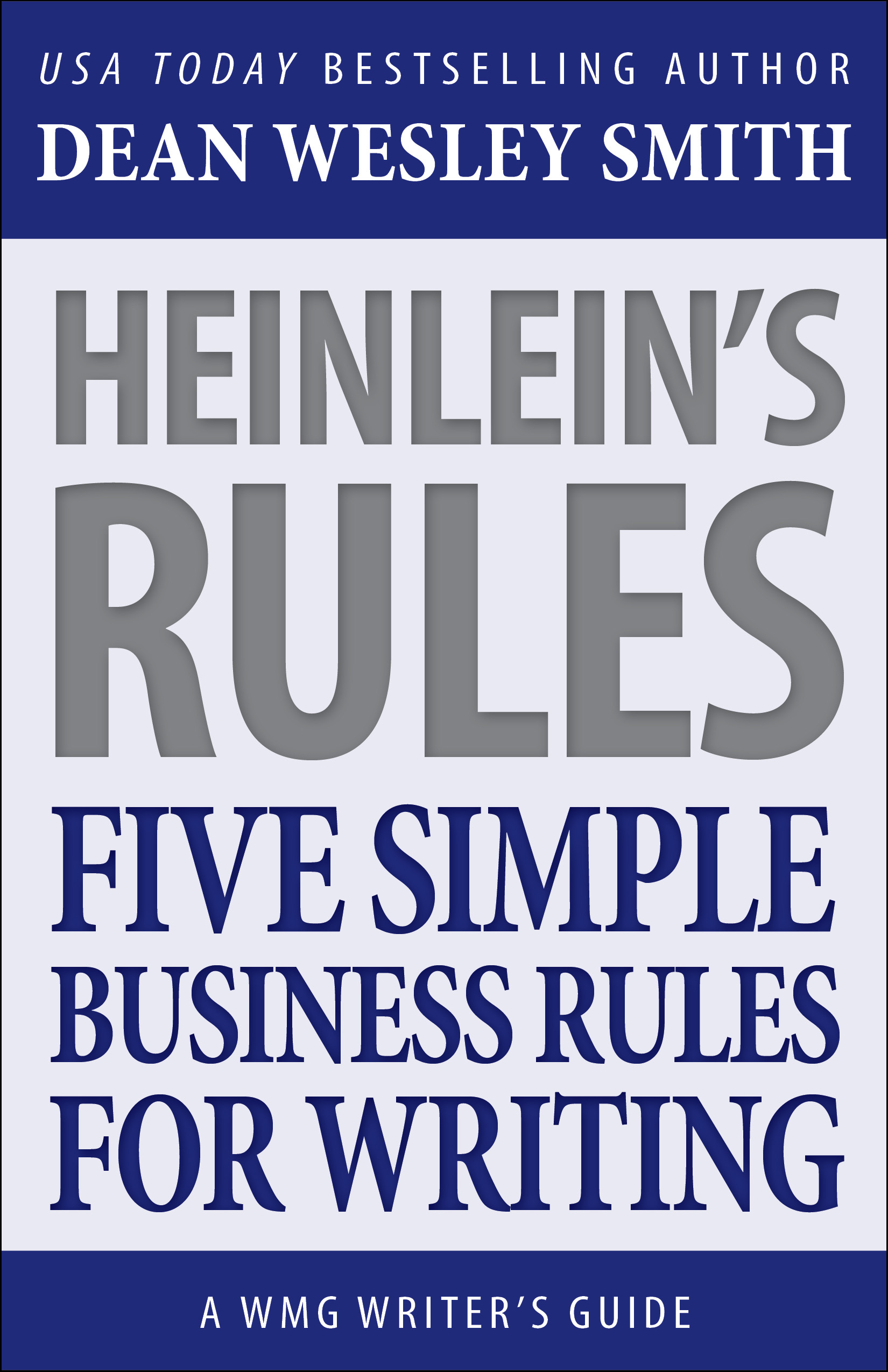 HEINLEIN'S RULES
Five Simple Business Rules for Writing
CHAPTER THREE
Still working on rule number one.
Rule #1: You Must Write.
Back in 1982, when I climbed onto my challenge to use Heinlein's Rules and write a story per week and mail each story every week, I had one major issue that I fought.
Fear.
No idea what I was afraid of, but the fear was real.
On December 31st, 1981, my thinking was that every story had to be perfect, had to be worked over and over and before I dared send it out. And it had to be written slowly and carefully to be good. I believed everything English teachers taught me.
Hook, line, and sinker.
One day later, January 1st, 1982, I went to Heinlein's Rules, not rewriting, writing a story and just mailing it after fixing typos.
Cold turkey.
So from that moment forward, I thought that every story I sent out was crap. Total crap.
I didn't just think that, I believed it completely.
I had no doubt. None.
I was still in the "must be perfect" mode (kidding myself that I knew what perfect even was, of course).
But I was going to give the Heinlein's Rules challenge a try because so many major writers wrote that way and I had had no luck at all the other way for seven years.
So week after week, I mailed off stories I thought sucked. Oh, I did my best on them, made sure they were as typo-free as possible, but I spent no time on them as I had with my precious two-stories-per-year gems that sat molding in files.
And fairly quickly the form rejections turned to personal letters and then to nice letters from editors. Shock!
Then early in the second year I started selling. I sold to Writers of the Future, Oui Magazine, Gem Magazine, and to a Damon Knight edited anthology. (You can still read my story in volume #1 of Writers of the Future.)
And the sales kept rolling in.
I still thought every story I wrote was crap.
Every one of them.
But I was starting to catch a clue that if I just let my subconscious tell the story and stay out of its way, my stories were pretty good.
Also, I kept learning and seeking out details of advice that made sense with my new way of approaching things.
What was also happening at writing a story per week was that I was practicing. I wrote more in the first fifteen weeks of 1982 than I did in the previous seven years.
Any wonder my stuff got better?
You Must Write.
I had figured out a way to do that.
DARE TO BE BAD
One fine day during that first year, I was complaining to the great fantasy writer, Nina Kiriki Hoffman about how I felt I was mailing out crap every week. Sure, I was staring to get nice letters from editors, but I still couldn't get past the training of wanting to make every story "perfect."
And I felt like I often wrote stories too quickly, so they couldn't be good.
Yup, even six months or so into the challenge of following Heinlein's Rules, I was still lost in the myths. Completely.
Nina was living above my bookstore and she was doing the same challenge I was. We had bet each other to get a new story per week out.
Now I was in law school, had a job tending bar, and I owned and ran a bookstore. I was married and I had no time to write a story per week, but I was doing it.
Nina was still in college. She had no time either. But she was doing it also.
So in response that day to my complaining about how I felt I was mailing out crap, Nina basically said, "It takes more courage to try something and fail than to not try at all."
We talked about how true that was and Nina coined the phrase "Dare to be bad."
It takes more courage to write and put the story out than it does to only talk about writing and not do it. You have to dare to fail sometimes.
So I took that saying and stenciled it in big letters and tacked it on the wall over my typewriter in my bookstore.
Dare to be bad.
What that saying did to help me seemed critical in one area. That saying got me past the fear of writing.
Rule #1: You Must Write.
What stops most people isn't lack of time, it's fear.
Committing words to paper means you might have to show them to someone. The words might fail, you might be found wanting.
So it is easier to let the fear stop you before you even get to Rule #1.
Most people who say they would like to write are just too afraid and don't know how to get past the fear.
"Dare to be Bad" saying helped me jump past the fear.
And what that ultimately did was allow my subconscious to do the work.
My job became, fairly quickly, staying out of my subconscious's way and just mailing the final product, no matter what my conscious brain thought of it.
That's right. I have trained my critical front brain to just stay out of the way of the storyteller that is my back brain.
Easier said than done, and still a constant fight.
To this day, when I hand a story or a novel to Kris, I believe it is crap. I have learned my critical judgment means nothing when it comes to my own work.
And when Kris hands me something she wrote and says it sucks, I know I am in for a real treat.
Why?
Because if Kris's critical brain is afraid of something she wrote, that means she took chances, went to places she had never been before, took risks with the story or the writing.
And she knows that even if she thinks the story sucks, she needs to release it to someone who has perspective.
Kris won a Hugo Award for her editing, and yet with her own work, she can't judge it.
No writer can judge his or her own work.
So does that mean the fear isn't real that we all feel?
Nope. It's a real fear.
Trust me, I feel it with every story or novel I finish.
But the only repercussion on the negative side is that you allow the fear to win. If you release the story, you quickly come to see that the fear is baseless.
Doesn't make it feel any less real, however.
And it is this fear of some made-up repercussion that stops most of the 90% of writers who say they want to write and can't find the time.
Anyone can find the time to write a little every day.
But only about one in ten can figure out a way, as I did, to climb past the fear, or just live with the fear of failure by writing.
It is better to write and fail then not write at all.
Rule #1. You must write.
Dare to be Bad.
You might discover along the way just how good a storyteller your subconscious really is.
I did.