Time of Great Forgetting
From the looks of how the April workshops sign-ups are going, we are entering into the time of great forgetting for writers just slightly ahead of time.
The Time of Great Forgetting is when the year-end resolutions for writers are long forgotten and the weather is getting better. Usually this forgetting time for writers without a full-year focus doesn't start until late April and then runs through until the middle of July.
I always find it interesting that I am ramping up as other writers are just sort of drifting away. But I am a professional year-round writer. I have my bad months, sure, but I never stop learning and focusing on my writing.
In other words, I never forget and those of you who have been following all this silliness for over 900 days know that. (grin)
———–
Note
Since I am writing a Thunder Mountain novel in the challenge, I am putting up the books from the series as featured books of the day. They all stand alone, but there is a reading order above if interested in starting from the beginning. Tonight is book four in the reading order.
———–
FEATURED BOOK OF THE DAY
Melody Ridge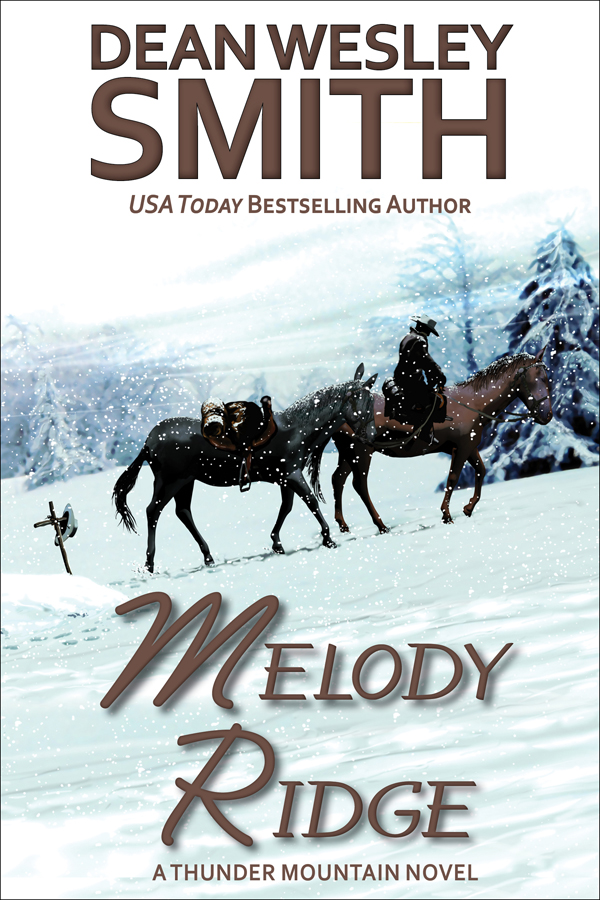 USA Today bestselling author Dean Wesley Smith wrote for decades about a jukebox that took a listener back to the memory attached to a song. The Jukebox Series consists of more than twenty short stories and gathered numbers of award nominations and movie options.
Then in 2012, Dean started work on the Thunder Mountain series of novels, starting with the novel Thunder Mountain. Time travel novels set partially in the Old West.
Now, finally, in Melody Ridge, he combines the two worlds and reveals the origin of the jukebox for the first time. Find out what happens if Stout from the Garden Lounge finally meets the inventors of the time-traveling jukebox—because the past might just change his future.
Available in:
ebook, $5.99
Trade paperback, $14.99
ISBN 978-1561466450
Powell's
Amazon
Kobo
B&N
iBooks
Smashwords
and many others.
For information about all my novels in this series,
click on the Thunder Mountain series tab above under the series reading order tab.
——
APRIL ONLINE WORKSHOPS START IN ONE WEEK
All but the one noted of the April online workshops below have openings, but a couple are getting close. This is a great bunch of workshops this month.
Remember, each regular online workshop is six weeks long and takes about 3-4 hours per week to do at your own pace and your own time during the week. And yes, still room in Author Voice. All workshops but Author Voice limited to 5 writers.
All workshops have openings.
Class #31… April 4th … Author Voice
Class #32… April 4th … Character Voice/Setting
Class #33… April 4th … Adding Suspense to Your Writing
Class #34… April 4th … Ideas into Stories
Class #35… April 5th … Character Development
Class #36… April 5th … Depth in Writing
Class #37… April 5th … Plotting With Depth
Class #38… April 6th … Designing Covers
Class #39… April 6th … Writing and Selling Short Stories (FULL)
Class #40… April 6th … Advanced Depth
Classic Workshops and Lectures are also available at any time.
Full descriptions of the workshops and how to sign up under the Online Workshop tab above.
——–
Totals For Year 3, Month 8, Day 29
Writing in Public blog streak… Day 922
— Daily Fiction: 6,050 original words. Fiction month-to-date: 31,150 words
— Nonfiction: 600 new words. Nonfiction month-to-date total: 9,250 words
— Blog Posts: 300 new words. Blog month-to-date word count: 13,500 words
— E-mail: 26 e-mails. Approx. 2,200 original words. E-mails month-to date: 516 e-mails. Approx. 29,300 words
— Covers Designed and Finished: 0. Covers finished month-to-date: 1 Covers
——–
You can support this ongoing blog at Patreon on a monthly basis. Not per post. Just click on the Patreon image. Extra stuff for different levels of support and I will be adding in more as time goes on. Thanks for your support.
Or you can just toss a tip into the tip jar with a single donation at PayPal. Either way, your support keeps me going at these crazy posts.
And thanks.


If you would like to leave a tip just hit Paypal.me/deanwesleysmith (Goes to WMG Publishing account, but I'll get it just fine.)