The Magic Bakery: Chapter Five
Chapter Five…
I get a lot of questions about pen names and if writers should use pen names in this modern world of publishing.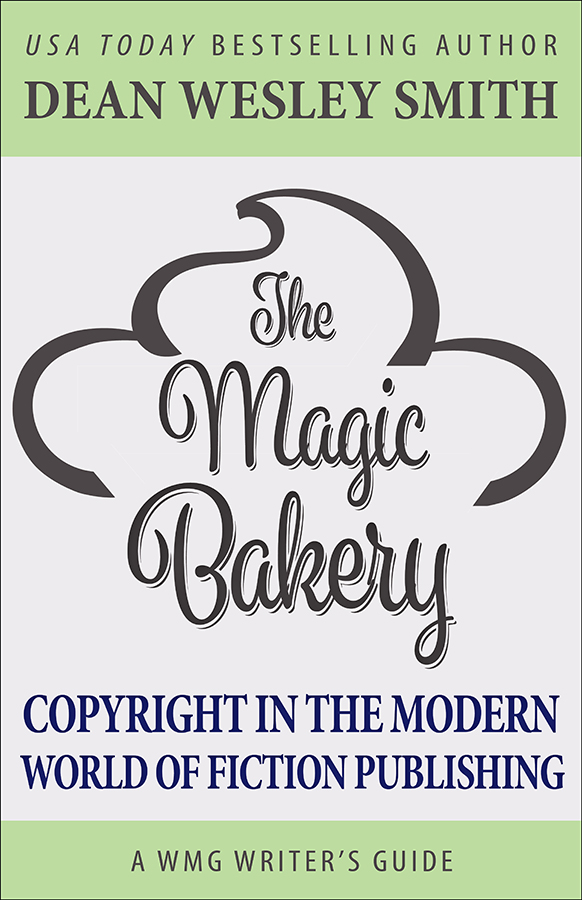 So let me use The Magic Bakery to explain my answer to that question.
Now understand, the reason for this book about The Magic Bakery is to help writers understand copyright and the magic power of copyright in this world.
But the metaphor of the bakery can help in business logic as well.
And in sales.
And in promotions. For example, understanding the power of free is clearly illustrated in The Magic Bakery and I will get to that in a later chapter.
But for this chapter, I want to focus on Pen Names.
Some History
I have no idea how many pen names I have written under. Remember, I came in under traditional publishing and made my living by writing fast and in media and across genres and as a novel ghost writer.
In traditional publishing, they simply cannot handle more than two books, maybe three, from any author. The author is the name above The Magic Bakery front door, just to be clear on that.
And in those days there were no such clauses as non-compete clauses in writer's contracts, so a fast writer like me could write two books for one house, three for another, one for another, and so on, all in a year.
Understand "fast writer" equals a writer with a work ethic. I can't type any faster than a slow typeset, but I spent more hours actually in the chair typing, telling stories, than most writers, thus I was "fast."
So back in the day, those of us who actually wrote instead of talking about writing were forced to have pen names.
And Kris and I wrote some books together, so we also had joint pen names.
For example, we were Sandy Schofield, the writer who did Alien and Predator and Star Trek books among others. And we were Kathryn Wesley, the writer of The 10th Kingdom, among others.
So Sandy Schofield has a Magic Bakery.
Kathryn Wesley has a Magic Bakery.
Kristine Kathryn Rusch has a Magic Bakery.
Dean Wesley Smith has a Magic Bakery.
All of my pen names float out there in their mostly-dead bakeries.
I have managed to either ignore or kill most of my pen names, but Kris also has the wonderful writing of Kris Nelscott in mystery and Kristine Grayson in Romance, as well as Kris DeLake in romance. All are active pen names.
Those are very active and growing bakeries.
So Kris has four major store fronts, four Magic Bakeries. And all of them have more books in them then most writers write in a career. (Not counting the bakeries she opened with me under the Schofield and Wesley names.)
But for the moment, the Sandy Schofield and Kathryn Wesley bakeries are just sitting there, empty, no magic pies sitting on the shelves, the door locked because we sold the entire magic pie in all rights agreements. We will bring those pies back to our control in a decade or so, but at the moment you can buy those books, but they are not in the author name's Magic Bakeries.
The New World
In the old world, we had to go down the mall and open up brand new stores and try to fill them every time we started a new pen name.
One store for every pen name.
So most of the time the pen name stores just looked empty and the readers, even if they liked something, had little else to buy.
In this new world, you keep all books under one name.
Think about it. When a customer walks into one of our Pop Culture Collectable stores here on the coast, they see toys, antique jewelry, games, comics, books, cookie jars, clocks, cars and a bunch more.
We have all the sections in different parts of the store.
So you have a Magic Bakery. A customer walks through the door.
To the right, filling a wall, are all the science fiction pies and cakes. Straight ahead is the romance cakes and rolls, to the left, the mystery pies and snacks.
Then off to one side is the young adult section.
And on all the displays in the middle of the floor are all the short story pies, cakes, rolls, and such.
All are clearly marked so there is no confusion, the descriptions on each shelf clear as to the flavors of the pies.
The customer doesn't have to go to five half-empty stores to find all of your work. They found it all in one store, under one name.
Being Clear
There is no reason at all in this new world of reader-controlled publishing to use a pen name. Keep everything under one name and display that name in bright letters on the outside of your store.
Brand your store to that one name so readers can find everything you do.
They may not like the taste of your mystery blood pies, but they love your romance sweet pies.
Let the readers decide. Give them something to shop for.
Sure, with our stories, we could open a comic store, a toy car store, a collectable card store, a clock store, a antique toy store. Sure.
But it was easier to keep it all in one large store and put it all under one name.
Do the same with your writing.
One name, one Magic Bakery.