Sales Numbers: Part Three
Sales Numbers: Part Three
That's the topic of the night below.
——
November Workshops Now Listed
Spent some time today working on getting the November workshops all set on the different sites. I think the November list is the best list of workshops we have ever offered.
Each regular workshop is six weeks long and takes about 3-4 hours per week to do at your own pace and your own time. The new workshop starting in November is titled:  ADVANCED DIALOG.
All workshops have openings.
Class #41… Nov 2nd … Pitches and Blurbs
Class #42… Nov 2nd … How to Write Thrillers
Class #43… Nov 2nd … Adding Suspense to Your Writing
Class #44… Nov 2nd … Advanced Dialog
Class #45… Nov 3rd … Character Development
Class #46… Nov 3rd … Depth in Writing
Class #47… Nov 3rd … Making a Career
Class #48… Nov 4th … Cliffhangers
Class #49… Nov 4th … Pacing Your Novel
Class #50… Nov 4th … Advanced Depth
Classic Workshops and Lectures are also available at any time.
www.wmgpublishingworkshops.com
——
THE DAY
Spent most of the day running around and also finally getting back to some exercise. Then I worked on online workshop stuff until about 7 p.m.
By the way, down eight pounds since the first of September. Going fine on that count.
Also worked on getting Smith's Monthly web site updated and I also killed the free story feature. I couldn't keep it up on time and few people were reading it. Away it went.
I cooked dinner, watched a little television, got in here around 9 p.m. to do e-mail. Also did some work on an issue of Fiction River.
Then I did one session of 900 words from 10 p.m. to 11 p.m. Then off to watch some television.
Back up here and got back to writing at 1 a.m. and got another 1,200 words done.
A short break and managed another 1,250 words before getting completely stuck around 3:30 a.m.  I was so tired, decided I would figure it out tomorrow. But at least back and giving the writing more time, so a win!
3,350 words.
——-
CAT UPDATE
I am managing to get Mr. G, the shy and scared and feral white cat, to stay on the chair he now sleeps on while I bring him a treat. I don't approach him yet, but he's getting used to my voice and that I bring him yummy snacks. So progress.
——-
TOPIC OF THE NIGHT: Sales Numbers: Part Three
Almost no comments or letters about last night's totaling up the investments. I think that a lot of people didn't keep in mind how low the sales were to make those numbers. See the first part of this little series.
But I said my income is considerably higher and one person asked me how.
How? I have my books for sale in every place I can find to sell them. And we are adding in more sales ways this fall and winter. Really that simple.
Small trickles of sales combine into large streams and then into rivers. It is a basic sales tactic.
Think of it this way. You walk into a bakery and they only have two types of doughnuts and only on one tray off to one side, you turn around and walk out.
You walk into my bakery, you can find hundreds of various kinds of stuff and all of it is displayed in various ways all over the store. The same doughnut can be found on dozens of trays all around and the store looks full. People browse, and with luck find something they like.
For example, in general for WMG Publishing, paper sales are the second highest sales and growing. I haven't asked to break out my numbers on that, I just know the overall sales for paper.
But I hear so often from writers that they tried paper and it doesn't work for them after a few months so they give up. Or they price their books very low like an electronic book and cut out all chance of a store buying the book even if they saw it and wanted to.
My goal is to have all of my books at reasonable prices offered everywhere. I am gaining on that, which helps sales.
And I treasure every sale. Each sale is a real person deciding to spend money on my work and I honor that.
Also, I have Smith's Monthly, which has subscribers and also wonderful Patreon supporters. I do know the numbers there and since every issue of Smith's Monthly is still for sale just like a collection, the ROI on that is very, very high. I figured the ROI (return on investment) on one issue last year and just laughed it was so high.
Smith's Monthly #3 came out in 2013. The ROI on that is now far above 10% this year (2015) with three months left to go to keep increasing it.
And remember, everything that is in Smith's Monthly gets used again in different forms.
So I am very, very creative in how I market my work and get it to readers. Proof of that, take a look at Stories from July. A short story collection with 32 stories in it.
Each story will eventually be in Smith's Monthly over a year or so along with original stories written for an issue, and every story will also eventually be sold as a stand alone story in electronic and paper.
And in there I did sales copy for each story. I put the sales copy in a book coming out in a couple of weeks called How to Write Fiction Sales Copy.
This is a new world, folks. If you just toss your book up on Amazon and hope for the best, you will not even make the 10% ROI.
Also, WMG Publishing does some very regular promotions on my books as well.
And I also jump into any bundle with other authors I can get into. Last year one of those books made far more than any New York mid-list advance would have paid me. And guess what, it's still selling this year.
And we do ads and all sorts of things.
And, oh yeah, did you notice the rebranding that was done on two of my series? New covers. And the rebranding on Poker Boy is almost done. Just got to get the new covers uploaded.
And notice, I hope, that I am constantly writing more and enjoying the process. And much of what I write is in series.
Sales take time to build. The best thing WMG Publishing and I have done is not chase fads in sales. I HATE exclusivity and because of that, I have slowly developed so many cash streams I would have a difficult time counting them all.
But the point of all this is to add up those streams over a year, look at your costs on a book, figure your ROI and then keep it in perspective.
And be innovative in sales.
——-
The Writing of STAR RAIN: A SEEDERS UNIVERSE NOVEL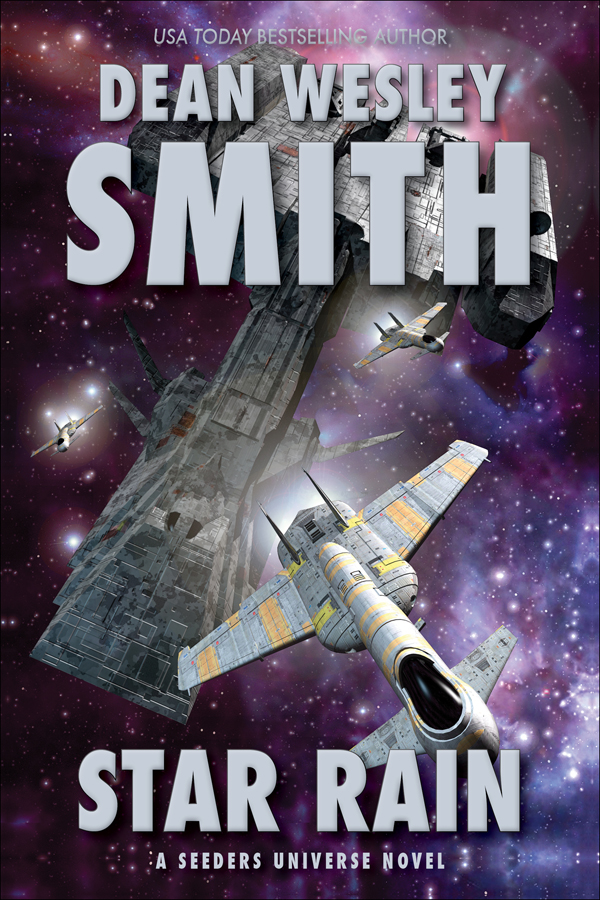 Day 1…. 2,550 words.  Total words so far… 2,550 words.
Day 2…. 2,350 words.  Total words so far… 4,900 words.
Day 3…. 2,500 words.  Total words so far… 7,400 words.
Day 4…. 1,200 words.  Total words so far… 8,600 words.
Day 5…. 1,500 words.  Total words so far… 10,100 words.
Day 6…. 2,000 words.  Total words so far… 12,100 words.
Day 7…. 1,700 words.  Total words so far… 13,800 words.
Day 8…. 3,350 words.  Total words so far… 17,150 words.
————
Totals For Year 3, Month 3, Day 7
Writing in Public blog streak… Day 787
— Daily Fiction: 3,350 original words. Fiction month-to-date: 17,200 words  
— Nonfiction: 00 new words. Nonfiction month-to-date total: 600 words 
— Blog Posts: 1,200 new words. Blog month-to-date word count: 7,100 words
— E-mail: 12 e-mails. Approx. 500 original words.  E-mails month-to date: 155 e-mails. Approx. 6,000 words
— Covers Designed and Finished: 0. Covers finished month-to-date: 0 Covers
——–
You can support this ongoing blog at Patreon on a monthly basis. Not per post. Just click on the Patreon image. Extra stuff for different levels of support and I will be adding in more as time goes on. Thanks for your support.
Or you can just toss a tip into the tip jar with a single donation at PayPal. Either way, your support keeps me going at these crazy posts.
And thanks.



If you would like to leave a tip just hit Paypal.me/deanwesleysmith (Goes to WMG Publishing account, but I'll get it just fine.)