Sale Information, Romance Study Along Reading List, and More Covers…
First, Two New Covers… (Cat Picture at End of Post)
I have to not only do the cover for #50 (coming out in a week or so) but I also have to do the cover for #51. Not only is the cover for #51 on the back cover, but it has a number of ads in the interior. The novel in #51 will be a new Thunder Mountain novel called Green Valley. I just did both of these tonight in this form. #50 I did the full spread as well. So here they are.
Amazing how different the covers are from issue to issue. I love that, to be honest.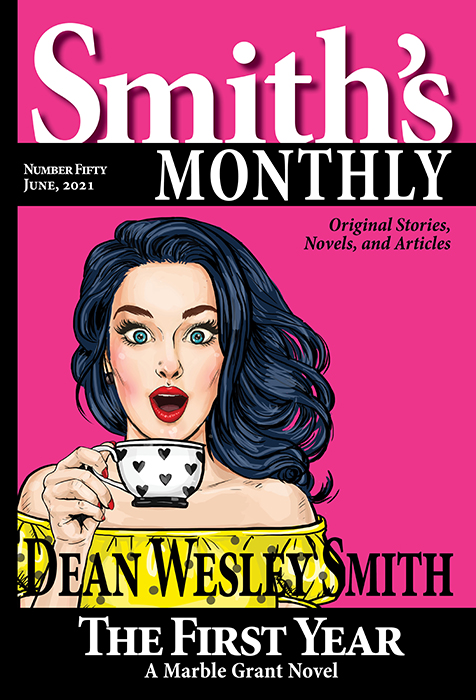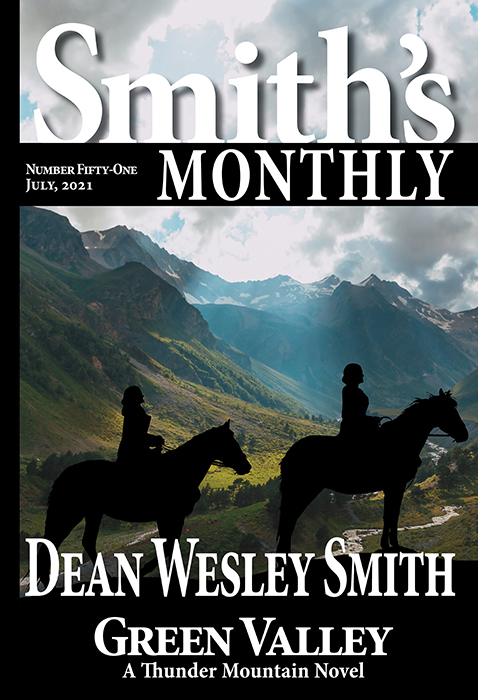 Romance Study Along Reading List
For those signed up, the reading list for the September workshop is now posted. The Study Along is in September. There is no Las Vegas part of this, but six new ones will return in 2022 to Las Vegas with a study along component. Stay tuned.
And yes, you can get the lifetime Study Along in the last sale as well as the Romance Study Along if you just want to try one.
But those of you signed up, get the reading list. As normal, it is a good one.
The Last Pandemic Sale…
Here is a repeat of the original announcement…
We have been doing these sales every two months since the pandemic started to try to help writers stay focused on their writing and learning writing and publishing. So now that many parts of this country and the world are breaking into the clear, we decided it was time to do one last sale. We sure hope these sales have helped over the last year. And this one will help you over this last little bit.
So the code to get every workshop, class, subscription, and Pop-Up on WMG Teachable at half price is…
THELASTSALE
Not only are we doing this sale to help writers stay focused coming out of the pandemic, but the Time of Great Forgetting is back strong as well this year. We hope this last sale helps with that as well.
Sale details…
Every WMG Publishing Workshop, Lecture, Pop-Up, Class, or Subscription on Teachable will be HALF PRICE!
EVERYTHING!!!
Got to WMG Teachable and click on see all courses. Then find the course you would like to buy and hit purchase. On the top of the next page there is a place to put in the code:
THELASTSALE
That should allow you to buy the workshop or class for half price.
You can buy more than one, but you have to do it one at a time since Teachable does not have a shopping cart system. Also state tax or vat tax is now included by Teachable.
Credit cards or Paypal work fine.
EVERYTHING on WMG Teachable is half price, including challenges, subscriptions, workshops, lectures, and Pop-Ups.
Sale will run from Sunday June 6th until Thursday, June 17th. About 12 days. And then a year of these will be done.
(Note: The Business Master class has been hidden because it is not in the sale. Would not be fair to those who bought it in-person. It will return on Teachable after this last sale and will fire up in July.)
NEW CLASSES AND WORKSHOPS…
All of the June and July Regular Workshops are now available at half price.
Class #51… June 1st … Covers 101
Class #52… June 1st … Attitude
Class #53… June 1st … Publishing 101
Class #54… June 1st … Writing with Speed
Class #55… June 1st … Teams in Fiction
Class #56… June 2nd … Depth in Writing
Class #57… June 2nd … Kickstarter
Class #58… June 2nd … (to be announced)
Class #59… June 2nd … Stages of a Publisher
Class #60… June 2nd… Killing Critical Voice
Class #1… July 6th … Covers 101
Class #2… July 6th … (to be announced)
Class #3… July 6th … Publishing 101
Class #4… July 6th … Writing into the Dark
Class #5… July 6th … Writing Sales Copy
Class #6… July 7th … Depth in Writing
Class #7… July 7th … Writing Short Stories
Class #8… July 7th … Killing Critical Voice
Class #9… July 7th … Stages of a Publisher
Class #10… July 7th … Advanced Depth
June workshops have started, but if you jump into a June workshop, you can hand in the first assignment with the second assignment or third.
NEW POP-UP AVAILABLE…
Pop-Up #36: Publishing Your Own Magazine. This is a Pop-Up I've been promising to do. It is now up in time for the sale.
COLLECTIONS CLASSES… You can still get the bundle of the six collections classes. They will be going through 2022 so I will make sure you get a chance at all six to get six collections.
BUY THREE bundles are there as well. I have cleared all names off of them so if you bought some last sale, you can buy more this time. I have all the records, don't worry.
During the sale I will be updating the Decade Ahead classes, the Shared Worlds, the Licensing Transition, and Year of the Cat class. All will become more active going forward and are still available to join.
Again, everything is half price if you use the code:
THELASTSALE
WANT MORE THAN ONE WORKSHOP???
Yes, you can buy more than one, but you just have to do it one at a time because Teachable has no shopping cart. And you can use Paypal or any credit card.
And for those in Europe or in a few states, taxes are added automatically by Teachable. So if not exactly the price you expect, blame the taxes. Teachable adds them and pays them for us automatically.
One side note: You can give yourself or a friend the gift of learning.
There is no time limit on when you have to do a workshop. 
So, in summary, just go to WMG Workshops on Teachable, find workshops or Pop-Ups or Classes or Lectures or subscriptions you are interested in, hit purchase, then on the next page put in the coupon code
THELASTSALE
and you will get it for half price.
And please get vaccinated if you are not. That is what has finally got us out of this mess so amazingly fast.
So now time to remember the writing and publishing again and this last sale we hope will help you get through the emergence and excitement of getting out of the pandemic and also the forgetting about writing in this June/July time.
AND A CAT PICTURE OF ANGEL…
She loves my computers and the desk chair behind my internet chair, where she is asleep as I type this. As the days have gone by, we are certain she is more Flame Point Siamese then Red Point Birman. This picture is pretty clear on that.