New Members of Our Family
We Got Three Cats Today…
Yup, we headed into the valley to look at a couple of rescue cats we had seen online at a number of rescue shelters. We never intended to get three. We did have two carriers. Had to buy a third one.
Over the last six years, we have lost one cat after another and brought in only three, Cheeps, an older white Birman who is still with us, an older Birman who didn't last long and a really old girl we called "Miss Thang" who lasted three weeks, she was in such bad shape.
Now understand, we live in a nine bedroom home overlooking the Pacific Ocean. It is made for cats, yet we only have our old boy Galley and Cheeps. And after we lost Ella a number of months back, they have been scary lonely. Cheeps, because of his being raised in a hoarding situation, is still a kitten at heart. He loves to play and loves other cats.
What finally kicked us into action was the two pictures Kris took of Cheeps wanting to be with Galley while having a drink, but Galley was ignoring him.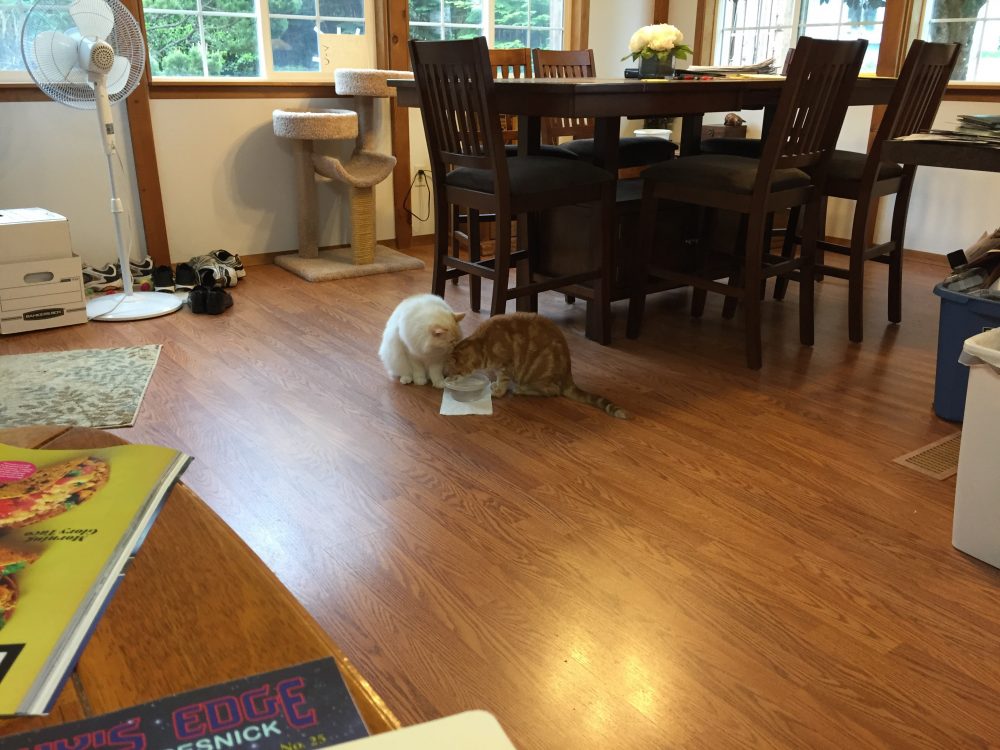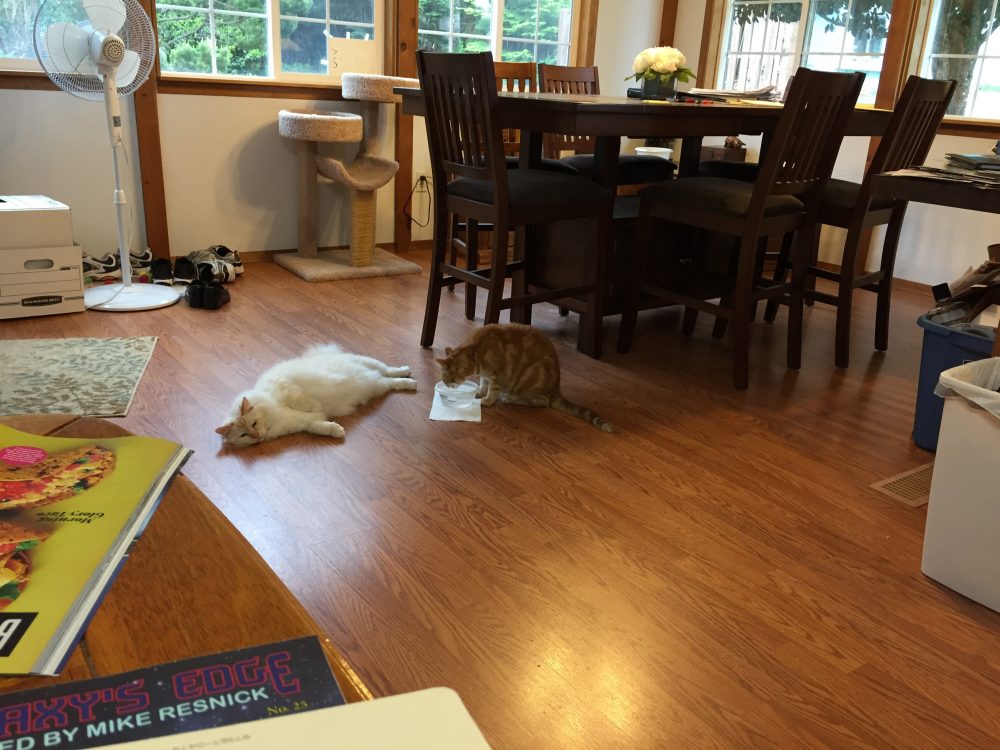 So deciding we needed a shy girl cat, young, but someone who could handle the two boys and give someone for Cheeps to play with, we went to see a girl called Suzy Q. at a rescue shelter in Newberg, Oregon. A really nice place and very clean and friendly.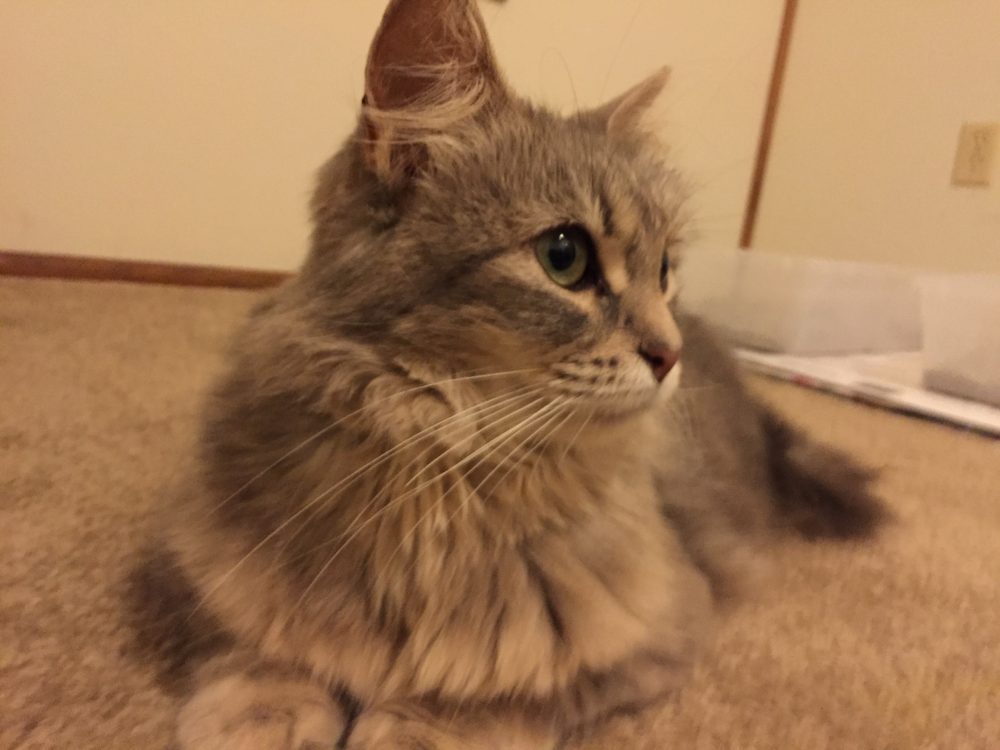 Meet Suzy Q, soon to be named something else. She is a beautiful 3 year-old Maine Coon. She is gentle and friendly and likes to be petted, yet is shy.
But up front in the rescue shelter were two four-month-old kittens. One a boy they called Gavin and the other a girl they called "Killer." Both had rough stories and had only been there for less than a week each.
They are loves, and they both charmed us, so we left the rescue shelter with a herd. The drive back was interesting and a story for another time.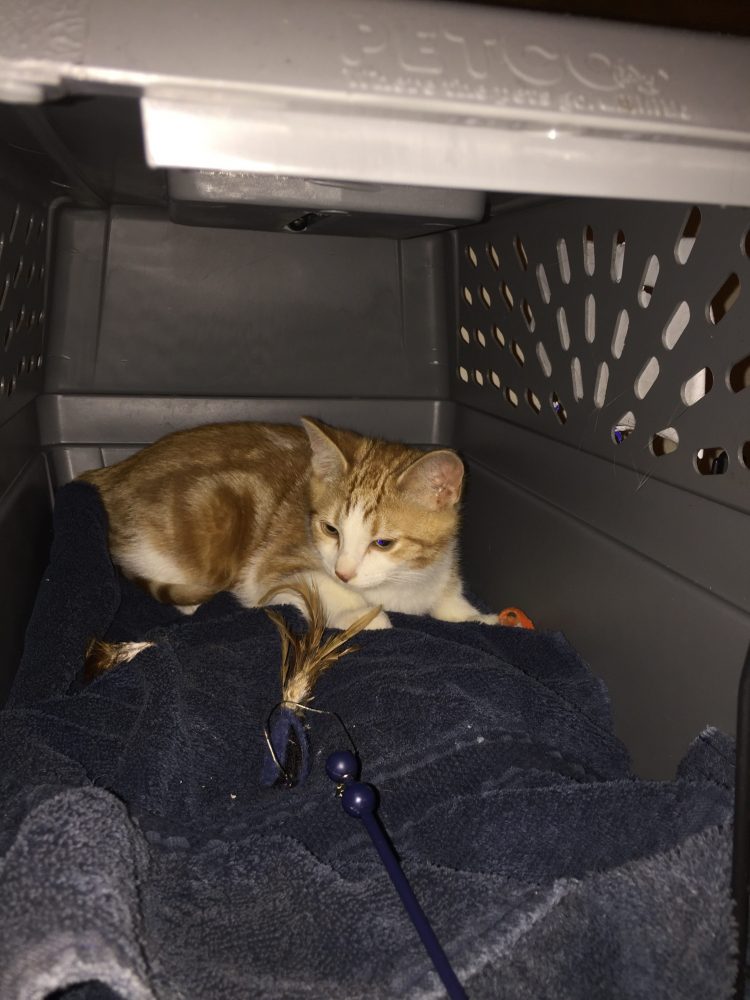 Meet Gavin, a wonderful, sweet, orange and white boy who in three hours alone downstairs in the cat room tonight managed to drag three different toys into his carrier. He will be our dragon.
Meet Killer, soon to be renamed to something like Cleo. She is a beautiful and active tabby with huge eyes and very distinctive face markings I couldn't get a picture of tonight. She wants to be with people, period.
So our family is back up to five at the moment, which feels right for this monster house. It will take us some weeks to get them all together. We will give the new herd the run of the full daylight basement tomorrow. Then in four or five days we might move Suzy Q. upstairs with the boys.
Then a week or two after that we will release the kittens and run for cover.
And that's what I did today. Night.