Last Two Days of Year End Workshop Sale…
Yup, Just Two Days Left…
Amazing how time flies when we are all having holidays.
Anything on WMG Teachable is half off. Just use the code:
YearEnd
To use the code, hit purchase on the class you want and then on the next page put in the code and you will be in at half price.
Remember, it's everything. Six new collection classes are now up. And a way to buy all six from the first year or all six from the second year. They are great fun and you write five new stories and publish a collection with those stories by the end of the class. A number of people took all six last year and ended up with 30 new short stories and six new collections published. Great motivation for the year.
Speaking of motivation, two ways to get some for the new year. We started Motivation Monday to get motivation videos every week. That you can get for half price as well.
And second, you can sign up at half price for a challenge. Write a new short story every week for a year, a novel every two months, or publish something every month. All great challenges you can get for half price for two more days.
Also, I will have up a bundle for the new five Pop-Ups so you can get them all at a discount, even though three of them are not posted yet but will be over the next week.
And all the lifetime subscriptions are available at half price as well.
So take a look at WMG Teachable at all the available courses, Pop-Ups, workshops, lectures, study alongs, and collection classes and a bunch more and see if anything fits your new year goals or learning desires.
And any questions, feel free to write me.
My Challenge
Got a second story done just fine. "Trail Guns Meet" which turned out to be a Thunder Mountain story and more than likely a second start to a novel. The title that I ended up with is nothing like what I started with. I just kept adding words and changing it every time I went back for a new session. Weird for me to do that.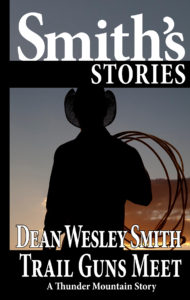 Really fun and silly story.
And again, I will be getting these out to certain levels on my newly set up (but still far from done or caught up) Patreon. Check it out at https://www.patreon.com/deanwesleysmith
I have a few levels where you can get all the stories in "raw" form. After I check a few things with WMG over the next two days, I will start getting those out to backers as well as Smith's Monthly issues to folks who have been around a while.
By the way, the cover took me just under 15 minutes and there is rope in the story. Like yesterday, it clocked in just under 3,000 words.