Went Exactly As I Had Planned and Hoped…
I got up late, made it to my writing computer first thing at the crack of 11:30 am, walking right past my internet and email computer.  (I was so proud.)
I looked at my half-title pages and came up with a first half of a title.  "The Reason…"
Then I kept looking for a second half to collide with it and saw… "of Death."
That hit me, so typed that into the title of my story template "The Reason of Death" and started the story.
Started off in a suburb, so figured it was going to be a Bryant Street story until Mary Jo appeared.
So I went back to the top and put the subtitle under the title: "A Mary Jo Assassin Story."
Haven't written one of those in years, so grabbed the second Mary Jo novel from my shelves and glanced at it and then went back typing. In 40 minutes with all that I got 640 words on the story and went to do email.
Wow did I waste a bunch of time today. Two naps, watched parts of two different football games, cooked two meals for me and Kris and just otherwise messed around. I had no feeling of hurry at all. I even spent an entire hour recording a workshop.
So about 4pm, I got back to the story. I added in the word "Curious" to the title so it is now "The Curious Reason of Death."  In an hour I wrote just over another 1,000 words and broke to go take my second nap. (Not hung over since I don't drink, just relaxed and tired.)
After dinner I watched more television, did more workshop stuff and email, then the second walk of the day to get my steps, then more recording, then more television.
(I ended up with almost exactly 5 miles in steps.)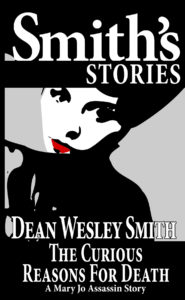 Then finally at midnight I got back to the story and finished it at 1 am with a grand total words of 2.700 words. At 2,500 words I knew it would be a novel, but managed to go back and wrap it up into a short story.
But no doubt this will be a start of my next Mary Jo Assassin novel. I will just remove the last 300 words and go in a different direction. That's fun to have happen on the very first short story of the year. Yay.
I also changed another word in the title. I changed "of" to "for" so the final title is "The Curious Reasons for Death."
Took me 15 minutes total to find the art and do the cover for the story. I kind of like it.
So first day easy and a total success. Shocking!
Patreon Topic:
I will explain what I have done on Patreon in a day or so after I check a few things, but I think that I have completely redone the levels on Patreon and will be sending those of you who have supported my blog a number of things shortly. And there is now different levels to get not only all the stories in "raw" form every day or so, meaning what came off my computer, but also getting the Short Stories From (Month) books and Smith's Monthly. Check out the different tiers now. I will start fulfilling everything shortly.
Still a work in progress. There are no new posts up there, but there will be shortly. And I am always open to suggestions from the more experienced. Check it out at
https://www.patreon.com/deanwesleysmith
DON'T FORGET THE WORKSHOP SALE…
Still going on. Anything you want on there, just hit purchase and then put in the code YearEnd to get it half price.
And a new pop-up will be posted shortly. #57… Basic strategies of short fiction. (#56 will post tomorrow night.)