Epilogue: Writing a Novel in Five Days While Traveling
WRITING A NOVEL IN FIVE DAYS WHILE TRAVELING…
Epilogue…
I am writing this from the comfort of my office at home, the day after I got back, which was late last night.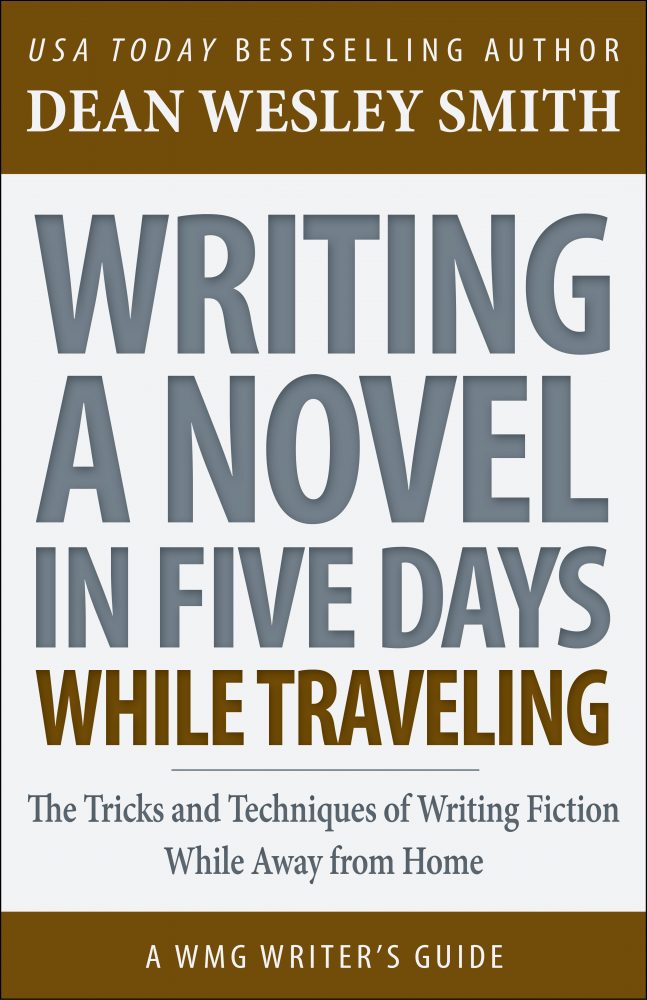 I ended having to fight a pretty nasty storm coming in, but made it fine. The drive from Las Vegas to the Oregon Coast took two days, with a stop in Redding.
As I said, the novel came in at 37,100 words. But I know for a fact that I will need to flush out the ending slightly because I figured out the end, was tired and did a lot of "and then this happened…"
So more than likely the final word count will be closer to 40,000.
Won't be a rewrite. Just replacing a summary paragraph with a chapter. 9,500 words plus a chapter of this nonfiction book was a lot of words on the last day in Las Vegas.
Detailing Out the Trip…
As I put this nonfiction book together, I will add some stuff and also add to the top of every chapter the location when I wrote the chapter.
The trip took ten days, leaving on a Sunday morning and arriving home late on Tuesday night.
I drove just over 3,600 miles and stayed in four hotel rooms along the way, all suites.
I drove our Cadillac CTS which had no problems other than the last day the interior lights burnt out or shorted or something. No real issue, just annoying as I was trying to find that last hotel in Redding.
I took my big iMac, full keypad, mouse pad, wrist pad, and everything. I wrapped the computer in a soft blanket, put a pillow against the screen, put the screen toward the back seat against the pillow, sat it on another pillow, and then used the seatbelt to strap it in. It rode like a charm and was easy to carry in and out.
In each room I adjusted the office chair at the desk in the suite, then put two pillows from the bed on the chair to get me up high enough that my hands and arms were in a good position.
On the trip I wrote the 37,000 plus words on the novel and about ten thousand words on this nonfiction book, plus all my standard e-mails, including three nights of doing assignments in hotel rooms.
So I figure my total word count on the trip was just over 60,000 words total.
Looking Back
— Crazy Idea.
I honestly have no idea how this idea even came up, let alone why I was stupid enough to try it. I thought about it for about two weeks ahead of time before I mentioned it to anyone.
Of course, Kris just said, "Sure you can do that."
I mentioned to her I had hated to write on trips and never had before in almost thirty years and she just shrugged.
I think I wanted her to give me a good, logical argument against trying it. She refused and just left me out there to dangle in the stupidity of my own idea. (She has done that a great deal over the years, especially with the really stupid ideas like this one.)
Writing a novel in five days is a push even when at home, decks cleared, and food stocked. But doing it in a hotel room in Las Vegas while enjoying time with my friends and playing some cards? Seriously?
In hindsight just flat crazy.
—The One Secret.
Sitting here safely at home, the one thing I realized I did correctly was not panic at all. I just kept the writing fun. And I didn't let the writing stop me doing anything I really wanted to do.
In other words, I kept it in perspective and flat didn't really care if it didn't work.
A couple nights the guys were headed to midnight food around 2 a.m. and I went and sat with them. I met them for breakfast and dinner every day. I played in a poker tournament and a bunch of blackjack. (Yes, I came out ahead.)
And one evening I spent a bunch of hours with one of my friends doing the Fremont Street Zipline. Great fun.
So the secret was that when there was an hour, I sat down at the computer and wrote.
Since I was also getting my e-mail and such on the same computer, I limited myself to e-mail in the morning and once in the evening, for the most part. That also helped.
I had also done the math, meaning I knew about how many hours I was going to need to write a novel. About 40 hours. Or about eight hours a day.
Which meant that with all the stuff I was doing on vacation, sleep was going to get a short shift.
But I managed to sleep six hours every night. And get a nap every day.
—Perspective Was Everything
This challenge wasn't as important as having fun with my friends in Vegas. I write novels all the time. This one wasn't any more important than anything else I do.
And that kept the critical voice under control. I only had a few times where I felt stuck on what to type next. Once I took a short nap, the other time I went out for a walk to the condo complex my characters were living in.
By the time I got back, I sat down and started typing.
I never once had any idea about where the novel was going and a couple times I left the room after a session to go have a meal with the guys and I was laughing because the book had twisted on me.
I had a blast writing the novel and I sure hope it shows in the book if you read it. One really twisted mystery that kept me entertained for five days.
My Conclusion
This was a writing exercise. It created a novel and this book, which is great.
The reason, deep down, as to why I do this, is twofold.
One: I get bored easily. Challenges are fun for me.
Two: I admire the old pulp writers, the men and women who thought nothing of writing a novel in five days. I read about the pulp writers all the time.
I had a big computer, they wrote with manual typewriters, for the most part.
I did it for one trip, many of the old pulp writers maintained that pace for a decade.
— Writers of this modern era are for the most part lazy. Writers think that writing an hour a day is "hard work" and too much for their poor brains to deal with. Writing forty hours a week, as I did, is just too much for most modern writers to grasp. And the very idea would kill an English teacher dead.
— Writers of this modern era are scared most of the time. So they must spend months outlining to make sure their novel is dull and won't have energy. And heaven help them if they waste a precious word along the way.
— Writers of this modern era are in a hurry to be successful. So they write to market, to what others want them to write.
So this writing exercise was for me, to prove to myself that once again I was born too late as a writer. I wanted to prove to myself that I flat don't belong with all the lazy, whiny writers of this modern time.
I figured any pulp writer could write a novel in five days.
But could they do it while traveling?
Sure, but not as easily.
So for me it felt like a way that for a few days I could hang my hat with some of the pulp writers of old.
It was great fun.
And I hope you all enjoyed following along.
—————
The Writing of ACE HIGH: A Cold Poker Gang Mystery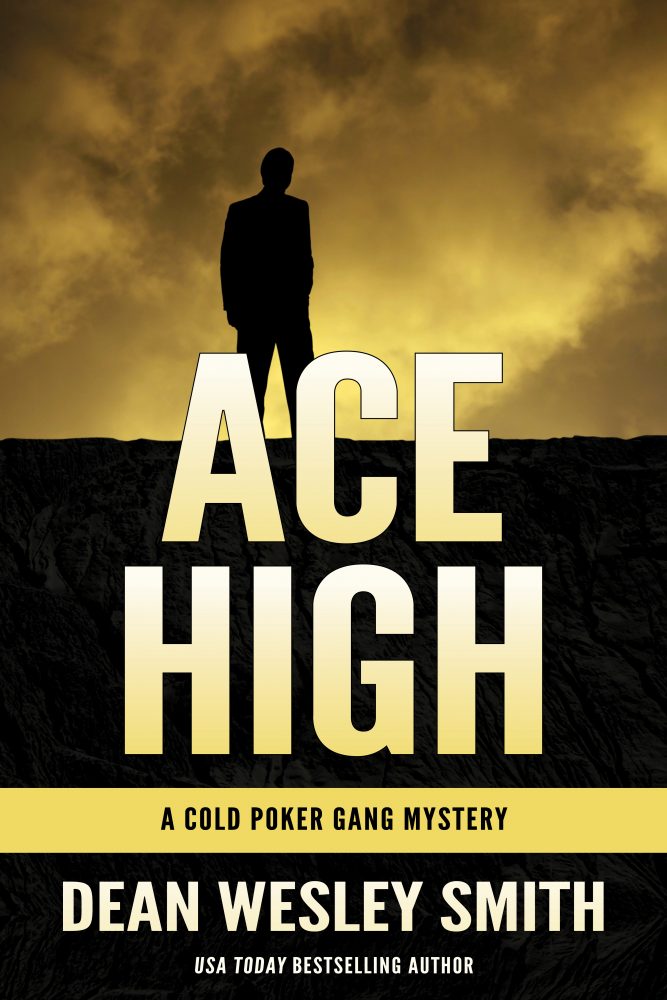 Day 1… Words written… 8,000.  Total so far… 8,000 words.
Day 2… Words written… 7,600.  Total so far… 15,600 words.
Day 3… Words written… 3,800.  Total so far… 19,400 words.
Day 4… Words written… 8,200.  Total so far… 27,600 words.
Day 5… Words written… 9,500.  Final… 37,100 words.