Day 1,000

Now ain't that a kick? 1,000 days of writing this blog without missing a day.
95 more days before it becomes three years of counting.
Now that's a streak.
I've talked about the power of streaks, but going to do so again in the topic below.
——-
The Day
Got to the office around 2 p.m. and then went off and did errands, then walked with two other writers, getting back to the store around five.
I worked until about 7 p.m. in the new store, then home to cook dinner.
Then assignments, getting that done around 11 p.m. and taking a nap before going to watch some television.
Then worked on some business stuff, then went back to reading Kris's new novel. Finished it and it's wonderful. You Diving Universe fans are really going to be happy to see this one.
Needless to say I didn't make it to my own writing.
Tomorrow.
Bundles… Counting Down
The writing bundle has less than two days left, folks.
The novel bundle for the Not Only Humans books only has 19 hours left (from 5 a.m. west coast time). Information and links to both at the top of my page on the right column. Just click on the images.
Folks, these are both great bundles. Going away quickly. Tick, tick, tick…
——-
July Workshop Schedule
All July workshops have room. All are limited to five writers max.
And for those thinking of starting into these workshops, take the Depth workshop first.
All details at www.wmgpublishingworkshops.com
Class #1… July 5th … Author Voice
Class #2… July 5th … How to Write Thrillers
Class #3… July 5th … Adding Suspense to Your Writing
Class #4… July 5th … Plotting With Depth
Class #5… July 5th … Character Development
Class #6… July 6th … Depth in Writing
Class #7… July 6th … Advanced Character and Dialog
Class #8… July 6th … Cliffhangers
Class #9… July 6th … Pacing Your Novel
Class #10… July 6th … Teams in Fiction
Classic Workshops and Lectures are also available at any time.
————-
Topic of the Night: A Streak
I can't begin to say how surprised I am that this streak of blogs every night has hit 1,000 nights without a miss. Close a few times, mostly because I had internet problems here on the coast. And I did a lot of placeholder blogs, especially on weekends.
But no telling how many topics of the night posts I have done. I hope to go back through many of them, bring some forward, do audio versions on youtube for others. Get links to the ones that hold up. Just need some time getting that started.
But to the power of a streak.
The key is getting one started. Once you have a decent streak going, then the streak has the power to keep you going. I think it was somewhere around the third month when this streak took on the power to make me keep going.
I have seen many writers do streaks for short stories, streaks for writing every day, and so on. Kris has a stunning streak of writing essay/blogs going every Wednesday. Years of them.
As for me, I have gotten five or six writing books out of this regular blog, and I hope to do a few more books. Stay tuned.
And the wonderful supporters on Patreon are an amazing source of motivation to keep me going simply by saying this blog is worth a few bucks a month. Can't begin to tell you all how much I appreciate that support.
THANK YOU!!!!!
Some tricks to streaks
Trick one… Do something that is possible to do regularly and that will help your writing and career.
For me, for this streak, my reason was Smith's Monthly. I wanted to show in public how a professional writer could write regularly (even with jobs). But to show that, I needed to put the work, the novels and the short stories, into a regular magazine that people could actually get to see what I was writing. Of course, I am now putting together issue #32 of that magazine and working on the novel for #33.
Mostly because of this blog streak.
Who knew one person could fill a monthly 70,000 magazine every month? Another stunner.
Doing this blog was something that I thought was possible for a while and then when the desire to not break the streak started to overwhelm my desire to not do one some nights, it just kept going.
Trick two… When you feel the desire to not break a streak, use that feeling and give it more power. Make the desire to not break the streak almost an obsession. No, not almost, make it an obsession period.
Trick three… Don't look back like I am doing now. Just click along and ignore how the numbers are adding up.
Trick four… Reset your own goals at times to keep the streak valuable and refreshed. Those who have followed this for the last 1,000 days know I have changed the form of this a number of times. Got a hunch I will change it more as I go along.
And I am changing my writing focus as well in the next month or so. That will be fun.
So today, with this blog, I hit 1,000 days in a row of doing this.
Thanks for all the support and the great comments over the years. It is really appreciated, especially those of you who subscribe to Smith's Monthly to see what I am writing and also support on Patreon. Thank you all for following along.
See you tomorrow night for blog 1001.
The craziness continues.
The Writing of The Taft Ranch: A Thunder Mountain Novel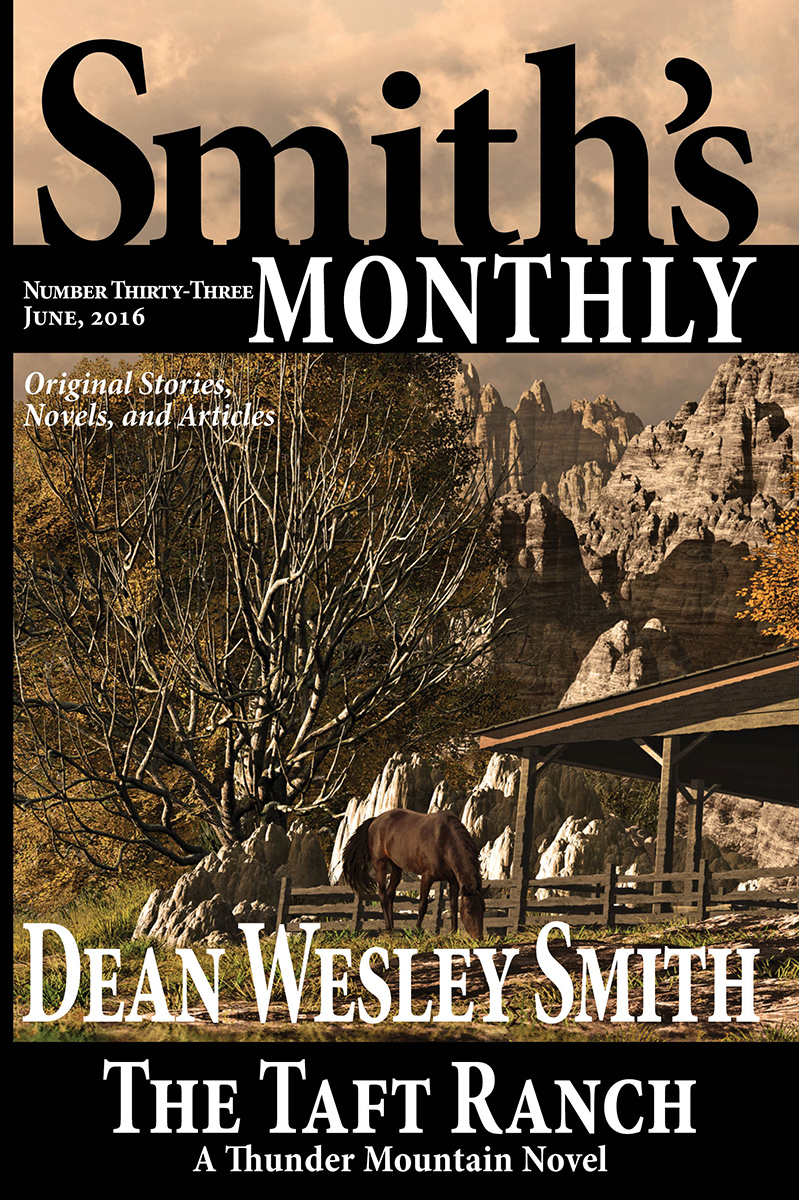 Day 1… 1,050 words. Total words so far… 1,050 words.
——————
Totals For Year 3, Month 11, Day 14
Writing in Public blog streak… Day 1,000
— Daily Fiction: 00 original words. Fiction month-to-date: 25,300 words
— Nonfiction: 00 new words. Nonfiction month-to-date total: 00 words
— Blog Posts: 800 new words. Blog month-to-date word count: 8,300 words
— E-mail: 24 e-mails. Approx. 1,500 original words. E-mails month-to date: 231 e-mails. Approx. 16,200 words
— Covers Designed and Finished: 0. Covers finished month-to-date: 2 Covers
——–
You can support this ongoing blog at Patreon on a monthly basis. Not per post. Just click on the Patreon image. Extra stuff for different levels of support and I will be adding in more as time goes on. Thanks for your support.
Or you can just toss a tip into the tip jar with a single donation at PayPal. Either way, your support keeps me going at these crazy posts.
And thanks.


If you would like to leave a tip just hit Paypal.me/deanwesleysmith (Goes to WMG Publishing account, but I'll get it just fine.)