Book #1 of 70 Book Challenge
This Came Out On the First Day of the 70 Book Challenge…
That's right. On my birthday.
TWIST OF A KNIFE: Best 10 Mystery Stories from the First Year of Pulphouse Fiction Magazine.
Well, it is not officially published yet, but you can get it in the Twist of a Knife Storybundle. So it actually is published and available. It is exclusive there for another two weeks or so, then it will go on sale around the world and be sent to everyone who supported the Pulphouse Kickstarter campaign. It was the 4th stretch goal.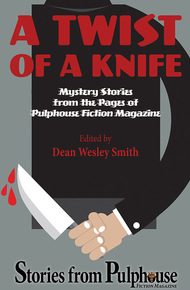 The book was a fun one to put together, actually. And I had help from the wonderful Gwyneth Gibby, the associate publisher of WMG Publishing. She sent me a list of stories in the first 10 issues of Pulphouse Fiction Magazine that she thought were mystery or that I had labeled mystery. That made it so much easier for me since I have such a poor memory and was in the process of going through all ten issues, looking back and forth, and wasting a ton of time because, to be honest, the stories are so good, I would look at a story and then end up reading it again.
Damn writers are so good, it is annoying. (grin)
So I am proud of this fun book. Very different and the 10 stories in the book cover a vast range of areas of mystery. And a great first book in my Publish 70 Books Challenge.
Get the Storybundle and check it out.
Here is a picture of all 10 books you can get in the Twist of a Knife Mystery Storybundle. Don't let this one go by, trust me on that.