Still Only Partially Moved In…
But moved in enough that I am typing this from the new desk and will get assignments and such caught up tomorrow. And I have a second new desk to put together still. And a ton of getting paperwork together. But over the next few days I will be getting caught up.
And finally I will be sending out hotel codes for the Master Business Class and Anthology workshop. So stay tuned for those if you are signed up.
Also will be catching up a ton of other stuff. Amazing how far behind a person can get on a monster move.
Stay tuned. Almost there.
Kris took a fun picture of me in an area of my new office putting my new desk together. Actually all you can see is my feet and my trusty helper Gavin making sure I did everything correctly.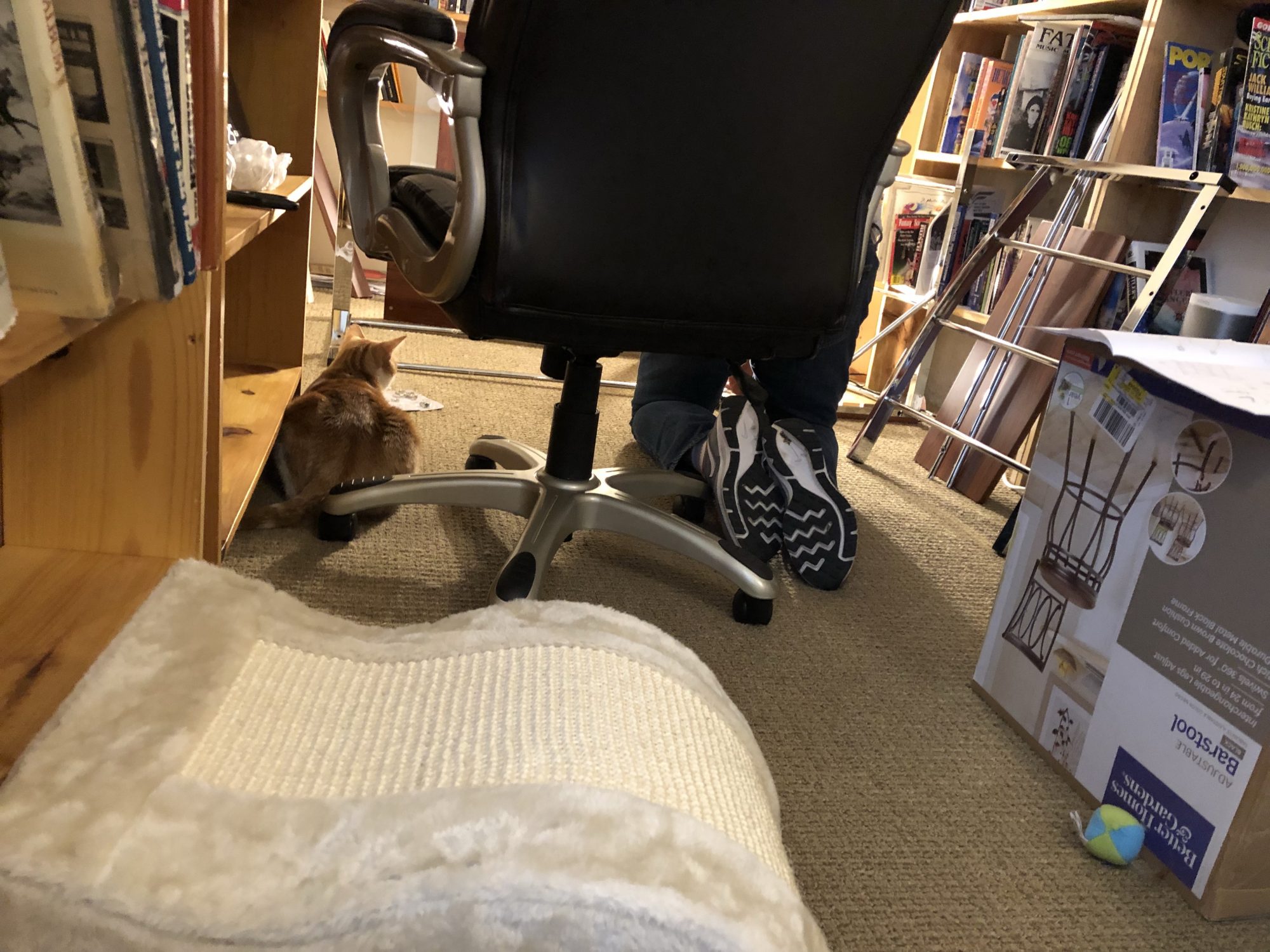 Monthly Regular Workshops…
You can find them under Online Workshops to the right of this post. Sign up for July on Teachable.com. For credits or workshops beyond July, write me and pay through Paypal.
Each regular workshop is 6 weeks long.
Again, it will take you about three hours per week on your own pace to do each of these if you do the assignments. These are the starting dates of upcoming regular workshops.
All have openings at the moment.
Class #1… July 10th … Depth #3: Research
Class #2… July 10th … Author Voice
Class #3… July 10th … Dialog
Class #4… July 10th … Writing into the Dark
Class #5… July 10th … Writing Fiction Sales Copy
Class #6… July 10th … Writing and Selling Short Stories
Class #7… July 11th … Depth in Writing
Class #8… July 11th … Business
Class #9… July 11th … Writing Fantasy
Class #10… July 11th … Information Flow
Class #11… July 11th … Magic Bakery
Class #12… July 11th … Advanced Depth