Almost Hitting A Second Stretch Goal
The Writing Bundle Kickstarter Campaign…
It's doing really well and has got a lot of great deals for writers. Usually we balance out campaigns with a focus on a fiction project with some workshop deals. But this one is all focused on helping writers learn writing.
Five Writing Bundle Books are the core. Take a look.
But we are about to hit our second stretch goal and we have come up with some really amazing stretch rewards. Worth a lot, actually.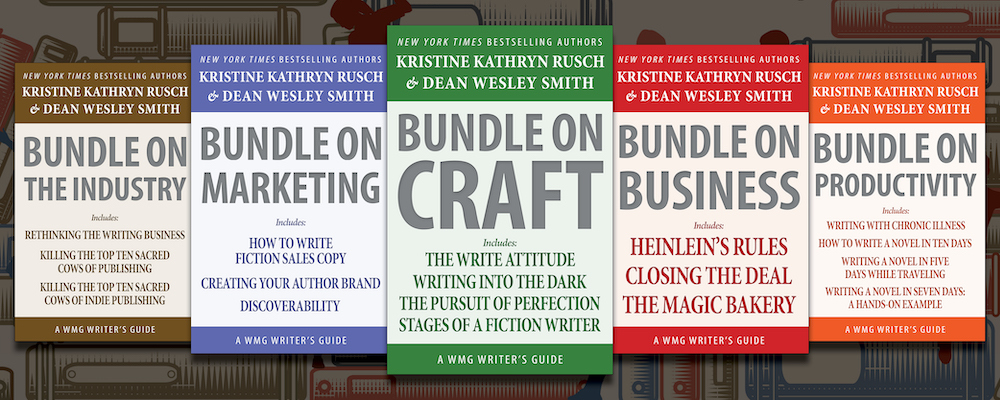 So here they are…
Stretch Goal #1…$3,000
We have hit this one and everyone supporting the project gets an electronic copy of THE FREELANCER'S SURVIVAL GUIDE by Kristine Kathryn Rusch.
This is a huge book with advice for freelancers of all types.
Stretch Goal #2… $5,000 (Almost there!!!)
When we hit this level, every supporter at the $5 level and above will get an electronic version of
THE FIRST TEE PANIC
by Dean Wesley Smith. This is a perfect example of creative nonfiction that is the subject of the special workshop that you can only get through the campaign.
Plus for the writers, we will give you the
Second Quarter 2018 of Tip of the Week
. 13 more writing tips bundled into one lecture and worth $50.
Stretch Goal #3… $7,000
If we hit this level, every supporter at the $5 level and above will get the workshop:
THE FUTURE SERIES #1: REFRESH AND RENEW.
This six weeks of videos is designed to help you get your writing refreshed and renewed and moving forward into the future.
This is a $300 valued workshop, so help us pass the word to get to this level.
Stretch Goal #4… $9,000
If we hit this level, we will give everyone at the $5.00 level and up a really amazing award. And I do mean amazing!!!
THE CLASSIC GENRE BUNDLE…
Six Classic workshops in one bundle.
These are all the genre workshops…
The six workshops included are:
— Writing Science Fiction
All six are in Classic Workshop format and normally priced at $150 each. $900 of workshop value. The bundle normally sells for $600.00. Everyone supporting this WRITING BUNDLE campaign gets this automatically if we hit this level.
That's right, if we can get to the $9,000 level, everyone gets this bundle worth $600.
That's $950 in total workshop rewards and two books to help with your writing. (And if we go higher, there will be even more.)
And don't miss signing up for the Creative Nonfiction Special Workshop.