A Really Nifty Podcast About Podcasting
This last week was the Master Business Class here at the coast with forty-some professional fiction writers.
At one point, for one session. Kristine Kathryn Rusch, Joanna Penn, J. Daniel Sawyer, and Mark Lefebvre (from Kobo) discussed podcasting. (Kris in the silver hair, Dan in the hat.) And Mark recorded it for the Kobo Life podcast.
(Realize learning like this went on for hours and hours every day for seven days. All brains fried. I learned a ton and I was helping pilot the ship.)
This podcast of this one session is great fun and very informative. Kris interviewed the other three. Worth the listen folks, if nothing else but to understand some of the process that goes into podcasting.

Kobo Writing Life Podcast – Episode 069 – Podcasting for Authors
————–
WRITING BOOKS!!
Fantastic new bundle just hit tonight. This is a bundle full of writing books. Including one of mine called Killing the Top Ten Sacred Cows of Indie Publishing and Kris's new contracts book called Closing the Deal On Your Terms.
Don't want to miss this bundle at http://storybundle.com/nano It will only be available for a short time.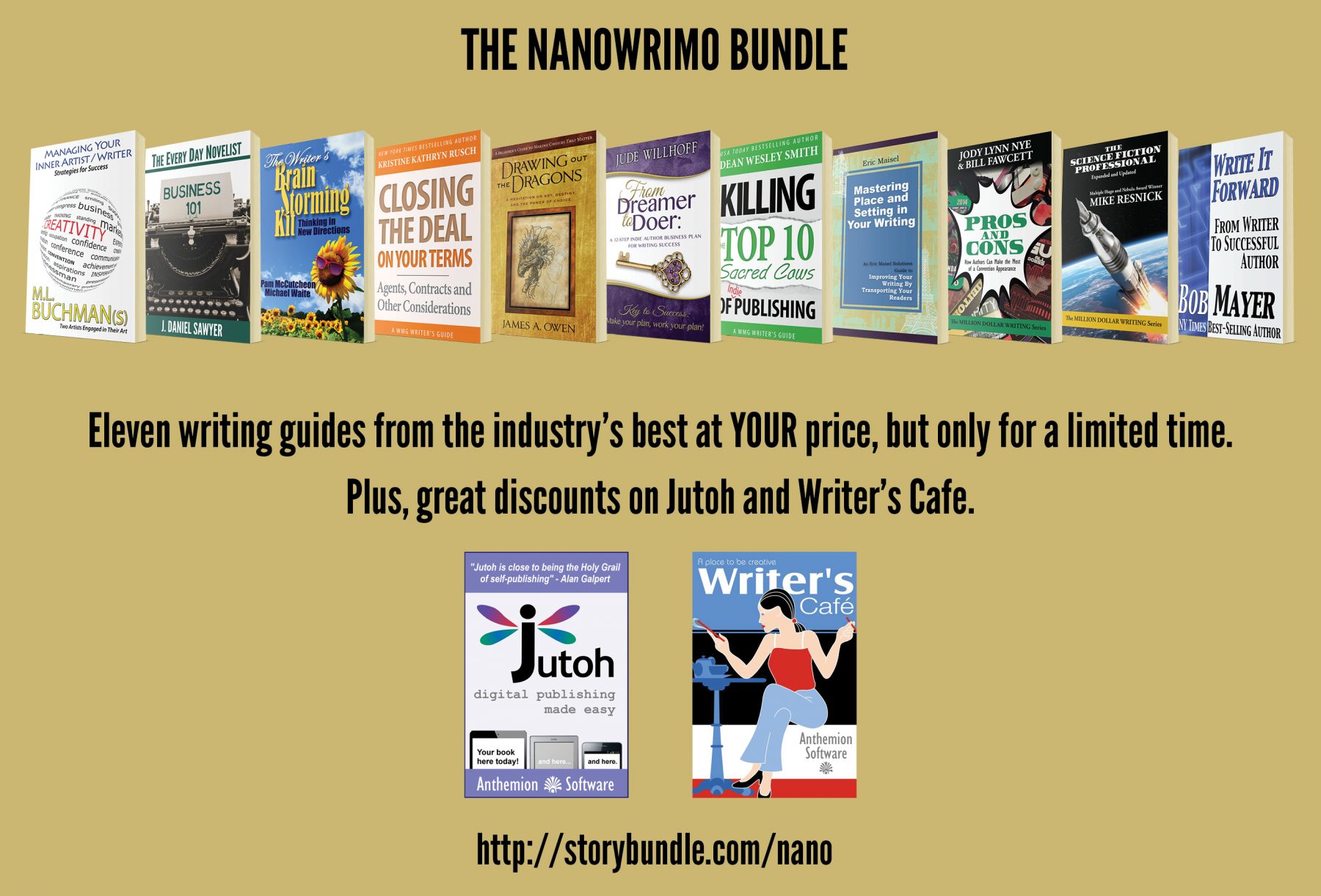 ———-
Kickstarter Update
Got more of the surveys out, including all the workshop surveys out. So we are about three quarters of the way through the surveys now and gaining on it. More will go out tomorrow.
——————-
Anthology Workshop
If you are signed up for the anthology workshop here on the coast in late February, you should have gotten a letter from me and an invite to the workshop group. If you are signed up did not, write me.
——————-
November Online Workshops Start in One Week!!

Click the workshop tab above for description and sign-up or go to www.wmgpublishingworkshops.com.
Class #41… Nov 1st … Author Voice
Class #42… Nov 1st … Point of View
Class #43… Nov 1st … Adding Suspense to Your Writing
Class #44… Nov 1st … Ideas
Class #45… Nov 1st … Character Development
Class #46… Nov 2nd … Depth in Writing
Class #47… Nov 2nd … Advanced Character and Dialog
Class #48… Nov 2nd … Cliffhangers
Class #49… Nov 2nd … Pacing Your Novel
Class #50… Nov 2nd …Expectations (Writing on the Rails)
Classic Workshops and Lectures are also available at any time.
If you are wondering what order would be best to take some of these workshops, we have done a curriculum for the workshops. You can see that at https://deanwesleysmith.com/workshop-curriculum/
————————————
Totals For Year 4, Month 3, Day 26
Writing in Public blog streak… Day 1,133
— Daily Fiction: 00 original words. Fiction month-to-date: 00 words
— Nonfiction: 00 new words. Nonfiction month-to-date total: 00 words
— Blog Posts: 200 new words. Blog month-to-date word count:6,600 words
— E-mail: 12 e-mails. Approx. 900 original words. E-mails month-to date: 429 e-mails. Approx. 27,700 words
— Covers Designed and Finished: 0. Covers finished month-to-date: 1 Covers
———-
— Year of Short Fiction Goal: 120 stories (July 1st to June 30th). Stories finished to date: 8 stories.
— Yearly Novel Goal: 12 Novels. Novels finished to date: 2 novels.
——–
You can support this ongoing blog at Patreon on a monthly basis. Not per post. Just click on the Patreon image. Thanks for your support.