1/2/17 Daily… Adjusting Slightly
Learn How To Adjust…
My goal of starting streaks with both the writing, learning, and exercise got started in two of the three areas. But I realized that was going to not work exactly as planned in both exercise and writing.
So I adjusted. Something I would suggest everyone be willing to do quickly when needed.
My adjustment came in how I am tracking this as well as the streak format.
I will still try my best to maintain a streak of a fact or detail I learned each day. Some will be minor, some will be topics of entire blog posts.
And at the end of the year they will all go into a book. Duh. Should be a fun book. (grin)
Secondly, I will record the writing here as normal, sometimes getting into more detail about the writing day than others. Depending on if there is something new or not going on with the writing.
For example, today I actually got started at 2 a.m. but very tired, so only ended up with 3,100 words in two longish sessions in just over two hours. Book is going quickly if I just give it the hours.
However, instead of more clutter on these daily posts, I am recording the number of days at a certain level on both the running and the writing over on the right side. Just under the list of the monthly online workshops.
That is going to be cool once I am a ways into the month and the year. It will show some interesting patterns I bet. Never tried to record writing numbers like that before. Actually never seen anyone try it in that fashion.
What I Learned Today (Streak Day 2)
A couple things about yesterday's information. Dey didn't write on a manual typewriter as I suggested he did. I learned today he wrote everything longhand. And it was more than fifty million words. Yow! In the comments section yesterday is a fantastic link to an article Dey wrote about writing Nick Carter and what he did. Stunning.  Thanks for sending the link. I will be using that article for a jump-off point on a blog shortly.
The information I said was fun about Books2Read universal link is that when you, a customer, click through, if it is your first time and you pick a store, its asks you if you want to make that store your default store.
If the you the customer says yes, any time you click on a universal link, it automatically takes you through the page and right to the store of choice. And you can also put in your affiliate links as well. If you don't put them in, Books2Read gets the affiliate money, which is fine by me for their free service.
I also learned today that setting a word count goal at the end of every day, no matter what happened during the day, is just sort of silly and doomed to fail, at least with my schedule. That's why I switched to the new system.
—————-
JANUARY ONLINE WORKSHOPS STARTED…
Letters are all out to those writers signed up for the January online workshops. If you thought you were signed up and didn't get a letter from me, write me. And still more than enough time to get into any of the workshops.
All workshops still have openings at the moment. In fact very few people signed up for any of these. Even the new one, Endings Workshop, has lots of room.
www.wmgpublishingworkshops.com
Any questions at all, feel free to write me. And if you are confused as to which workshop to take first, we have a full curriculum posted on its own page.
Class #1… Jan 3rd … Author Voice
Class #2… Jan 3rd … Writing Thrillers
Class #3… Jan 3rd … Endings
Class #4… Jan 3rd … Ideas
Class #5… Jan 3rd … Character Development
Class #6… Jan 4th … Depth in Writing
Class #7… Jan 4th … Advanced Character and Dialog
Class #8… Jan 4th … Cliffhangers
Class #9… Jan 4th … Pacing Your Novel
Class #10… Jan 4th …Expectations (Writing on the Rails)
—————
The Writing of HEAVEN PAINTED AS A SUNSET: A Ghost of a Chance Novel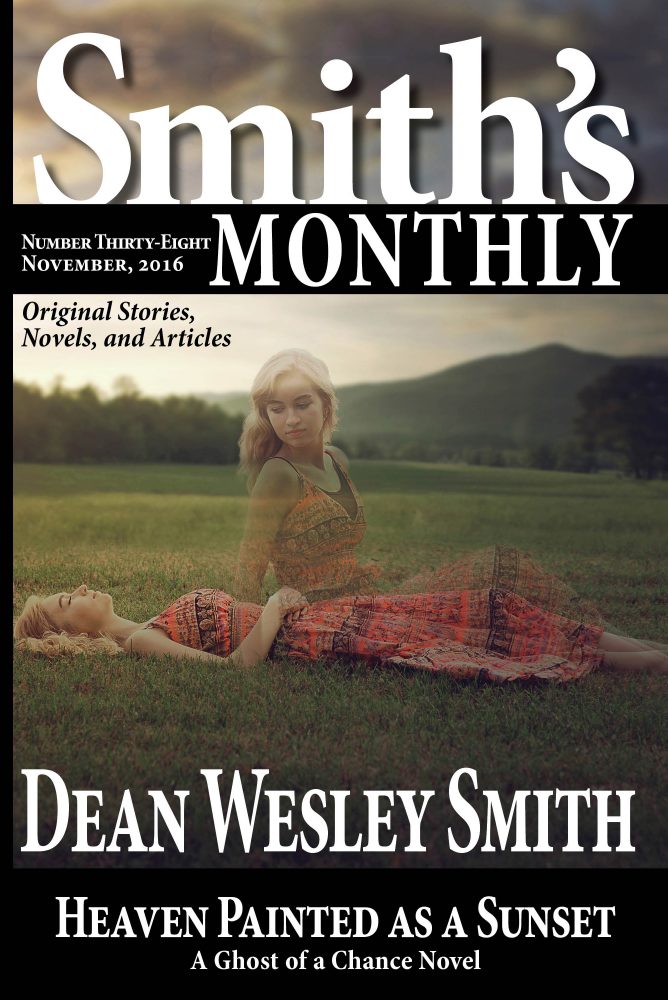 Short Stories Used in Book.  Words… 7,100 words
 Day 1… Words written… 1,100.  Total so far… 8,200 words.
 Day 2… Words written… 3,100.  Total so far… 11,300 words.
 Day 3… Words written… 1,400.  Total so far… 12,700 words.
 Day 4… Words written… 00.  Total so far… 12,700 words.
 Day 5… Words written… 00.  Total so far… 12,700 words.
 Day 6… Words written… 2,600.  Total so far… 15,300 words.
 Day 7… Words written… 00.  Total so far… 15,300 words.
 Day 8… Words written… 00.  Total so far… 15,300 words.
 Day 9… Words written… 2,200.  Total so far… 17,500 words.
 Day 10… Words written… 3,100.  Total so far… 20,600 words.
—————–
Tracking Running
January 2, 2017
4 miles. No running.
Weight 189… 19 more to 170 goal.
Month to date distance: 8 miles
11  Days until the first half-marathon…
Note about the exercise day: Difficult today again.
————–
Tracking Word Counts
January 2, 2017
Totals For Year 4, Month 6, Day 2 (Year started August)
Writing in Public blog streak… Day 1,201
——–
— Daily Fiction: 3,100 original words. Fiction month-to-date: 5,300 words  
— Nonfiction: 00 new words. (from last night) Nonfiction month-to-date total: 00 words 
— Blog Posts: 400 new words. Blog month-to-date word count: 800 words
— E-mail: 37 e-mails. Approx. 2,800 original words.  E-mails month-to date: 64 e-mails. Approx. 4,300 words
— Short Fiction Goal: 120 stories (July 1st to June 30th). Stories to date: 8 stories.
— Novel Goal: 12 Novels. Novels finished to date: 3 novels.
Comments About the Writing of the Day: tired… 
—————————
You can support this ongoing blog at Patreon on a monthly basis. Not per post. Just click on the Patreon image. Thanks for your support.