1/1/17 Daily… Some Learning…
A New Year Fires Up…
My goal of starting streaks with both the writing, learning, and exercise got started in two of the three areas.
I got the four miles of the exercise done, but it was difficult at best. I left it too long into the evening instead of doing it earlier in the day and that got me tired out. Live and learn.
Any new system has adjustments in it. So I'm not worried that I missed the 4,000 words and got 2,200 instead. So that streak will start tomorrow.
The Day
Had a great writer's meeting today. Lots of fun and good conversation about the future, how the business of publishing for indies has matured, and so on. Kris is doing some wonderful posts about that topic right now. One is on her Patreon page and will be up on Thursday on her blog.
Then got busy working on the Endings workshop at the office.
Then home to do a bunch of stuff including hit the exercise goal. But far too tired now here at 4 a.m. to get the next couple thousand words. So that clearly means I need to start earlier than 2:40 a.m. writing. (grin)
What I Learned Today (Streak Day 1)
Actually, learned a number of things including a few details I didn't know about the universal links through Books2Read.com. And I learned I needed to start my writing earlier in the evening going forward.
But the fact that I wanted to share today that I sort of knew and went and found a New York Times article about his death was about Frederick Van Rensselaer Dey. He was a pulp writer back in the day for Street and Smith. His most famous work was writing Nick Carter. He wrote 25,000 to 30,000 word books, one per week for two decades, totaling  1,076 of them. He also wrote under a number of other pen names. 40 million words of just Nick Carter.
All one draft on a manual typewriter.
Imagine how rich someone would be if they could write a 30,000 word short novel in today's world every week for two decades. Yow.
If you wrote 1,000 words per hour, that would be a thirty hour week.
To do that you would have to be free of all the stupid writing myths and have a work ethic.
New Coast Workshops Announced
Taking sign-ups now for the new Coast Workshops. Feel free to ask if you have a question.
The five coast workshops with openings are these:
Science Fiction… April 2017 (only one left now)
Mystery… September 2017
Business Master Class… October 2017
Anthology Workshop… Feb/March 2018
Fantasy… April 2018.
Any questions at all, write me after reading the details under the coast workshop tab.
—————-
JANUARY ONLINE WORKSHOPS START ON TUESDAY…
Letters are all out to those writers signed up for the January online workshops. If you thought you were signed up and didn't get a letter from me, write me. And still more than enough time to get into any of the workshops. They start Tuesday and Wednesday.
All workshops still have openings at the moment. In fact very few people signed up for any of these. Even the new one, Endings Workshop, has lots of room.
www.wmgpublishingworkshops.com
Any questions at all, feel free to write me. And if you are confused as to which workshop to take first, we have a full curriculum posted on its own page.
Class #1… Jan 3rd … Author Voice
Class #2… Jan 3rd … Writing Thrillers
Class #3… Jan 3rd … Endings
Class #4… Jan 3rd … Ideas
Class #5… Jan 3rd … Character Development
Class #6… Jan 4th … Depth in Writing
Class #7… Jan 4th … Advanced Character and Dialog
Class #8… Jan 4th … Cliffhangers
Class #9… Jan 4th … Pacing Your Novel
Class #10… Jan 4th …Expectations (Writing on the Rails)
—————
The Writing of HEAVEN PAINTED AS A SUNSET: A Ghost of a Chance Novel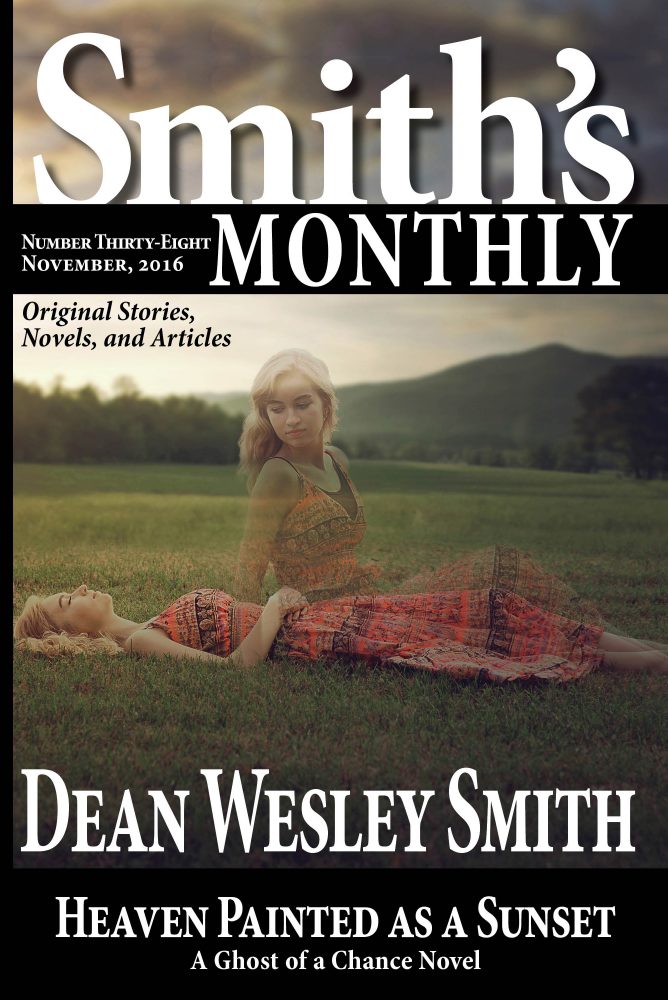 Short Stories Used in Book.  Words… 7,100 words
 Day 1… Words written… 1,100.  Total so far… 8,200 words.
 Day 2… Words written… 3,100.  Total so far… 11,300 words.
 Day 3… Words written… 1,400.  Total so far… 12,700 words.
 Day 4… Words written… 00.  Total so far… 12,700 words.
 Day 5… Words written… 00.  Total so far… 12,700 words.
 Day 6… Words written… 2,600.  Total so far… 15,300 words.
 Day 7… Words written… 00.  Total so far… 15,300 words.
 Day 8… Words written… 00.  Total so far… 15,300 words.
 Day 9… Words written… 2,200.  Total so far… 17,500 words.
—————–
Tracking Running
January 1, 2017
4 miles. No running.
Weight 189… 19 more to 170 goal.
Month to date distance: 4 miles
12  Days until the first half-marathon…
Streak of 4 Miles In a Day… 1
Note about the exercise day: Difficult today.
————–
Tracking Word Counts
January 1, 2017
Totals For Year 4, Month 6, Day 1 (Year started August)
Writing in Public blog streak… Day 1,200
Streak of 4,000 Words In a Day… 0 (not started)
——–
— Daily Fiction: 2,200 original words. Fiction month-to-date: 2,200 words  
— Nonfiction: 00 new words. (from last night) Nonfiction month-to-date total: 00 words 
— Blog Posts: 400 new words. Blog month-to-date word count: 400 words
— E-mail: 27 e-mails. Approx. 1,500 original words.  E-mails month-to date: 27 e-mails. Approx. 1,500 words
— Short Fiction Goal: 120 stories (July 1st to June 30th). Stories to date: 8 stories.
— Novel Goal: 12 Novels. Novels finished to date: 3 novels.
Comments About the Writing of the Day: Started too late… 
—————————
You can support this ongoing blog at Patreon on a monthly basis. Not per post. Just click on the Patreon image. Thanks for your support.