Year End Summary of Writing in Public: Year One
Year End Summary of this Writing in Public challenge.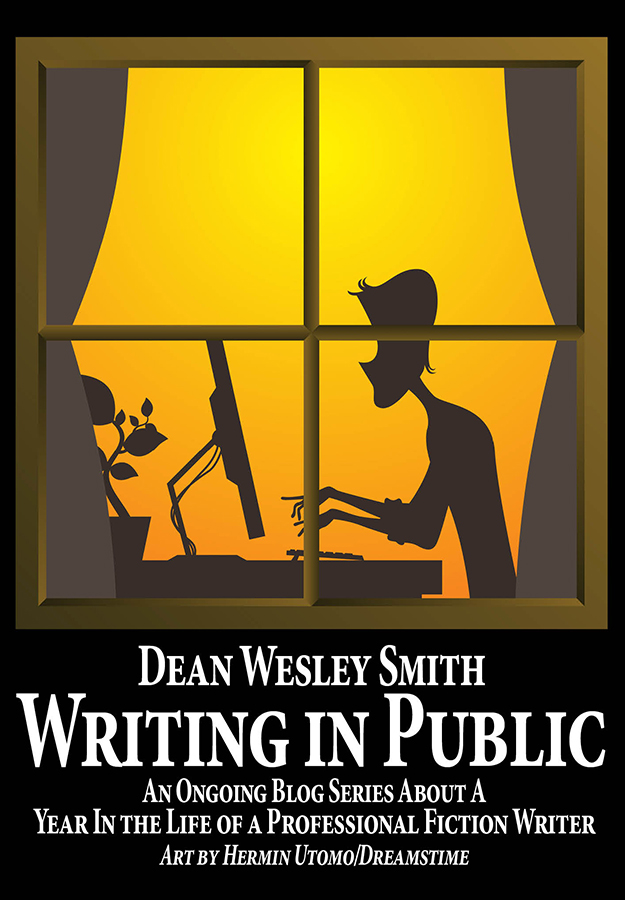 Not even sure where to begin this summary to be honest. I've post all the different categories I count and monthly and yearly totals below, but those numbers only tell a part of the story. But let me start with the numbers first and go from there.
I did (not counting comments on web sites) 1,281,675 original words in the last twelve months.
745,175 words of that was original fiction.
51,700 words of that was nonfiction. (So just under 800,000 words of fiction and nonfiction combined. More than I thought, actually.)
That ended up being twelve novels and over thirty short stories and three nonfiction books. All the novels are in the general 40,000 to 55,000 word range. The short stories make up the rest of the fiction word count.
Since I was putting all the novels and most of the short stories in Smith's Monthly, which first issue came out in October, 2013, I didn't start actually publishing the novels as stand-alone books until January, 2014. I wanted two months for a Smith's Monthly issue to be out before publishing the book or short stories in the issue in other ways.
Since January, WMG Publishing has published one of my novels per month, starting with two in January. The following nine books are now available in both trade paper and electronic. Slots of Saturn is urban fantasy, Kill Game is a mystery, the rest are science fiction cross-over books.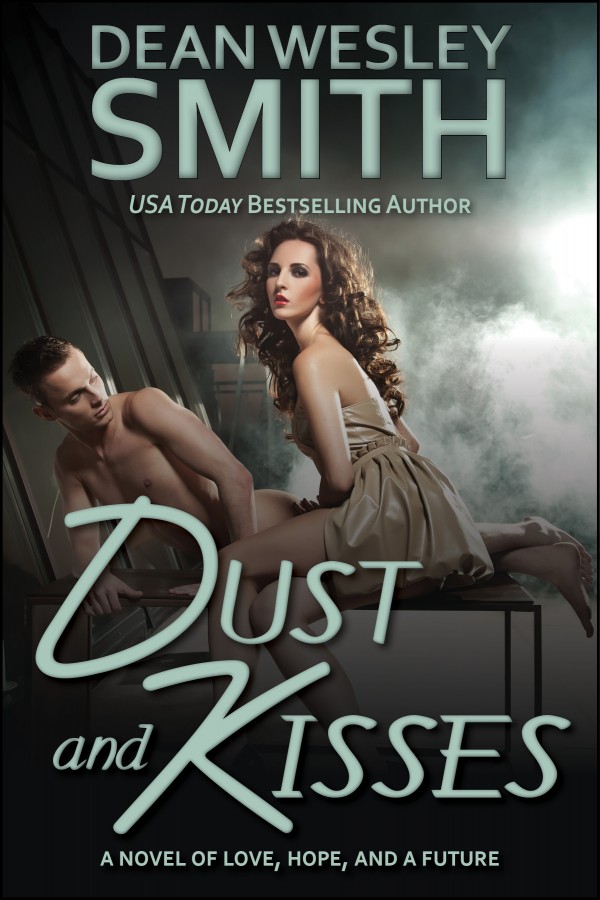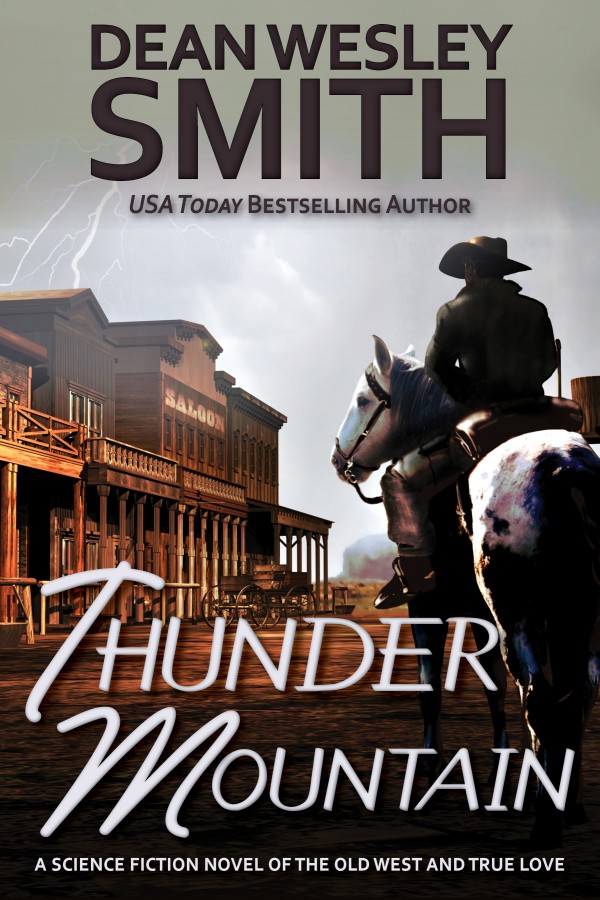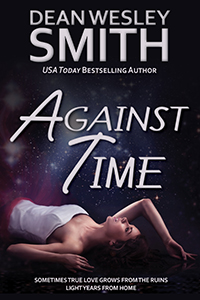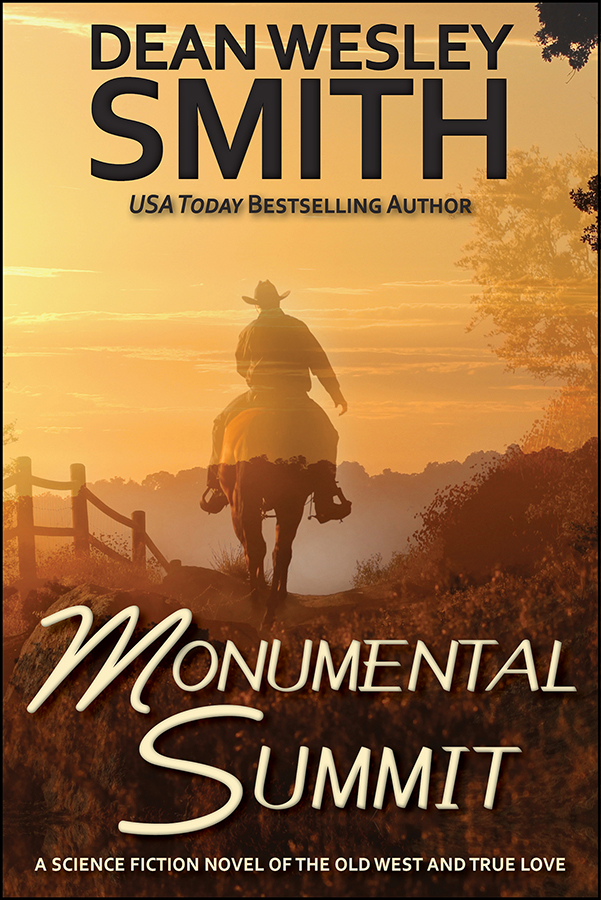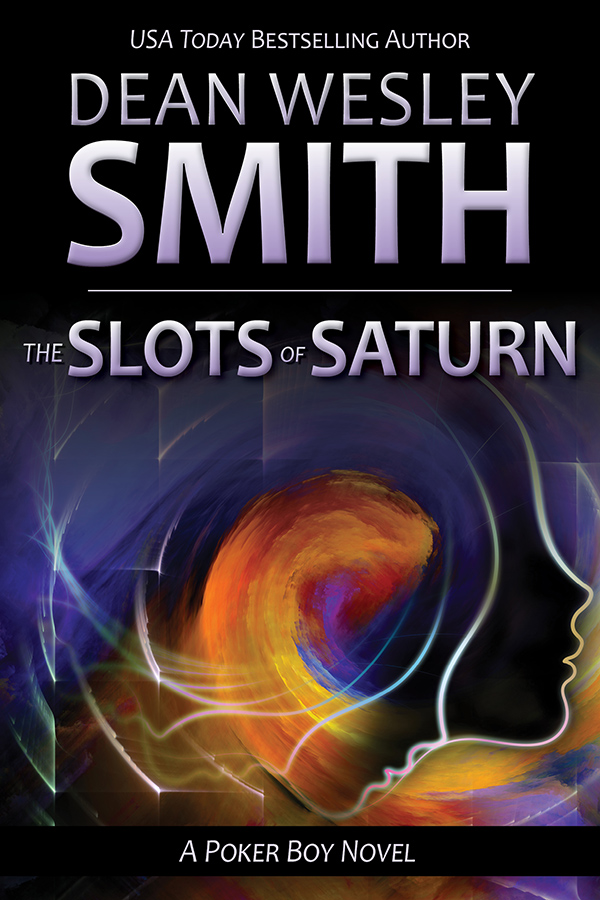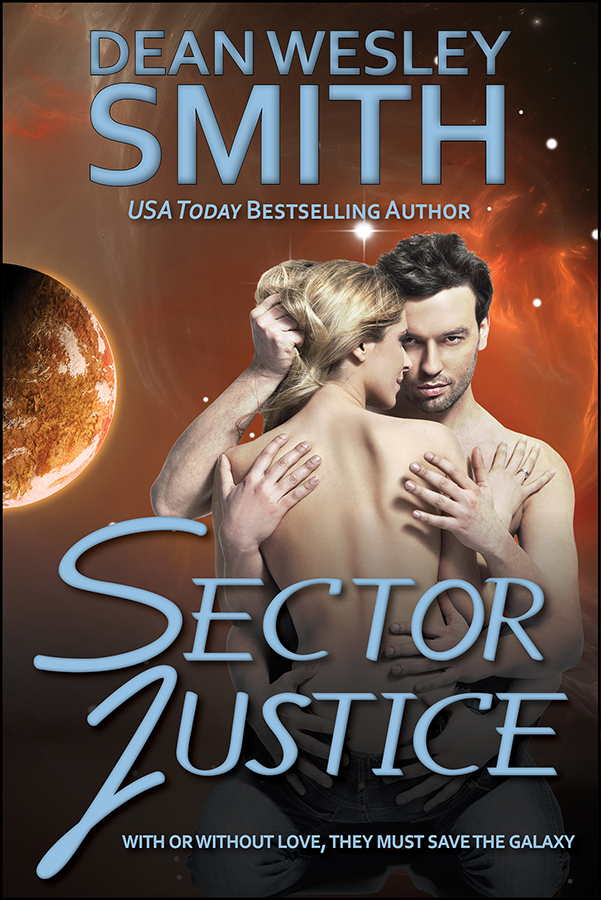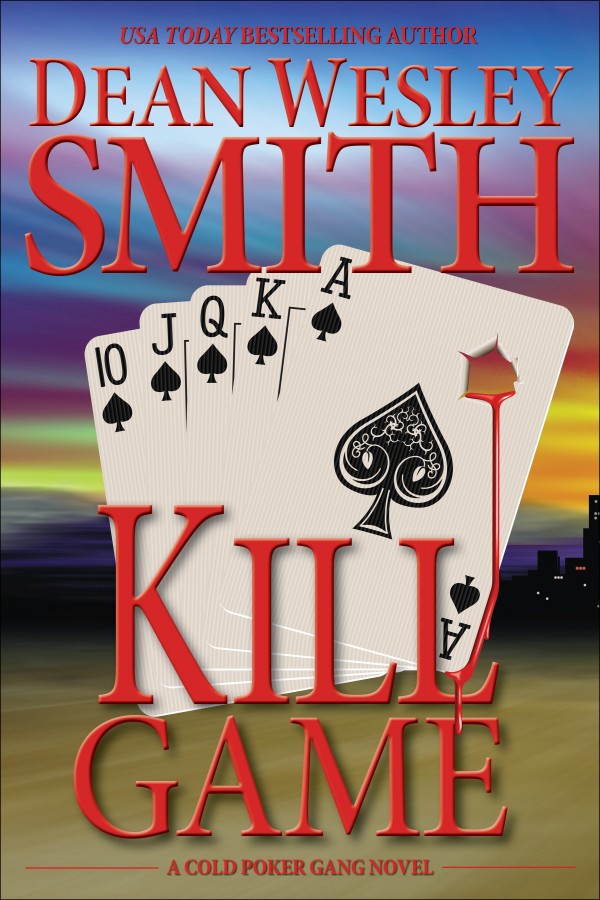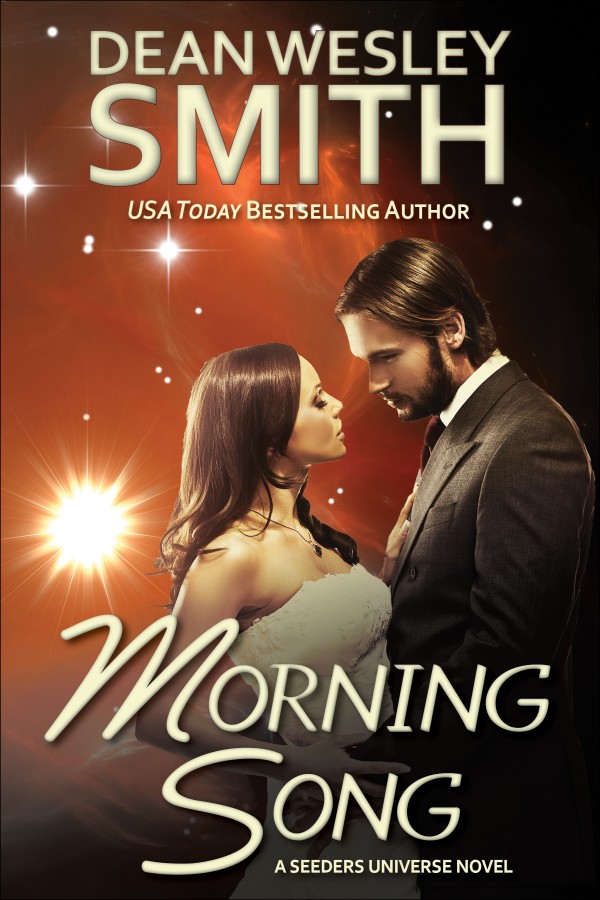 But more than anything else this last year, I am the proudest of Smith's Monthly. You can see all twelve covers down the right side of this page. Nine of them are available with #10 shipping very soon.
I have always admired the great pulp writers, the men and women who could fill an entire magazine every month, often under many names. So I decided to do just that, except just under my name.
For those of you who have not held a paper copy of Smith's Monthly in your hands, it's amazing, in my opinion. Most of the issues run around 80,000 words. One full novel every month and two ongoing serial novels. There is at least four, often five short stories per issue as well. The magazine is 7 x 10 inches and formatted as a magazine. It also has a couple of my poems per issue. All the content is mine. Of everything this past year, that magazine is what I am the proudest.
The magazine really is a dream come true for me. Something I never could have done without this new world and new technology.
Now back to a few more numbers. As many of you following this series over the last year have noticed, I do a ton of stuff that is not writing related. When I put all these Writing in Public posts together in a book or two, I'll add up the hours spent actually writing.
But in summary, I tend to write fiction about 2 to 3 hours per day. I work seven days per week. I write fiction last thing every day. With workshops, being CFO of WMG Publishing, and other projects, I tend to work about 50 hours at least per week away from fiction writing.
In July I averaged about 2 hours of writing per day, about 60 hours of fiction writing for the entire month. That produced about 60,000 words of fiction, which is about my average of 1,000 words per hour.
So those of you with day jobs out there, realize and watch that I also function in my life as if I have a day job that takes about 50 hours of my time per week. Day jobs are not an excuse to not write. (How's that for blunt? (grin))
Now this next year I'll see if I can bring that "day job" hour count down and bring up the writing time and the recreation time as well. I would like to do over one million words of fiction next year. Which means that I need to beat last year's total by at least 255,000 words. (I did approximately 745,000 words of fiction in the last 12 months.)
Doing the math, that means an extra 22,000 words per month on average.
That works out to about 750 words extra per day, or in other words, at my word rate, I need to increase my writing time per day on average by 45 minutes.
I think I can do that. (Amazing how simple math makes things that sound impossible seem easy.)
So What Did I Learn Doing This?
Honestly, I learned a ton of stuff. Some of which I am very surprised at.
First, for all of my writing career, I have been a sprint writer. I would moan and groan and fight to get started on a project, then start, enjoy the hell out of writing, get the project done quickly, and then stop until the next project. Then repeat moaning and groaning to get started.
I love writing. I hate starting to write. Silly, I know, but I'm a writer just like all other writers, with strange issues that plague me and my writing.
So this daily project tracking just kept me focused with no start or end point to anything. I was just always going along, not rushing, not pushing, just dinging along. And enjoying the hell out of it. I didn't realize it was working that way until this spring, actually.
When I stared the daily blogs, I expected to miss a bunch of times. But I didn't miss a day, and that surprises hell out of me.
And honestly, when I am honest with myself, there were about two days per month that I wrote a little something because of this daily reporting where I would not have without it.
Another thing. As an indie writer, I had no real product one year ago.
Yes, I know I had a few hundred short stories, and I have published well over one hundred novels with traditional publishers. But all the novels were under a vast amount of names, often media, often ghost, all restricted. So here comes the indie revolution and while so many writers were talking about their wonderful backlist, I had none really except short stories. Dead Money, an unpublished thriller was about the only novel. And my first published novel that I got the rights back to, but that needs some work and I don't yet feel like doing that work.
Nothing else.
And I have the huge problem that under this name, my media novels are still selling well. Star Trek, Men in Black, Spider-Man, and so on, all still selling. (I get NOTHING from the sales of those books.) So the only way as an indie writer I could beat my own history and use this name was to overwhelm the process and get more books out that would, in time, sell as well or better than the media books.
So a year ago I set out to do just that. A huge task. I knew I needed a good dozen or more novels to even start to cover those media books.
And surprisingly, this daily tracking has worked. With another year and some marketing, I should be up where the media books will be there still, sure, but my original novels will be as well.
And, of course, Smith's Monthly is helping a ton. Sort of like a huge bunch of my new work bundled together every month at a cheap rate. And subscriptions are better than I had ever hoped they would be.
So this tracking kept me on a daily focus, not looking at the huge overall problem, but staying focused down into the daily events. The best way to ever tackle a huge project is break it down into small, tiny chunks. Welcome to the daily blogs. (grin)
I also learned that indie writers are an amazingly supportive group of people. The wonderful comments, both public and private, that I have gotten on this daily blog have inspired me. I didn't start this for attention or expecting more audience to come by. I just wanted to do it for me and my writing. But it did increase the number of people who came to this web site every day to numbers I never expected to ever see.
For a time this winter, over 7,000 people a day were following along. I didn't allow myself to think about that. That would have frozen me down to a block of trembling mud. That number has dropped back some and I now never check it, but I learned how really amazing people are.
I also learned that these daily blogs allow my wife to know what I do every day. I thought she knew, but I guess not. (grin)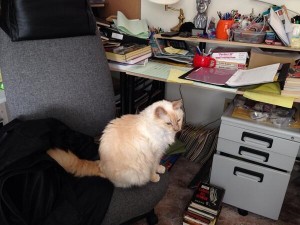 And I learned that cats are the life blood of the internet. I don't spend much time on Facebook or Twitter, so I didn't know that. Walter White Cat, from his place right now on my writing chair, thanks you as well.
Year Two and Onward
I'm going to be increasing the fiction writing overall, to get past that million word mark. So to help me with that, I'm going to add in some regular comparisons with the same month from the previous year.
I'm going to continue doing strange pictures from the past and other fun stuff as well.
I'm going to write another Killing Sacred Cows book. And I'm going to update and bring forward some of the New World of Publishing blogs. And I'll finish Think Like a Publisher 2015.
I will also comment, in the New World of Publishing blogs, about events going on in publishing when I am interested and feel I have something to contribute. Publishing as an industry is in a massive period of change. Disruptive technology has really impacted everything.
Without that new technology, I could not be doing what I am doing now. So I will comment on different publishing events as time goes by this coming year. There will be a lot of them, I'm sure.
It was a fun first year, and as I get more data pulled together from the first year, I'll share it in the daily blogs.
So now I'm off to do over a million words of fiction in this second year, starting tonight. I need to get at least a thousand words to start.
Thanks for all the support over the last year and I hope you'll stick around. I'll do my best to keep it both informative and entertaining.
—
Monthly Totals
Fiction:
August: 78,900 words
September: 81,200 words
October: 86,200 words
November: 56,800 words
December: 52,000 words
January: 34,150 words
February: 35,450 words
March: 70,250 words
April: 56,025 words
May: 80,650 words
June: 52,800 words
July: 60,750 words
TOTAL FICTION FOR THE YEAR: 745,175 words
Nonfiction:
August: 1,000 words
September: 2,900 words
October: 2,000 words
November: 1,950 words
December: 1,700 words
January: 1,400 words
February: 6,550 words
March: 7,800 words
April: 2,500 words
May: 7,100 words
June: 14,700 words
July: 2,100 words
TOTAL NONFICTION FOR THE YEAR: 51,700 words
Blog Posts:
August: 21,300 words
September: 16,600 words
October: 15,150 words
November: 12,550 words
December: 17,300 words
January: 11,450 words
February: 10,000 words
March: 14,800 words
April: 15,300 words
May: 19,600 words
June: 14,800 words
July: 16,350 words
TOTAL BLOG POSTS FOR THE YEAR: 185,200 words
E-mail:
August: 809 e-mails. Approx. 23,050 words
September: 861 e-mails. Approx. 24,600 words
October: 647 e-mails. Approx. 24,450 words
November: 622 e-mails. Approx. 24,250 words
December: 621 e-mails. Approx. 29,700 words
January: 802 e-mails. Approx. 19,200 words
February: 759 e-mails. Approx. 21,250 words
March: 980 e-mails. Approx. 33,200 words
April: 841 e-mails. Approx. 25,700 words
May: 921 e-mails. Approx. 24,800 words
June: 827 e-mails. Approx. 22,900 words
July: 823 e-mails. Approx. 26,450 words
TOTAL NEW WORDS
AUGUST… 124,250 Words
SEPTEMBER… 125,300 Words
OCTOBER… 127,800 Words
NOVEMBER… 95,550 Words
DECEMBER… 100,700 Words
JANUARY… 66,200 Words
FEBRUARY… 73,250 Words
MARCH… 126,050 Words
APRIL… 99,575 Words
MAY… 132,150 Words
JUNE… 105,200 Words
JULY… 105,650 Words
TOTAL WORDS FOR THE YEAR… 1,281,675 Words
—–—