When Writers Face the Deadly Saying… "What's the Point?"
Tonight's Topic: When Writers Face the Deadly Saying… "What's the Point?"
This topic is the reason why I have been talking about the addiction to results and the other topics last week. This is how it manifests. Read those from last week and then read below.
(Tomorrow I will go back over ROI and how it works with tracking money without numbers.)
——
THE DAY
Made it up to WMG Publishing around 1:30 to open up for the regular Sunday writer's lunch. The restaurant we met in is moving, so until they reopen, we're meeting at WMG in the kitchen and bringing our own lunches.
Then I stayed around until almost 7 working on Smith's Monthly. Then to the grocery store, then home to cook dinner, then back to WMG offices to get steps, work on Smith's Monthly, and keep working on the set-up for the new store.
Great fun.
Home to do e-mail around 11 p.m., then a nap, then some television to wake up, then back in here to do workshop assignments and finish that up.
Made it to my writing computer at 3:15 a.m. and managed one session of 1,250 words.
Better than not making it at all today.
——-
In case some of you coming here on Monday missed the announcement last week, we have one new online workshop starting up in December. Plotting with Depth. Details a few posts down or under the online workshop tab above. This workshop is on the schedule through March.
And also, for two months only, we are bringing back Designing Book Interiors workshop. Just December and January for this one.
December Workshop Schedule
All workshops have openings.
Class #51… Dec 7th … Advanced Depth
Class #52… Dec 7th … Character Voice/Setting
Class #53… Dec 7th … Adding Suspense to Your Writing
Class #54… Dec 7th … Ideas into Stories
Class #55… Dec 8th … Character Development
Class #56… Dec 8th … Depth in Writing
Class #57… Dec 8th … Plotting With Depth
Class #58… Dec 9th … Designing Covers
Class #59… Dec 9th … Writing and Selling Short Stories
Class #60… Dec 9th … Designing Book Interiors
Classic Workshops and Lectures are also available at any time.
——-
TOPIC OF THE NIGHT: "What's the Point?"
A couple people got angry at me in letters because I told them that following sales numbers (the number of books you are selling or what Amazon list you are on) is an addiction.
A deadly one to your writing and your career for the long term.
So what are the first signs you are into the deadly part of this addiction?
Easy. When you are sitting at your computer, your creative voice really, really wants to write a certain story or a new book in a certain series, and you hear yourself think, "What's the point? It won't sell."
Oh, oh…
Tust me, folks, I am not immune from this in the slightest. When I realize that one of my books or series is selling better than others, and yet I am firing up a book that is in the poor-selling series, I hear myself ask that question.
How I get around it is tell that tiny part of my critical voice that is trying to stop me that maybe this book in this lower-selling series will be the one that explodes. That answers the question, "What's the point."
And makes the critical voice crawl away whimpering.
But realize, I've been doing this a very long time, I never read reviews of my work, and I do not follow any sales numbers or bestseller lists. Yet this still creeps in at times because one of the wonderful things we have about this new world is immediate information on sales.
A real double-edged sword if I have ever seen one.
But it just isn't choices of what to write next that this "What's the Point?" question pops up. Let me list some of the major ones.
After each one say to yourself, "So what's the point?" (See if any sound familiar to you.)
— Choice of next writing project that isn't one of your top sellers. (So… )
— Comparison to others. (Speed or sales higher than yours, so…)
— Life event stops you. (You feel behind or lost so…)
— Imaginary lack of time to write in the future. (I hear this one all the time, so….)
— I'm too old to start now. (So…)
— No one makes a living with their fiction. (This one just makes my head shake sadly. So…)
— There is too much to learn. (So…)
— I'm no good in business. (So…)
There are many, many more. Sadly.
But many of these, if not all in one form or another, come from watching numbers or reading reviews.
And all of it is your critical voice trying to do its job and stop you. And when you start hearing "What's the point?" the critical voice is winning. It really is that simple.
So how exactly does this kill your writing and career?
A thousand ways with a thousand cuts, actually.
If you listen and act on the question, you won't learn, you won't write anything except stuff that you think will sell and chances are it won't, or at least not for long.
And the first time you write a couple things you don't like just because you think they will sell and they don't live up to some made-up expectation your critical voice has put on the project, the "What's the Point?" question gets so loud, you can't hear yourself think, let alone write.
Coming back from a life event is never easy, and you feel behind, so what's the point of even starting? So you don't do anything, because something might happen again to stop you.
You are too old (by some made-up yardstick in your head…I heard a 28 year old say this once) so it's better to not start.
And so on and so on.
This question, when you hear it, is your critical voice trying to stop you. It is mostly triggered by watching your own numbers, reading your own reviews, or comparing yourself to someone else's numbers or success.
It is also triggered by an attitude of dread instead of excitement.
For example, I get excited when I look at how much more I have to learn in the craft of telling a story. That excites me.
If you look at the same thing with dread, that there is too much to deal with, and here comes the question, "What's the Point?"
Indie publishing has a lot of learning curves, from covers to interiors to decisions on where to sell your books. I love the ever-changing nature of this new world and thrive on it.
But if you stand back and look at it and shut down and think there is too much, you can't learn it all, here comes the question, "What's the Point?"
In my last few years of traditional publishing books, I had grown to hate what I was doing, hated writing, hated the idiots in New York, hated the stupidity of baby copyeditors, hated the bad contracts. And I got to the point where I said clearly numbers of times and out loud, "What's the point?"
And for me, at that moment in time, there was no point.
So I quit writing, quit the business. I was headed to play poker for a living for the second time in my life when the indie world fired up.
Suddenly I could see a way again where I would be challenged with writing and publishing. I wouldn't have to deal with the stupidity of a baby editor who thought she knew everything, even though I had been selling books before she was born.
I could see a way I could control my own life, my own writing, my own problems in publishing.
And I got excited at the massiveness of numbers of things I needed to learn. I was challenged by that.
And so, at the age of 62, just two-and-a-half years ago, I fired up my writing and my own magazine, and have been learning ever since. At that point I had one backlist book to publish and that was it. I was going to have to write all new.
I told Kris the other day that I felt like the most experienced beginning writer in the world.
To me, that's a challenge and except for a few times when sales numbers creep into my office, I never ask the question "What's the Point?"
I had my best writing year ever this last year (in money) and 2015 looks to be even better (from quarterly reports…see previous post).
If you can get past what is stopping you and switch your focus, stay away from watching reviews and book sales numbers, and have fun writing, you might be surprised at what will happen.
And the best way to find your trouble spots in your business and writing is listen for that one nasty question. "What's the Point?"
Because if you hear it, you are headed the wrong way.
Stop.
Figure out the Problem.
Change Attitude.
Change Practices.
And go back to having fun telling stories. Because honestly, that is the point of all of this.
——
The Writing of GRAPEVINE SPRINGS: A Thunder Mountain Novel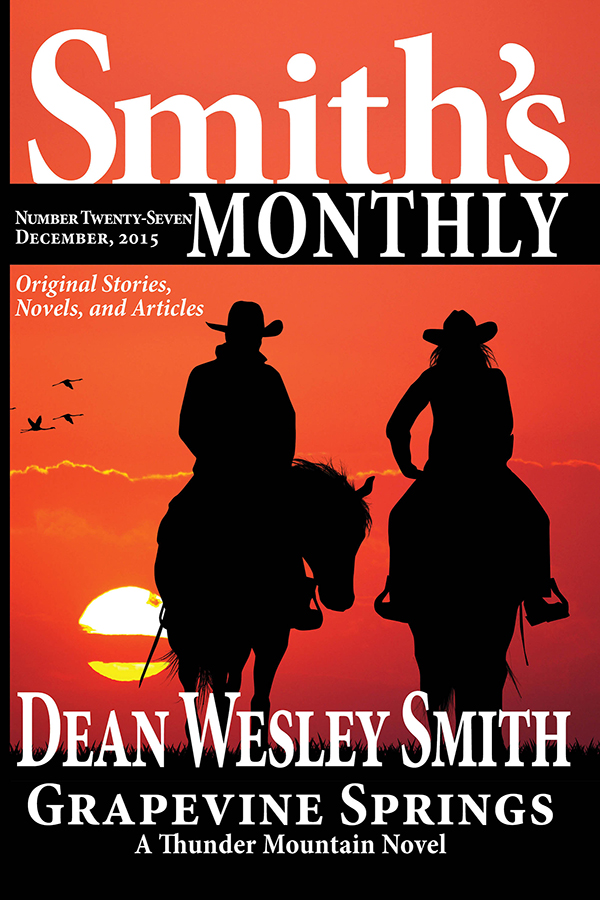 Day 1…. 2,450 words.  Total words so far… 2,450 words.
Day 2….5,300 words.  Total words so far… 7,750 words.
Day 3….7,100 words.  Total words so far… 14,850 words.
Day 4….2,250 words.  Total words so far… 17,100 words.
Day 5….6,300 words.  Total words so far… 23,400 words.
Day 6….2,450 words.  Total words so far… 25,850 words.
Day 7….2,700 words.  Total words so far… 28,550 words.
Day 8….2,100 words.  Total words so far… 30,650 words.
Day 9….1,450 words.  Total words so far… 32,100 words.
Day 10…2,750 words.  Total words so far… 34,850 words.
Day 11…2,250 words.  Total words so far… 37,100 words.
Day 12…1,150 words.  Total words so far… 38,250 words.
Day 13…1,250 words.  Total words so far… 39,500 words.
——
Totals For Year 3, Month 4, Day 15
Writing in Public blog streak… Day 826
— Daily Fiction: 1,150 original words. Fiction month-to-date: 44,400 words  
— Nonfiction: 00 new words. Nonfiction month-to-date total: 00 words 
— Blog Posts: 1,500 new words. Blog month-to-date word count: 11,700 words
— E-mail: 27 e-mails. Approx. 1,600 original words.  E-mails month-to date: 323 e-mails. Approx. 18,200 words
— Covers Designed and Finished: 0. Covers finished month-to-date: 1 Covers
——–
You can support this ongoing blog at Patreon on a monthly basis. Not per post. Just click on the Patreon image. Extra stuff for different levels of support and I will be adding in more as time goes on. Thanks for your support.
Or you can just toss a tip into the tip jar with a single donation at PayPal. Either way, your support keeps me going at these crazy posts.
And thanks.


If you would like to leave a tip just hit Paypal.me/deanwesleysmith (Goes to WMG Publishing account, but I'll get it just fine.)