Figuring Writing Investment Return
Figuring Writing Investment Return
The topic tonight comes from a couple people asking how a writer could figure ROI (Return on Investment) on their writing without following the numbers. More on that below.
——
THE DAY
Slept late, raining solidly here today. Nasty kind of rain, not our normal dump and then the sun comes out. I did errands, snail mail, bank, grocery store, other things, then got to WMG offices around 5 p.m.
Worked there until 6:30 on Smith's Monthly, then home to cook dinner, then back to WMG to work on Smith's Monthly and do some work on the new store.
Then home to do workshop assignments and e-mail. Done with all that around midnight, watched The Voice, then got back in here around 2 a.m.
I worked on another project for an hour, then went and did some walking to get past the 10,000 steps, then around 3:30 a.m. I did a session on the book. And got some stuff figured out. I thought I had put in one of my worthless loops, but as I wrote tonight it became clear that the loop was important. Ahh, good. I hope.
But only 1,100 words. Then went back to work on the other project that doesn't entail writing. I'll explain at some point.
——-
In case some of you coming here on Monday or Tuesday missed the announcement last week, we have one new online workshop starting up in December. Plotting with Depth. Details a few posts down or under the online workshop tab above. This workshop is on the schedule through March.
And also, for two months only, we are bringing back Designing Book Interiors workshop. Just December and January for this one.
December Workshop Schedule
All workshops have openings.
Class #51… Dec 7th … Advanced Depth
Class #52… Dec 7th … Character Voice/Setting
Class #53… Dec 7th … Adding Suspense to Your Writing
Class #54… Dec 7th … Ideas into Stories
Class #55… Dec 8th … Character Development
Class #56… Dec 8th … Depth in Writing
Class #57… Dec 8th … Plotting With Depth
Class #58… Dec 9th … Designing Covers
Class #59… Dec 9th … Writing and Selling Short Stories
Class #60… Dec 9th … Designing Book Interiors
Classic Workshops and Lectures are also available at any time.
——
Don't miss the last two days of the fantastic mystery bundle that I am lucky enough to have a book in. This a stunning deal for the books involved, including a fantastic collection of Scudder stories by Lawrence Block.
Only two days left!!
And if you haven't read any of my Cold Poker Gang mystery novels, here is a great chance to do so.
——-
TOPIC OF THE NIGHT: Figuring Writing Investment Return
I have covered this a few times, but seems that when I told people that following their book sales numbers was an addiction, it brought up this question about how to judge their success or failure.
I suggested that writers follow their money (not sold copies) once a month, do a quarterly summary, and a yearly summary. More than enough to follow any trend and what most businesses do.
So how to understand what is a good result and what isn't a good result when following only the money???
Fact One… Copyright is a form of property.
Fact Two… When you create a story or a book, you have created property you own.
So how much did it cost you to create that property? That's key number you need first.
And you must count your time in some fashion or another. I tend to use $50 per hour for a reason I have explained many times. Figure out your own rate.
Count art costs, cover time, copyediting expense, office expense, and so on. Come up with a rounded-up number per title.
So let's make this easy with a simple example.
You have written ten books. You add up the costs of all ten books and you find you have invested about $25,000 in getting those ten books out. (Not all cash out of pocket… a lot of that will be your time figured at your hourly rate, remember.)
So you have a $25,000.00 investment.
Now, you track your income for one year for those ten books. You get about $2,500 total income from those ten books in a year. (If you were tracking sales numbers, you would be depressed at that.)
Divide the $2,500 by $25,000 to show that you got a 10% Return on Investment that year.  A great return in any investment world.
(Note: A 10% investment usually takes time to work up to in most investment circles, if an investment ever gets that high.)
But look at what that means per book for a moment to get that fantastic return on investment.
$2,500 divided by 10 books = $250 income per book for the year.
$250 divided by 12 months = $20.89 per book per month.
That's all you need. Just track the money. And realize that for any property investment, 10% per year is a fantastic return.
Of course, we all want to do a ton more than that. But this simple calculation in following the money and keeping perspective will help you understand that your writing is earning a really nice return for you, even when you think your sales numbers are not great.
The key, as all indie writers know, is to keep pouring more and more investments into your investment account. (Just as you do with 401K accounts or stock accounts.)
Stop following the sales numbers. Kick the addiction and just do what normal business people do, follow the money in and out monthly.
And then figure your return on investment to keep yourself sane.
You might be stunned at how really well you are doing, even with books you are thinking "What's the Point."
——
The Writing of GRAPEVINE SPRINGS: A Thunder Mountain Novel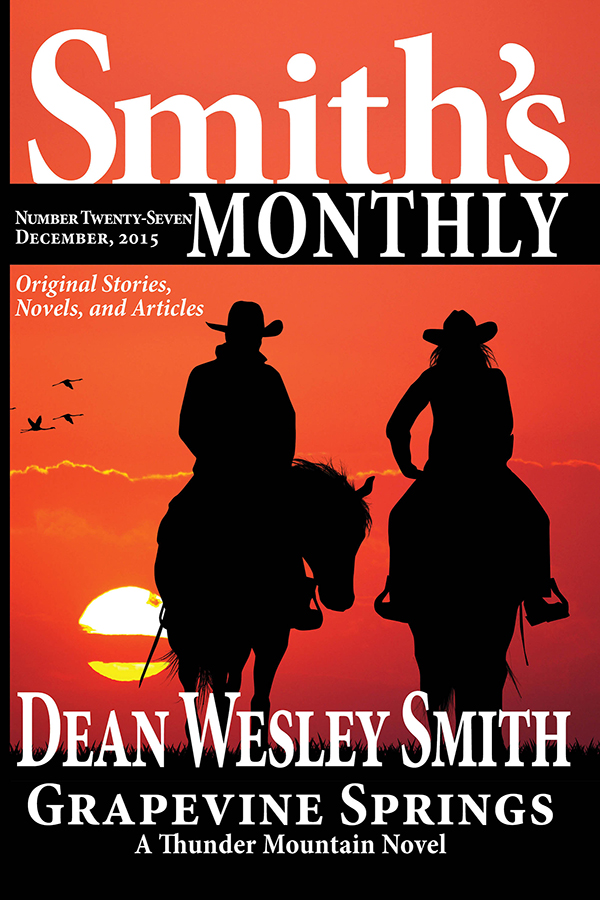 Day 1…. 2,450 words.  Total words so far… 2,450 words.
Day 2….5,300 words.  Total words so far… 7,750 words.
Day 3….7,100 words.  Total words so far… 14,850 words.
Day 4….2,250 words.  Total words so far… 17,100 words.
Day 5….6,300 words.  Total words so far… 23,400 words.
Day 6….2,450 words.  Total words so far… 25,850 words.
Day 7….2,700 words.  Total words so far… 28,550 words.
Day 8….2,100 words.  Total words so far… 30,650 words.
Day 9….1,450 words.  Total words so far… 32,100 words.
Day 10…2,750 words.  Total words so far… 34,850 words.
Day 11…2,250 words.  Total words so far… 37,100 words.
Day 12…1,150 words.  Total words so far… 38,250 words.
Day 13…1,250 words.  Total words so far… 39,500 words.
Day 14…1,100 words.  Total words so far… 40,600 words.
——
Totals For Year 3, Month 4, Day 16
Writing in Public blog streak… Day 827
— Daily Fiction: 1,100 original words. Fiction month-to-date: 45,500 words  
— Nonfiction: 00 new words. Nonfiction month-to-date total: 00 words 
— Blog Posts: 900 new words. Blog month-to-date word count: 12,600 words
— E-mail: 28 e-mails. Approx. 1,900 original words.  E-mails month-to date: 351 e-mails. Approx. 20,100 words
— Covers Designed and Finished: 0. Covers finished month-to-date: 1 Covers
——–
You can support this ongoing blog at Patreon on a monthly basis. Not per post. Just click on the Patreon image. Extra stuff for different levels of support and I will be adding in more as time goes on. Thanks for your support.
Or you can just toss a tip into the tip jar with a single donation at PayPal. Either way, your support keeps me going at these crazy posts.
And thanks.


If you would like to leave a tip just hit Paypal.me/deanwesleysmith (Goes to WMG Publishing account, but I'll get it just fine.)