Topic of the Night: Writing a Novel in Seven Days: Chapter Ten
WRITING A NOVEL IN SEVEN DAYS
Chapter Ten: Day Seven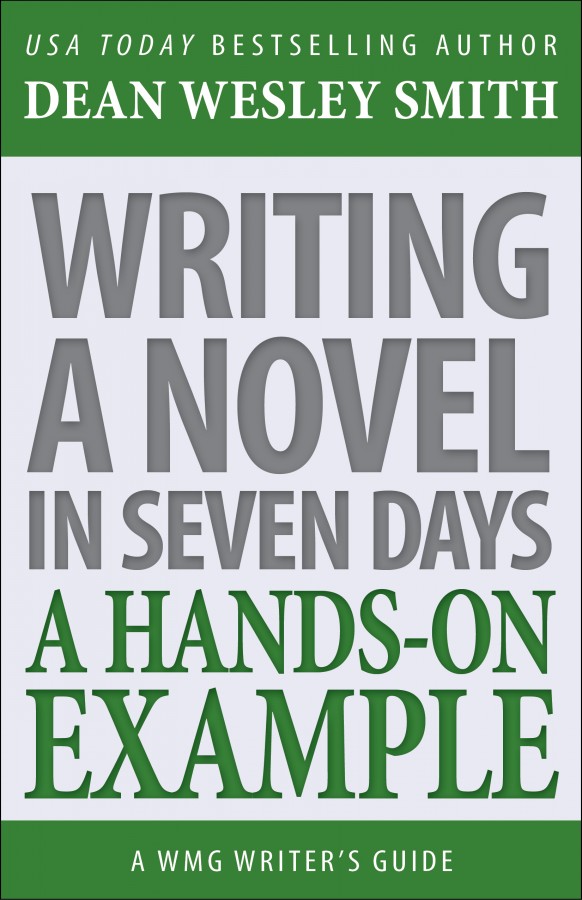 The Challenge is Simple.
Day One: 3,000 words.
And then each day after that add 1,000 words to the amount needed. Seven days, if my math is right, I will have a 42,000 word novel.
3,000… 4,000… 5,000… 6,000… 7,000… 8,000… 9,000 words.
7 Days.
Day Seven (9,000 word day)
Got the book done!!!!
The goal today was at 9,000 words and needed to be the focus of my day because I had no idea how many words I would actually need to end this book. I had 3,000 words in the bank, so that helped the worry some.
Counting 3,000 words for Day On, 4,000 words for Day Two, 5,000 words for Day Three, 6,000 words for Day Four, 7,000 words for Day Five, 8,000 words for Day Six, and 9,000 words for Day Seven, I needed to be at 42,000 words or beyond to hit the challenge.
Hit that solidly. The novel came in at 43,050 words.
Seven Day Novel Challenge Hit!!!
The Day
Friday for me is normally an errand day. I got out of the house around 1:30 p.m. and ran errands all over the place including banks, mail, the WMG store, grocery store, you name it, I was there this afternoon.
Got to the office around 4:30 and worked there until just before 5:30 p.m. before heading home.
I did some e-mail and other things quickly, then by 6:00 I got started writing on the novel The Idanha Hotel: A Thunder Mountain Novel.
First Session:
6:00 p.m. I started and managed 700 words  in thirty minutes before taking a very short break.
Second Session:
Back in here around 6:45 p.m. and managed 900 words in another 45 minutes.
Sun was out and I had to block the sun coming into my office, but managed to make it work. Book was going slow at this point because I honestly had no idea exactly where it was going or how it would end.
I also decided to take a nap at his point and then dinner and some television. So slower than last night.
Third Session:
Got back in here around 9:30 p.m. and managed 1,100 more words by 10:15 p.m.
Fourth Session:
10:30 p.m. until 11:30 p.m. I got 1,200 words more.
Stopped to watch some television at that point. Yes, even on a 9,000 word last day I stopped and watched some television.
Fifth Session:
1 a.m. until until 2 a.m. I got in 1,100 words.
Book is back picking up speed at this point and I know the ending now.
Sixth Session:
2:05 a.m. until 2:50 a.m. I got 1,000 words done.
Seventh Session:
From 3 a.m. until 3:45 a.m. I managed 600 words.
Eighth Session:
From 3:45 a.m. until 4:30 a.m. I managed 400 words.
I also spent a lot of time going back over all 50 some chapters to make sure the dates at the top were right. Time travel and loops are really confusing, but for the most part, I got them all right.
So I printed up the book and put it on Kris's spot to read.
—–
Eight sessions.
I got 7,000 words for the  day, bringing the novel to 43,050 words total. That's about normal length for all my Thunder Mountain books.
How Am I Feeling About Finishing?
Relieved and surprised it wasn't harder than it was.
I had to stay focused for the week, but I didn't not do something. I still worked and watched television and got regular night's sleep. I didn't really do anything differently except that I was focused on the writing instead of playing around with other things.
In the last chapter of this nonfiction book about the writing on Sunday night, I'll list all the details about the challenge. How many hours it took me to write, how much I worked at my job outside of the writing, and so on over the seven days.
But I want to say this right now. I had thought that writing a novel in a week was a young person's thing. Learned I am wrong on that. I'm 65 years old and this didn't even begin to stress me.
So now that excuse for me is shot out the window.
Back Sunday with a wrap-up of all this and a final chapter on the nonfiction book.
—–
Where Can You Read This Novel?
In about a month, this novel will be out in Smith's Monthly #30. (That's right, I will have done 30 issues of a monthly magazine with a full novel in every issue, plus short stories.)
Then in about four months, the book will come out in paper and electronic editions stand-alone.
Subscribe to Smith's Monthly to not miss it, or support this blog on Patreon. Either way you can read this novel in a month.
———
The Writing of The Idanha Hotel: A Thunder Mountain Novel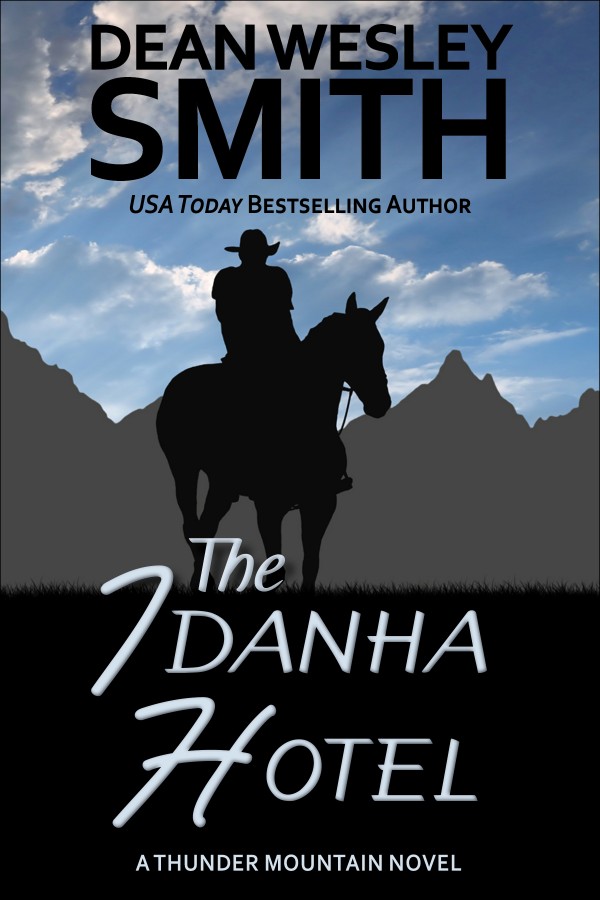 Day 1.. 3,700 words.   Total words so far… 3,700 words.
Day 2.. 5,100 words.  Total words so far… 8,800 words.
Day 3.. 5,600 words.   Total words so far… 14,400 words.
Day 4.. 6,050 words.  Total words so far… 20,450 words.
Day 5.. 7,500 words.  Total words so far… 27,950 words.
Day 6.. 8,050 words.  Total words so far… 36,050 words.
Day 7.. 7,000 words.  Total words so far… 43,050 words.
—
The Day in Summary
5.5 hours of work at other things counting the hour to write this chapter and other blog post and e-mail.
6.5 hours or so of writing to get 7,000 words.
Just about 12 hours for the day total. The rest of the time was napping, watching television, eating lunch and dinner, sleeping, and other regular life things.
All done. A novel is seven days.
It was great fun.