Took a Day Off
Nice dinner in the valley, fun movie, a bunch of television when I got home.
I did manage to get some e-mail answered, but past that, a day doing real world things. Who knew Kris and I could do that at times? (grin)
———————
October Online Workshops Start In One Week

Click the workshop tab above for description and sign-up or go to www.wmgpublishingworkshops.com.
Questions about any of the workshops, feel free to write me.
All are limited to 5 writers. All still have room at the moment.
Class #31… Oct 4th … The Business of Writing
Class #32… Oct 4th … Character Voice/Setting
Class #33… Oct 4th … Writing Mysteries
Class #34… Oct 4th … Speed
Class #35… Oct 4th … Teams in Fiction
Class #36… Oct 5th … Depth in Writing
Class #37… Oct 5th … Point of View
Class #38… Oct 5th … Writing Fiction Sales Copy
Class #39… Oct 5th … Writing and Selling Short Stories
Class #40… Oct 5th … Advanced Depth
Classic Workshops and Lectures are also available at any time.
If you are wondering what order would be best to take some of these workshops, we have done a curriculum for the workshops. You can see that at https://deanwesleysmith.com/workshop-curriculum/
—————–
Star Fall is Out in a Bundle
Repeating this again since I really hope a bunch of you get this bundle to see what I produced in those ten days in August. Some of you might remember the book I wrote in ten days while aiming at seven days in late August. Star Fall: A Seeders Universe Novel. That book is now available as I promised it would be. The official publication date isn't until November, but at the moment it is available in a fantastic bundle called The Extreme Science Fiction Bundle.
Also notice that in this bundle there is a fantastic Retrieval Artist novel called Extremes by Kris. It also has a great novel by Kevin J. Anderson, another by Mike Resnick, and another by M.L. Buchman. Plus two books by J. Daniel Sawyer.
And also an amazing volume of Fiction River: Risk Takers. I edited that and it is a fantastic example of a Fiction River volume.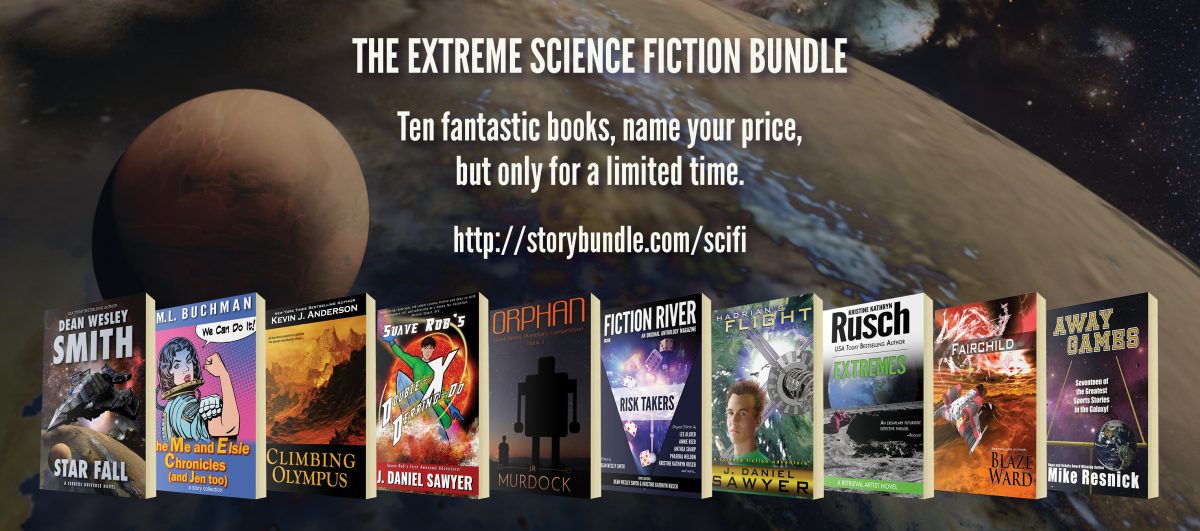 ——————–
Totals For Year 4, Month 2, Day 28
Writing in Public blog streak… Day 1,105
Total Miles This Month… 147 miles
— Daily Fiction: 00 original words. Fiction month-to-date: 4,700 words
— Nonfiction: 00 new words. Nonfiction month-to-date total: 1,500 words
— Blog Posts: 100 new words. Blog month-to-date word count: 9,900 words
— E-mail: 7 e-mails. Approx. 800 original words. E-mails month-to date: 425 e-mails. Approx. 27,400 words
— Covers Designed and Finished: 0. Covers finished month-to-date: 0 Covers
———-
— Year of Short Fiction Goal: 120 stories (July 1st to June 30th). Stories finished to date: 8 stories.
— Yearly Novel Goal: 12 Novels. Novels finished to date: 2 novels.
——–
You can support this ongoing blog at Patreon on a monthly basis. Not per post. Just click on the Patreon image. Thanks for your support.