Topic of the Night: Automatic Confidence
Lots and lots of writers get lost in the process of publishing between the moment they finish their story or novel and the moment it gets into print in one fashion or another.
Getting lost in this area often comes from a lack of confidence.
And fear. Massive fear.
Not sure what writers are afraid of, but sometimes releasing a work for a writer is like walking into nests of spiders. Or worse.
This lack of confidence and fear leads to either not publishing or rewriting, which is a form of not publishing.
So here tonight is an idea for you, something I call Automatic Confidence.
A Personal Note
Now, I know a vast amount about craft and storytelling and have the hundreds of published novels and even more hundreds of published short stories to prove it. Not even counting the teaching and editing I do year after year.
And yet, as I have always said, writers are the worst judges of their own work. And I am no exception to that rule, one of the only real rules in writing.
Since I started following Heinlein's Rules in 1982 I have been convinced at a deep level that everything I write is crap. I never say that and I never act on that feeling because I learned through seven lost years of rewriting how bad that path is.
But I flat don't trust myself to make any judgement on anything I have written. Ever.
So I don't. It really is that simple and that hard.
And to make sure I never get a chance to make a crippling and wrong judgement on my own work, I have set up what I call Automatic Confidence.
What is Automatic Confidence?
Basically, it is a system that you follow to get yourself past all the points of critical voice taking back a story and trying to "fix" it. Or toss it away.
For example, for me, I have a three step process. It used to be a step or two longer in traditional and the early days of indie publishing, but it is down to three now.
Remember, I do not rewrite. When I get to the end of a book, it is done for me.
So my Automatic Confidence is this:
Step One: I print up the novel or story and give it to Kris, my first reader.
Step Two: I look at any correction she has made on my manuscript and decide if I want to fix it or not. I fix typos and unclear antecedents. If she has a story suggestion, I sometimes give that some thought. But I never reread the book, I just fix the mistakes.
Step Three: I give the book to Allyson at WMG Publishing to get to a copyeditor. I never see it again until it hits print. I have trained Allyson and the copyeditor who works on my stuff to go very light and about ever three books I have to answer a query or two.
You might have to have a step four in looking at the copyedits until you get a copyeditor trained completely to your voice and style. And you might need to fix the mistakes the copyeditor finds in typos, but Allyson does that for me at WMG.
So I have three steps in my Automatic Confidence.
By the time the book or story hits that third step, I am on to the next story. It is automatic.
I never have to fight the battle of believing something I write sucks and killing it. Or worse, rewriting it. I never face that.
I let readers decide.
Most long-term pros have variations of Automatic Confidence systems they have built into their process. But I almost never see beginning and young professionals with such systems. So I hear from them a great deal about how they agonize about the release process.
Stop the judgement on your own work. Make the release process automatic in some fashion or another and never give it another thought.
Just a suggestion to save you some grief and also to maybe save some of your work from self-destruction.
Hope it helps.
(If you want to hear a little more about this, take the Speed Online Workshop.)
———————
October Online Workshops Start In One Week

Click the workshop tab above for description and sign-up or go to www.wmgpublishingworkshops.com.
Questions about any of the workshops, feel free to write me.
All are limited to 5 writers. All still have room at the moment.
Class #31… Oct 4th … The Business of Writing
Class #32… Oct 4th … Character Voice/Setting
Class #33… Oct 4th … Writing Mysteries
Class #34… Oct 4th … Speed
Class #35… Oct 4th … Teams in Fiction
Class #36… Oct 5th … Depth in Writing
Class #37… Oct 5th … Point of View
Class #38… Oct 5th … Writing Fiction Sales Copy
Class #39… Oct 5th … Writing and Selling Short Stories
Class #40… Oct 5th … Advanced Depth
Classic Workshops and Lectures are also available at any time.
If you are wondering what order would be best to take some of these workshops, we have done a curriculum for the workshops. You can see that at https://deanwesleysmith.com/workshop-curriculum/
—————–
Star Fall is Out in a Bundle
Repeating this again since I really hope a bunch of you get this bundle to see what I produced in those ten days in August. Some of you might remember the book I wrote in ten days while aiming at seven days in late August. Star Fall: A Seeders Universe Novel. That book is now available as I promised it would be. The official publication date isn't until November, but at the moment it is available in a fantastic bundle called The Extreme Science Fiction Bundle.
Also notice that in this bundle there is a fantastic Retrieval Artist novel called Extremes by Kris. It also has a great novel by Kevin J. Anderson, another by Mike Resnick, and another by M.L. Buchman. Plus two books by J. Daniel Sawyer.
And also an amazing volume of Fiction River: Risk Takers. I edited that and it is a fantastic example of a Fiction River volume.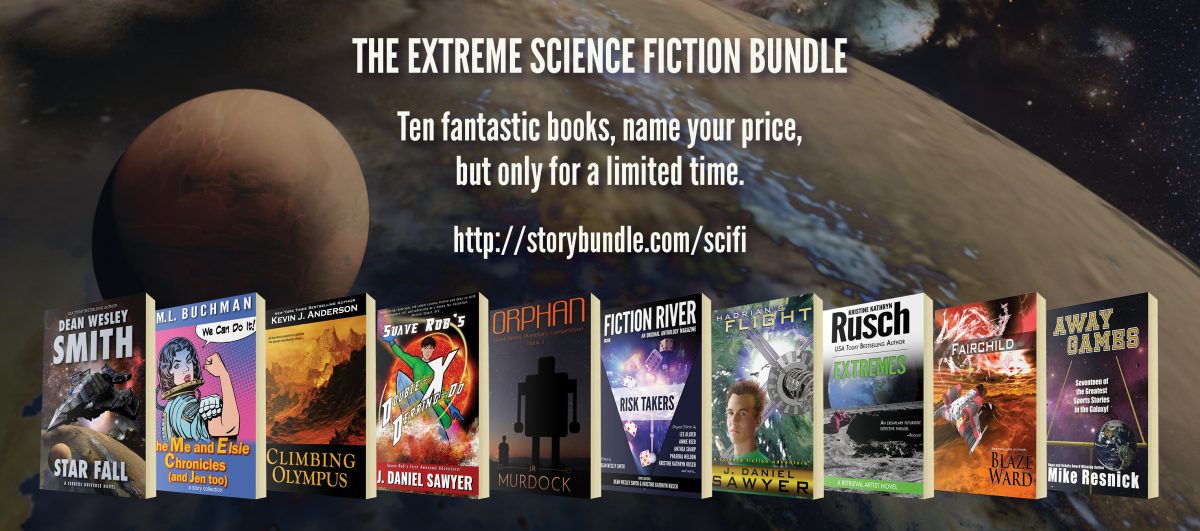 ——————–
Totals For Year 4, Month 2, Day 27
Writing in Public blog streak… Day 1,104
Total Miles This Month… 143 miles
— Daily Fiction: 00 original words. Fiction month-to-date: 4,700 words
— Nonfiction: 00 new words. Nonfiction month-to-date total: 1,500 words
— Blog Posts: 800 new words. Blog month-to-date word count: 9,800 words
— E-mail: 29 e-mails. Approx. 2,100 original words. E-mails month-to date:418 e-mails. Approx. 26,600 words
— Covers Designed and Finished: 0. Covers finished month-to-date: 0 Covers
———-
— Year of Short Fiction Goal: 120 stories (July 1st to June 30th). Stories finished to date: 8 stories.
— Yearly Novel Goal: 12 Novels. Novels finished to date: 2 novels.
——–
You can support this ongoing blog at Patreon on a monthly basis. Not per post. Just click on the Patreon image. Thanks for your support.