Point of View
As I said yesterday, Kris and I took a day off and drove into the valley, an hour to two hour drive, depending where you go from the coast. And along the way we were talking and brainstorming about the new online workshop Point of View.
I was telling her what I saw from beginning writers since she doesn't see beginning writers much with what she teaches and edits these days. I was telling her about the character having "thoughts" like … I wished I was there, he thought… A huge viewpoint problem if not done right in a story.
And I was telling her that I often saw numbers of writers putting thoughts in italics, which is also a major viewpoint problem. But we both agreed that most of those problems could be handled in a few videos. And we could also teach how to do those things without them being a viewpoint problem.
And then the conversation went much deeper about point of view from there. I couldn't believe I was actually having a writer conversation about levels of points of view, how the control is done, how to use point of view correctly with certain characters.
Great fun.
Most beginning writers think there are only a few levels of points of view. You know, first, second, third person. Past or present tense. But even knowing that much most fiction writers don't know how to even handle those basics correctly depending on the story, the character, the location in the story, and so much more.
This workshop is going to be fantastic fun for me (already has been with the conversations about it Kris and I have had.)
Almost no one is signed up, but I don't care, I'm going to do it anyway because I think this topic should be detailed out for fiction writers and not from the point of view of some English teacher with a lot of worthless terms.
This workshop will be for fiction writers.
And for the writers who want the power of controlled points of view. Writers who want to know when to tighten in a point of view and how, and writers who want to learn how to pull back a point of view and how to do it and when.
And when to float a point of view and when not to. And how to do it correctly.
So the workshop will cover the beginning stuff and fix that quickly, and from there this is going into advanced storytelling and control over how a reader feels.
The depth workshop works a lot of point of view in openings, without ever talking about the levels of points of view. And advanced depth workshop also does more on this area.
And no, there is no such thing as true omniscient viewpoint in fiction. Sorry. But there are things you might think are omniscient, but they have points of view. Advanced, usually.
Ever dealt or even thought about a narrative point of view? How would you even do it and when to do it in a story or novel?
And how do you deal with character voice and author voice in some points of view? How does character voice alter a point of view and restrict some things and allow other techniques?
Starting to get the idea?
Point of view is one of the most critical and powerful tools a writer can use, and the most ignored and done wrong. It's going to be great fun to put this workshop together so I at least have something I can point to when I get some writer saying… he thought…
Great fun. At least for me and I hope for the few people taking it.
———————
October Online Workshops Start On Tuesday

Click the workshop tab above for description and sign-up or go to www.wmgpublishingworkshops.com.
Questions about any of the workshops, feel free to write me.
All are limited to 5 writers. All still have room at the moment.
Class #31… Oct 4th … The Business of Writing
Class #32… Oct 4th … Character Voice/Setting
Class #33… Oct 4th … Writing Mysteries
Class #34… Oct 4th … Speed
Class #35… Oct 4th … Teams in Fiction
Class #36… Oct 5th … Depth in Writing
Class #37… Oct 5th … Point of View
Class #38… Oct 5th … Writing Fiction Sales Copy
Class #39… Oct 5th … Writing and Selling Short Stories
Class #40… Oct 5th … Advanced Depth
Classic Workshops and Lectures are also available at any time.
If you are wondering what order would be best to take some of these workshops, we have done a curriculum for the workshops. You can see that at https://deanwesleysmith.com/workshop-curriculum/
—————–
Star Fall is Out in a Bundle
Repeating this again since I really hope a bunch of you get this bundle to see what I produced in those ten days in August. Some of you might remember the book I wrote in ten days while aiming at seven days in late August. Star Fall: A Seeders Universe Novel. That book is now available as I promised it would be. The official publication date isn't until November, but at the moment it is available in a fantastic bundle called The Extreme Science Fiction Bundle.
Also notice that in this bundle there is a fantastic Retrieval Artist novel called Extremes by Kris. It also has a great novel by Kevin J. Anderson, another by Mike Resnick, and another by M.L. Buchman. Plus two books by J. Daniel Sawyer.
And also an amazing volume of Fiction River: Risk Takers. I edited that and it is a fantastic example of a Fiction River volume.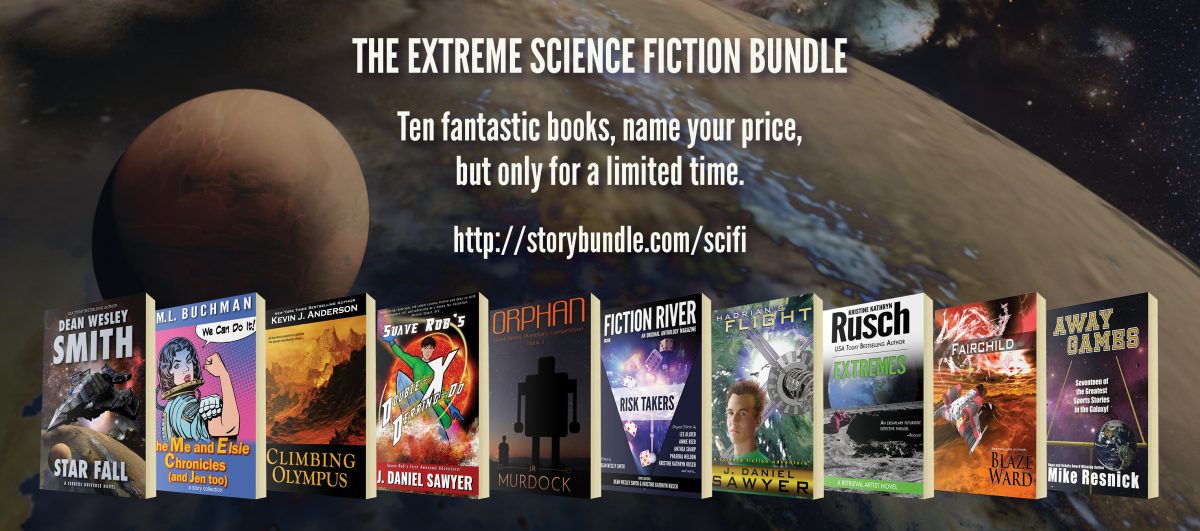 ——————–
Totals For Year 4, Month 2, Day 29
Writing in Public blog streak… Day 1,106
Total Miles This Month… 151 miles
— Daily Fiction: 00 original words. Fiction month-to-date: 4,700 words
— Nonfiction: 00 new words. Nonfiction month-to-date total: 1,500 words
— Blog Posts: 700 new words. Blog month-to-date word count: 10,600 words
— E-mail: 11 e-mails. Approx. 700 original words. E-mails month-to date: 436 e-mails. Approx. 28,100 words
— Covers Designed and Finished: 0. Covers finished month-to-date: 0 Covers
———-
— Year of Short Fiction Goal: 120 stories (July 1st to June 30th). Stories finished to date: 8 stories.
— Yearly Novel Goal: 12 Novels. Novels finished to date: 2 novels.
——–
You can support this ongoing blog at Patreon on a monthly basis. Not per post. Just click on the Patreon image. Thanks for your support.