Novel Finished

Yup, finished the second novel of the month. Of course, the last one I started last month, but got this one done in ten days.
——-
The Day
I paid no attention to the day today, honestly. Got home from being out doing errands around 5:30 p.m. and I worked, off and on, until 4:30 a.m. on finishing the novel. Mostly on.
I wrote about 7,100 total words and cut out about fifteen hundred total, which isn't bad for me. Book came in just under 40,000 words.
The Taft Ranch: A Thunder Mountain Novel will be in Smith's Monthly #33. I will be turning in the issue to WMG, along with the two issues before it on Monday or so. Patreon and subscription folks will get the volumes in a month or so.
————-
July Workshop Schedule
All July workshops have room. All are limited to five writers max.
All details at www.wmgpublishingworkshops.com
Class #1… July 5th … Author Voice
Class #2… July 5th … How to Write Thrillers
Class #3… July 5th … Adding Suspense to Your Writing
Class #4… July 5th … Plotting With Depth
Class #5… July 5th … Character Development
Class #6… July 6th … Depth in Writing
Class #7… July 6th … Advanced Character and Dialog
Class #8… July 6th … Cliffhangers
Class #9… July 6th … Pacing Your Novel
Class #10… July 6th … Teams in Fiction
Classic Workshops and Lectures are also available at any time.
————-
Nifty New Bundle
My Seeders Universe novel, Morning Song is in a new science fiction adventure bundle. Morning Song is about a massive ghost space ship inward bound to cause destruction in a galaxy. Massive science fiction adventure on a very large scale. If you haven't read any of my Seeders Universe novels, this would be a good one to start with.
You can get the bundle at www.storybundle.com/scifi
And oh, yeah, you also get science fiction novels in this bundle by Kevin J. Anderson, Kristine Kathryn Rusch, Alan Dean Foster, Brian Herbert, Todd McCaffrey, Jean Rabe and Gene DeWeese and others. Plus two major sf anthologies and also Tales of Dune edited by Kevin J. Anderson and Brian Herbert.
14 books total plus a sneak peak of a new Dune book and a new major bestselling book by Kevin.
So buy it for my book and when you get a chance, read all the rest of them as well. (grin)
————-
Topic of the Night: Novel in Ten Writing Days
Yeah, didn't set out to do it, but finished this book in ten writing days. I think it took me about 14 days to actually do it since I took a few off along the way, but ten writing days.
Felt like a very comfortable pace, actually.
————-
The Writing of The Taft Ranch: A Thunder Mountain Novel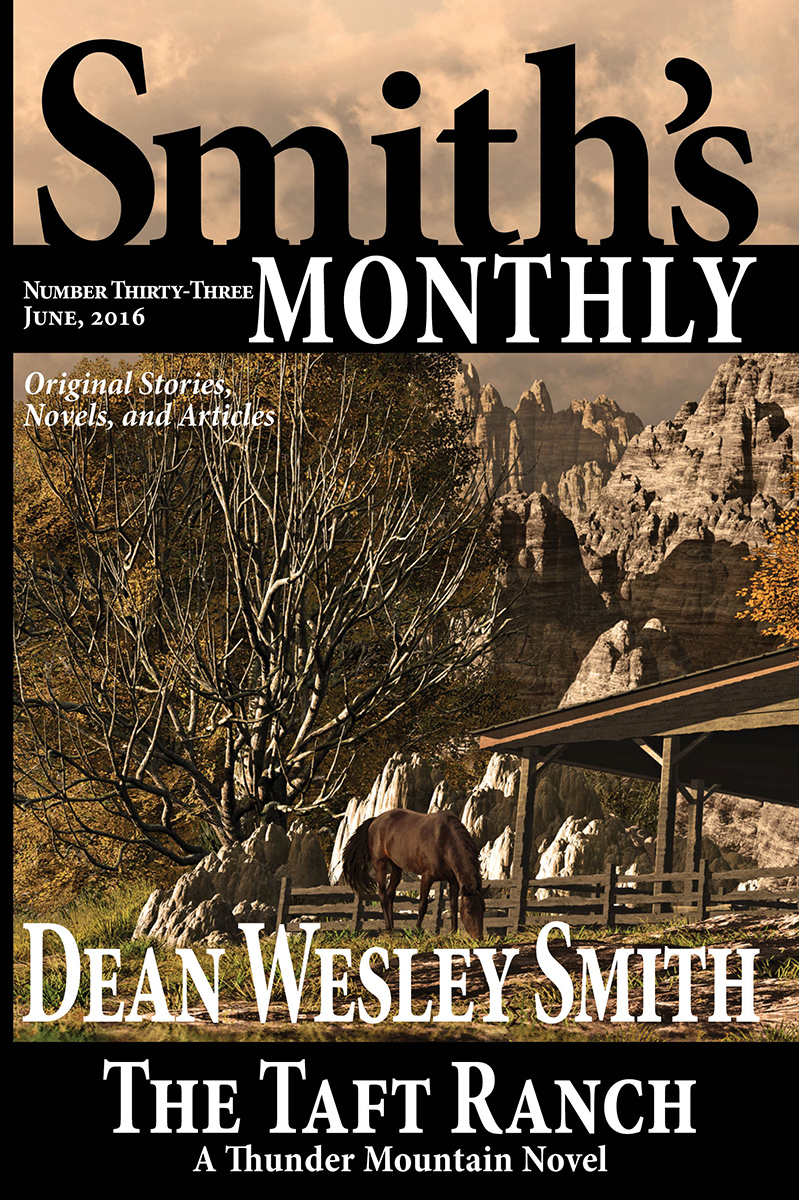 Day 1… 1,050 words. Total words so far… 1,050 words.
Day 2… 3,300 words. Total words so far… 4,350 words.
Day 3… 5,250 words. Total words so far… 9,600 words.
Day 4… 5,350 words. Total words so far… 14,950 words.
Day 5… 4,350 words. Total words so far… 19,300 words.
Day 6… 4,250 words. Total words so far… 23,550 words.
Day 7… 4,800 words. Total words so far… 28,350 words.
Day 8… 2,450 words. Total words so far… 30,800 words.
Day 9… 3,450 words. Total words so far… 34,250 words.
Last Day…7,100 words. Total words written… 41,350 words.
——————
Totals For Year 3, Month 11, Day 24
Writing in Public blog streak… Day 1,010
— Daily Fiction: 7,100 original words. Fiction month-to-date: 66,600 words
— Nonfiction: 00 new words. Nonfiction month-to-date total: 00 words
— Blog Posts: 400 new words. Blog month-to-date word count: 15,100 words
— E-mail: 11 e-mails. Approx. 400 original words. E-mails month-to date: 375 e-mails. Approx. 25,100 words
— Covers Designed and Finished: 0. Covers finished month-to-date: 2 Covers
——–
You can support this ongoing blog at Patreon on a monthly basis. Not per post. Just click on the Patreon image. Extra stuff for different levels of support and I will be adding in more as time goes on. Thanks for your support.
Or you can just toss a tip into the tip jar with a single donation at PayPal. Either way, your support keeps me going at these crazy posts.
And thanks.


If you would like to leave a tip just hit Paypal.me/deanwesleysmith (Goes to WMG Publishing account, but I'll get it just fine.)