Learning (A Newsletter-Like Post)
LEARNING
Did some learning today that was darned cool. I'll talk about it below in topics.
——
THE DAY
Running around the entire day, from an early meeting around 1:30 p.m. to two more meetings and then Kris and I headed down the coast to Newport to get some supplies and have dinner down there.
Left the house around 1 p.m. and didn't get back in here and done running around until almost ten p.m. That's silly.
Then did e-mail and took a very short nap before going to watch some television.
Back in here around 1 a.m. to write.
I sat down and off I went and I'll be darned if this thing didn't just get bigger. Not in words, but in vastness of the plot. Now I am pretty sure a sidetrack I have is no longer needed, but by giving myself permission to just write forward and not care until the book was done, the book got bigger in scope.
Seems I freed up my creative mind and off it went.
I have no idea how to end this one. But it will wrap up at some point, I hope.
Ended up in two sessions writing 2,700 words before deciding I was too tired to go on.
——-
PATREON SUPPORTERS
Tomorrow or Friday you will be getting one of the non-fiction books I just finished. And a day or so after that the next issue of Smith's Monthly. Stay tuned.
——-
FLASHBACK PICTURE… 1987
This is a picture taken by Alan Bard Newcomer in 1987 of me sitting at a Mac Plus in his attic where I laid out Pulphouse #1. It was hot. Really hot up there, if memory serves.
Every Pulphouse book was laid out in Pagemaker on a Mac Plus. Not kidding. But after this one, I did them at the Pulphouse offices on my very own Mac Plus, which I still own.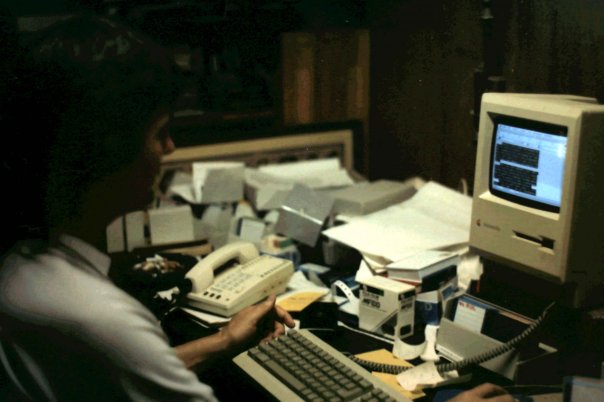 ——-
NOVEMBER ONLINE WORKSHOPS
At the moment all of the following have openings. They start on Monday, Tuesday, and Wednesday. Only 9 workshops this month available.
Class #41… Nov 2nd … Pitches and Blurbs
Class #42… Nov 2nd … How to Write Thrillers
Class #43… Nov 2nd … Adding Suspense to Your Writing
Class #44… Nov 2nd … (Cancelled)
Class #45… Nov 3rd … Character Development
Class #46… Nov 3rd … Depth in Writing
Class #47… Nov 3rd … Making a Career
Class #48… Nov 4th … Cliffhangers
Class #49… Nov 4th … Pacing Your Novel
Class #50… Nov 4th … Advanced Depth
——-
Great New Mystery Bundle
My mystery novel, COLD CALL is now in a fantastic new bundle of stories called The Dark Justice Mystery Bundle.
——
TOPIC OF THE NIGHT: Learning
One of the meetings this afternoon was with three other professional writers and our accountant. Yes, we all have the same accountant and he volunteered to help us with vocabulary problems so we could talk to each other better.
One of us (not me) is a great accountant who knows the terms, the other three of us know just enough to be dangerous because we were coming at corporations from different backgrounds. And we all seemed to be talking in different languages at times.
So we had a meeting together with our accountant.  As I had hoped, most of what I was doing was right, even though I had terms wrong, EXCEPT for one thing. Thankfully, tonight I went back and looked and my not doing something right will make no difference at all with either the taxes for us or WMG Publishing Inc. It was basically a way of handling liability that I had wrong in my head.
And it was something the accountant would have caught if it was a problem. He just did it right for me and I just called it something else. Damn I love having a great accountant. (And no, I will not tell you his name. Please don't ask.)
Accural accounting and so much more fun talk this afternoon.
I came away kind of excited and you know that you have to be a numbers-geek to be excited talking accounting.
However, that's not why I am excited. I like not spending money I don't have to spend. Legally, not spending it.
In the master class this last week, we tried to mention about how one way to help you succeed in writing was to know taxes. That was like telling young writers they had to know copyright. I say that all the time and get blank looks.
Well, last week I said to the writers that they had to know taxes to make it at long-term writing and the same blank-look stare came back at me from a large part of the writers in the room.
Well, there are a number of professional writers here in town who know how critical knowing taxes is to their careers, just as Kris and I have known it for decades. And getting with them and talking this stuff is actually fun. Especially with an expert in tax law for corporations.
And wow did I learn a bunch this afternoon and I love learning. Especially when the learning will save me and Kris even more money.
Ignore or be afraid of taxes at your peril. Just saying.
Even learning taxes can be fun when it will legally save you a lot of money.
——-
The Writing of STAR RAIN: A SEEDERS UNIVERSE NOVEL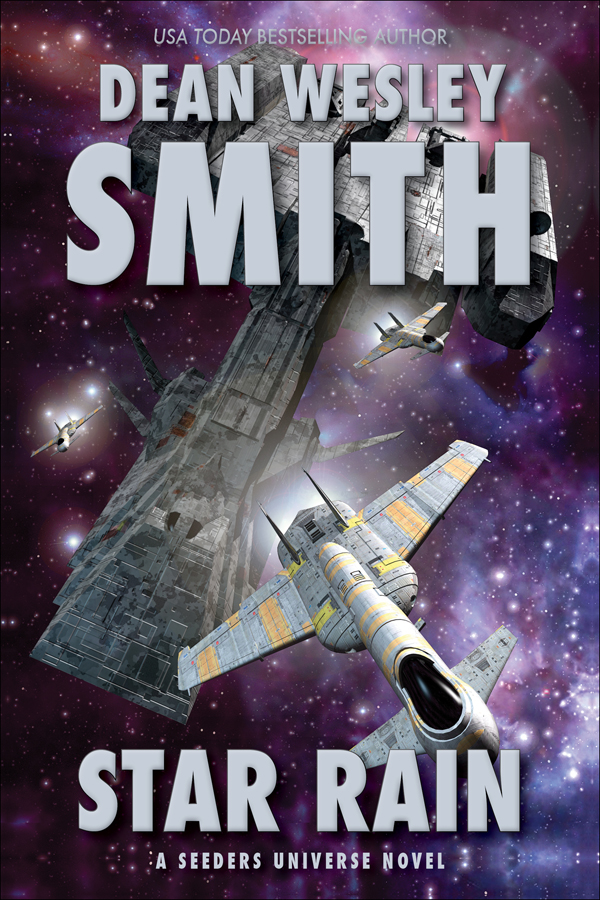 Day 1…. 2,550 words.  Total words so far… 2,550 words.
Day 2…. 2,350 words.  Total words so far… 4,900 words.
Day 3…. 2,500 words.  Total words so far… 7,400 words.
Day 4…. 1,200 words.  Total words so far… 8,600 words.
Day 5…. 1,500 words.  Total words so far… 10,100 words.
Day 6…. 2,000 words.  Total words so far… 12,100 words.
Day 7…. 1,700 words.  Total words so far… 13,800 words.
Day 8…. 3,350 words.  Total words so far… 17,150 words.
Day 9…. 5,300 words.  Total words so far… 22,450 words.
Day 10…. 1,400 words.  Total words so far… 23,850 words.
Day 11…. 4,200 words.  Total words so far… 28,050 words.
Day 12…. 2,200 words.  Total words so far… 30,250 words.
Day 13…. 1,400 words.  Total words so far… 31,650 words.
Day 14…. 1,550 words.  Total words so far… 33,200 words.
Day 15…. 1,200 words.  Total words so far… 34,400 words.
Day 16…. 3,100 words.  Total words so far… 37,500 words.
Day 17…. 1,100 words.  Total words so far… 38,600 words.
Day 18…. 1,050 words.  Total words so far… 39,650 words.
Day 19…. 1,050 words.  Total words so far… 40,700 words.
Day 20…. 900 words.  Total words so far… 41,600 words.
Day 21…. 2,250 words.  Total words so far… 43,850 words.
Day 21…. 2,700 words.  Total words so far… 46,550 words.
————
Totals For Year 3, Month 3, Day 28
Writing in Public blog streak… Day 808
— Daily Fiction: 2,700 original words. Fiction month-to-date: 46,600 words  
— Nonfiction: 00 new words. Nonfiction month-to-date total: 600 words 
— Blog Posts: 800 new words. Blog month-to-date word count: 17,800 words
— E-mail: 19 e-mails. Approx. 1,100 original words.  E-mails month-to date: 614 e-mails. Approx. 30,800 words
— Covers Designed and Finished: 0. Covers finished month-to-date: 0 Covers
——–
You can support this ongoing blog at Patreon on a monthly basis. Not per post. Just click on the Patreon image. Extra stuff for different levels of support and I will be adding in more as time goes on. Thanks for your support.
Or you can just toss a tip into the tip jar with a single donation at PayPal. Either way, your support keeps me going at these crazy posts.
And thanks.



If you would like to leave a tip just hit Paypal.me/deanwesleysmith (Goes to WMG Publishing account, but I'll get it just fine.)