Just Dripping Along
Every day I sort of get some more words on the Dead Hand novel. Not that many, but that's because I haven't been giving it any focus, meaning time. Hope to change that soon. I'm enjoying writing it when I get there.
——-
THE DAY
Managed to get some errands done and then to WMG Publishing by 3:30 p.m. Headed out shortly after to walk with two other professional writers. Got way over 10,000 steps today.
Made it back to WMG Publishing offices to work on moving stuff and workshop stuff until 7 p.m.  Home to cook dinner, then back in here to do workshop assignments.
Got those done around 10:30 p.m. and then worked on Heinlein's Rules book, then took a nap for an hour or so.
Then off to watch the Voice final. Wonderful stuff. No genre restrictions on that show. Fantastic.
Then in here around 1:30 a.m. to do a session. About 1,050 words on the novel and decided that was enough for the night. Got to be up and out early tomorrow for meetings.
And I decided to not put up the next chapter on Heinlein's Rules just yet. The next few chapters are going to be the fun ones. I want to be clear and focused when I put them up.
Rule #3 just makes people angry for some reason.
Not sure why. Heinlein was basically telling writers that they can have fun and spend less time on the horrid stuff, but wow does that play against the myths. So holding off for the moment. Soon.
And I don't record the words written on it until I post the chapter, even though I wrote some.
———–
JANUARY ONLINE WORKSHOPS
All workshops have openings. 
Class #1… Jan 4th … Pitches and Blurbs
Class #2… Jan 4th … How to Write Thrillers
Class #3… Jan 4th … Adding Suspense to Your Writing
Class #4… Jan 4th … Plotting With Depth
Class #5… Jan 5th … Character Development
Class #6… Jan 5th … Depth in Writing
Class #7… Jan 5th … Designing Book Interiors
Class #8… Jan 6th … Cliffhangers
Class #9… Jan 6th … Pacing Your Novel
Class #10.. Jan 6th … Advanced Depth
Classic Workshops and Lectures are also available at any time.
—–
Topic of the Night: Getting Ready for the New Year
I have some really fun stuff planned for the new year. I have pushed off two issues of Smith's Monthly until January and will do two in January and two in February. All but Dead Hand novel is done for the four issues. And with luck, that novel will be done by the end of the year, if not by Christmas.
So basically subscribers will get an issue every two weeks for the first two months of the year. (grin)
One reason for the push is the changes at WMG Publishing. Those will all settle after the 1st.  Moving office pictures I put up a few days back is only a small part of the many changes happening.
Also, I am focused on the online workshop Plotting with Depth this month and want to try to stay focused there because it's a fun one and I'm learning a lot putting it together with Kris.
Another factor is that I want to be ready for the new January challenge which I will announce right before the end of the year. But it is going to take some preparation in structure and stuff with WMG Publishing.
I am planning on a great year of writing in 2016. We shall see how it all goes. But as you can expect, it will be crazy.
Stay tuned.
Yes, here in the middle of December I am planning the new year of my writing and publishing. I would say that you should be as well.
——
The Writing of Dead Hand: A Cold Poker Gang Mystery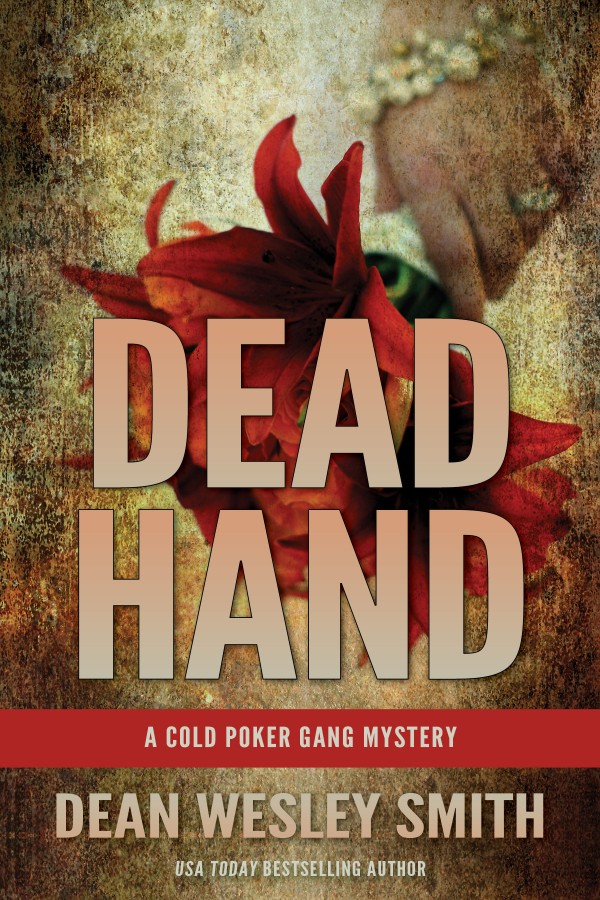 Day 1…. 700 words.  Total words so far… 700 words.
Day 2…. 1,200 words.  Total words so far… 1,900 words.
Day 3…. 1,000 words.  Total words so far… 2,900 words.
Day 4…. 1,100 words.  Total words so far… 4,000 words.
Day 5…. 1,400 words.  Total words so far… 5,400 words.
Day 6…. 2,450 words.  Total words so far… 7,850 words.
Day 7…. 3,300 words.  Total words so far… 11,150 words.
Day 8…. 1,200 words.  Total words so far… 12,350 words.
Day 9…. 1,150 words.  Total words so far… 13,500 words.
Day 10.. 2,300 words.  Total words so far… 15,800 words.
Day 11.. 3,200 words.  Total words so far… 19,000 words.
Day 12.. 2,100 words.  Total words so far… 21,100 words.
Day 13.. 1,050 words.  Total words so far… 22,150 words.
——
Totals For Year 3, Month 5, Day 15 
Writing in Public blog streak… Day 856
— Daily Fiction: 1,050 original words. Fiction month-to-date: 18,150 words  
— Nonfiction: 00 new words. Nonfiction month-to-date total: 5,000 words 
— Blog Posts: 500 new words. Blog month-to-date word count: 6,600 words
— E-mail: 26 e-mails.  Approx. 1,100 original words.  E-mails month-to date: 412 e-mails. Approx. 20,900 words
— Covers Designed and Finished: 0. Covers finished month-to-date: 2 Covers
——–
You can support this ongoing blog at Patreon on a monthly basis. Not per post. Just click on the Patreon image. Extra stuff for different levels of support and I will be adding in more as time goes on. Thanks for your support.
Or you can just toss a tip into the tip jar with a single donation at PayPal. Either way, your support keeps me going at these crazy posts.
And thanks.


If you would like to leave a tip just hit Paypal.me/deanwesleysmith (Goes to WMG Publishing account, but I'll get it just fine.)