Information Overload
Spent most of the day just sleeping, resting, doing very little. As I thought of things, I wrote them down. But mostly the brain just sort of shut down from a very intense week of learning and fun.
The form of these posts and this site will change very, very shortly. Got a huge list of things I want to do here and with my writing. So stay tuned. This will be one of the last combined posts. Going to clear the clutter. (grin)
——–
Kickstarter Update
Got more of the surveys out, including all the workshop surveys out. So we are about halfway through the surveys now and gaining on it.
———–
E-mail Strangeness
For some reason a couple dozen e-mails just appeared in my inbox from a week or so ago. Don't hesitate if you write me and I haven't responded in a day or so, write me again. Very strange, no idea why that happened. They were not trapped in my spam filter or anything. Not sure where they had been resting. (grin)
———–
Bundle Reminder!
This is a bundle you don't want to miss. And in the process of reading all the wonderful novels in the bundle, I hope you enjoy both the wonderful stories in Fiction River: Pulse Pounders and my very strange but fun golf thriller, An Easy Shot.
http://storybundle.com/thriller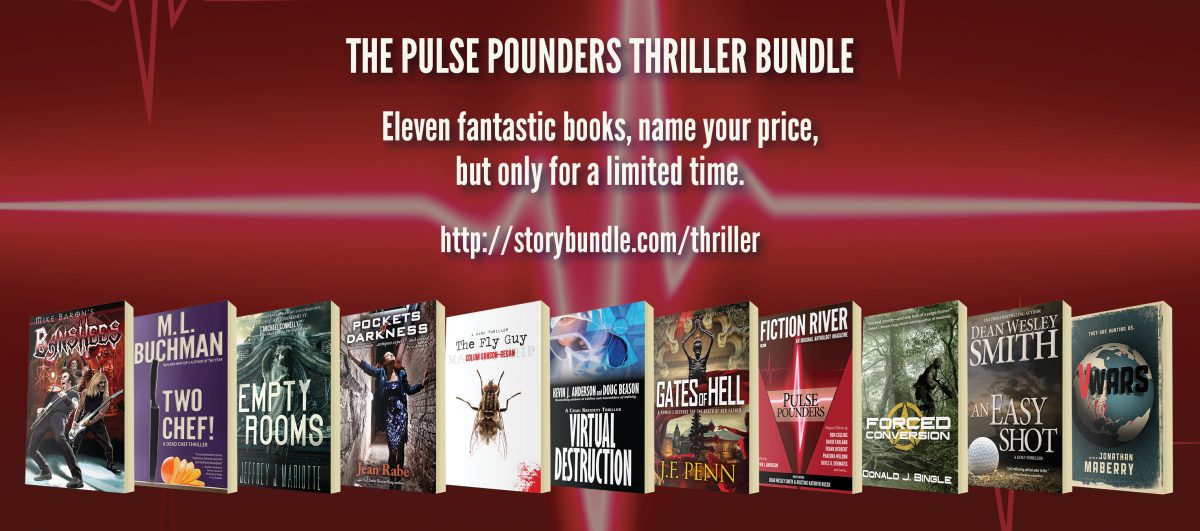 ———–
November Online Workshops Start in One Week!!

Click the workshop tab above for description and sign-up or go to www.wmgpublishingworkshops.com.
Class #41… Nov 1st … Author Voice
Class #42… Nov 1st … Point of View
Class #43… Nov 1st … Adding Suspense to Your Writing
Class #44… Nov 1st … Ideas
Class #45… Nov 1st … Character Development
Class #46… Nov 2nd … Depth in Writing
Class #47… Nov 2nd … Advanced Character and Dialog
Class #48… Nov 2nd … Cliffhangers
Class #49… Nov 2nd … Pacing Your Novel
Class #50… Nov 2nd …Expectations (Writing on the Rails)
Classic Workshops and Lectures are also available at any time.
If you are wondering what order would be best to take some of these workshops, we have done a curriculum for the workshops. You can see that at https://deanwesleysmith.com/workshop-curriculum/
————————————
Totals For Year 4, Month 3, Day 23
Writing in Public blog streak… Day 1,130
— Daily Fiction: 00 original words. Fiction month-to-date: 00 words
— Nonfiction: 00 new words. Nonfiction month-to-date total: 00 words
— Blog Posts: 200 new words. Blog month-to-date word count: 5,600 words
— E-mail: 16 e-mails. Approx. 500 original words. E-mails month-to date: 359 e-mails. Approx. 22,800 words
— Covers Designed and Finished: 0. Covers finished month-to-date: 1 Covers
———-
— Year of Short Fiction Goal: 120 stories (July 1st to June 30th). Stories finished to date: 8 stories.
— Yearly Novel Goal: 12 Novels. Novels finished to date: 2 novels.
——–
You can support this ongoing blog at Patreon on a monthly basis. Not per post. Just click on the Patreon image. Thanks for your support.