I Had No Idea How Cool Products Can Be…
Today, I got a Pulphouse Fiction Magazine mug in the mail. It is even better than I had hoped. You can get one and a subscription on the Pulphouse Fiction Magazine Kickstarter 2023 Subscription Drive. Or you can just add on one to a workshop or something.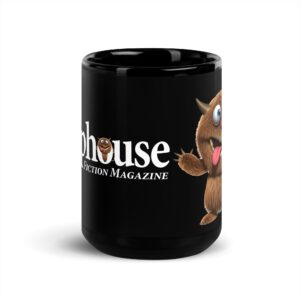 And after the Kickstarter is over we are planning a Pulphouse Shopify Store Grand Opening Sale. Stay tuned for details on that. It will have even more merchandise.
But at the same time we got the mug, WMG Publishing sent me a wonderful picture of Stephanie Writt, who is working full time for us now in our offices. And she was showing off some of the merchandise, including an amazing sweatshirt. And the pillow that is available in the Kickstarter as well.
I am just having too much fun, that is for sure. And we are just getting started.
(First video meeting for the products class Thursday at 4 pm West Coast Time if you are signed up… You can still sign up. It will be run by Steph.)