Miss Thang

The very sick elderly cat we have been trying to get back to health for the last two months didn't make it. More on all that below.
——-
The Day
Started the day off with a visit to the vet.
Then back to WMG store for the writer's meeting and lunch in the back area.
It feels sort of strange, actually, to have a writer's meeting in a store I own. In my first bookstore, both the science fiction club and the writer's workshop met in my store every week. One on Tuesday, one on Thursday.
That was in 1982-1984. Things go around and come around again in 2016.
Then I went home early to take a long nap.
Kris cooked and I did dishes, then worked on workshop assignments.
Then another nap, then I finally got to the writing around 11 p.m.
I managed 1,200 words, powering along before midnight.
Took a break to read a blog from Kris, then went downstairs to watch some television.
Back in here around 1:30 a.m. and got another 1,050 words done by 2:15 a.m.
Short break, another 1,000 words even by 3 a.m.
Short break, another 1,100 words by 4 a.m.
So 4,350 words.
————-
July Workshop Schedule
All July workshops have room. All are limited to five writers max. But at the moment there are very few in any of the workshops. No surprise in this time of great forgetting. This way every year.
All details at www.wmgpublishingworkshops.com
Class #1… July 5th … Author Voice
Class #2… July 5th … How to Write Thrillers
Class #3… July 5th … Adding Suspense to Your Writing
Class #4… July 5th … Plotting With Depth
Class #5… July 5th … Character Development
Class #6… July 6th … Depth in Writing
Class #7… July 6th … Advanced Character and Dialog
Class #8… July 6th … Cliffhangers
Class #9… July 6th … Pacing Your Novel
Class #10… July 6th … Teams in Fiction
Classic Workshops and Lectures are also available at any time.
————-
Topic of the Night: Sending Miss Thang Onward
Two months ago Kris shouted to me to come help her with a cat that had appeared on our doorstep. Actually, we had both seen the cat a few times the previous few days, but now it decided it didn't care about our powerful outdoor tomcat by the name of Toughie. The little cat needed food.
Turns out she really, really needed food. She was on the verge of dying from hunger. She wouldn't have made it through the night.
(Picture is me holding her right after her last bath.)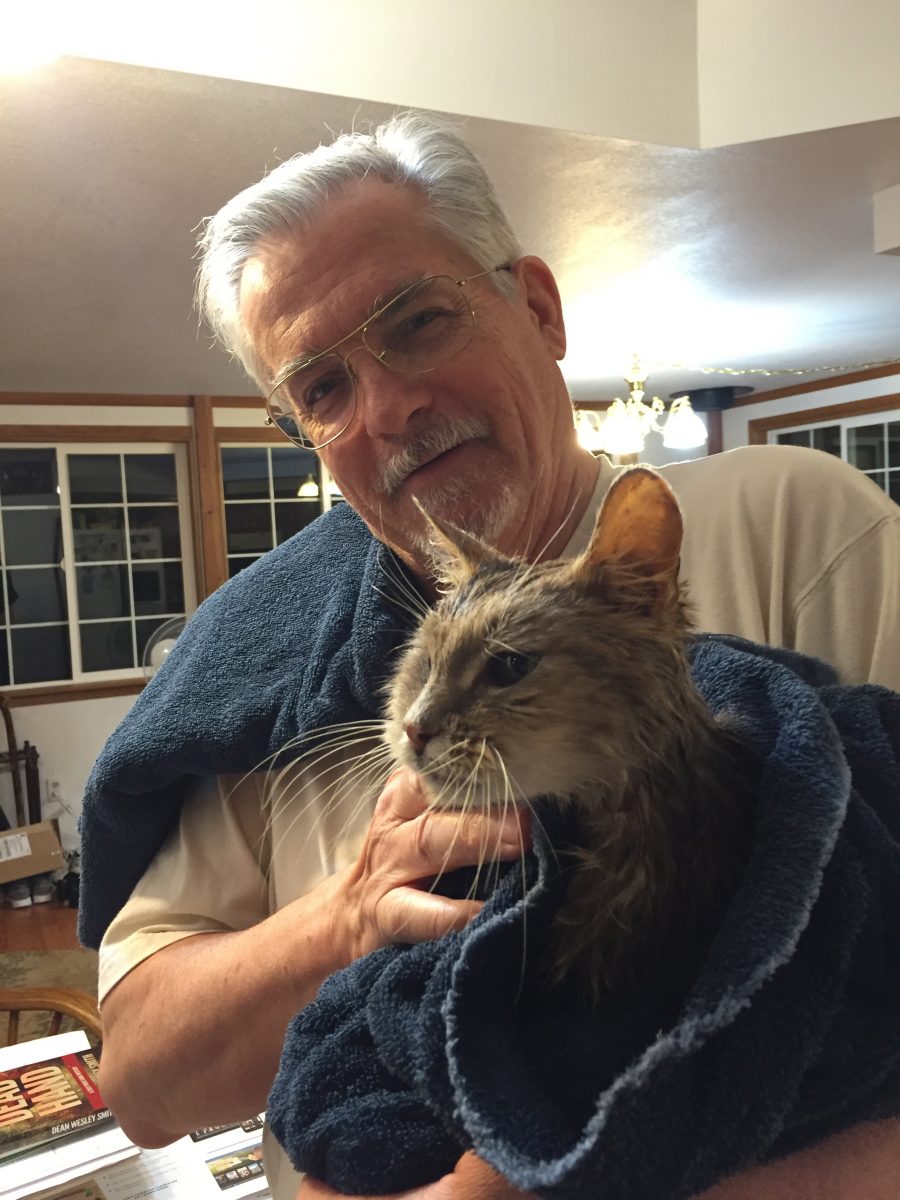 We took her to the vet who told us the cat was old and likely wouldn't make it, but we should try getting it back fed and hydrated and see what happened. She weighed four pounds and was mostly all bones.
One of the writers at the romance workshop that was going on thought about taking her home, but then, luckily, couldn't. (The little cat would not have survived the drive.) At first we had put the cat up at WMG and the wonderful writer gave the cat a bath. The cat smelled so bad and was so dirty, it was scary.
Kris and I took the cat home a few days later, putting her in two rooms we could close off from the other cats. And we fed her constantly, all kinds of food and treats, four times a day. Kris went above and beyond the call of duty making sure Miss Thang had food.
A week later we took her back to the vet, who said she was doing better, was now hydrated, and they did tests to make sure things like kidneys were working. Again we all agreed that this little girl was very old. And she needed her teeth fixed to be really comfortable eating and have a chance at longer term survival.
As time went by, it was turning out she was a love. She purred all the time and loved to be held. And she had a voice on her that made her sound like she had smoked far too many cigarettes in her day.
Every night when I watched television, she would sit beside me in my chair and purr.
She clearly had been someone's cat and we figure, more than likely, her person died and some jerk relative tossed her outside where she starved. Happens more than I want to think about around here.
So we bathed her again because she still smelled awful. Then we kept feeding her and two weeks later we took her back to get her teeth fixed. The doctors gave her a 50% chance of making it through the surgery. We all figured it was her best shot at a few more years of life, so we gave permission for the surgery and she made it through it with flying colors.
She was one tough little cat.
And she rallied after that, eating more and looking better and smelling better after yet another bath. (She complained about baths, but clearly loved them when done.)
But after three weeks, just after we stopped the antibiotics, she started a quick decline.
And she started smelling really bad again.
We gave her another bath and it didn't help. Something was really going wrong with her. And she wasn't eating much suddenly, even though she seemed to want to.
So last night she fell asleep in my arms and later, when trying to walk, she just fell over.
It was finally her time.
So this morning, after a great two-month fight, she moved on.
She was a real personality. A real love. We only had her for two months, but we will remember her always.
And I hope that the person who tossed her out or dumped her after she lost her person ends up dying of hunger and some horrid disease.
And if any of you reading this think cats should be treated that way, please go away. You aren't worth my time.
You aren't worth anyone's time, actually.
Goodbye Miss Thang. It was a pleasure to get to know you for a few months.
————-
The Writing of The Taft Ranch: A Thunder Mountain Novel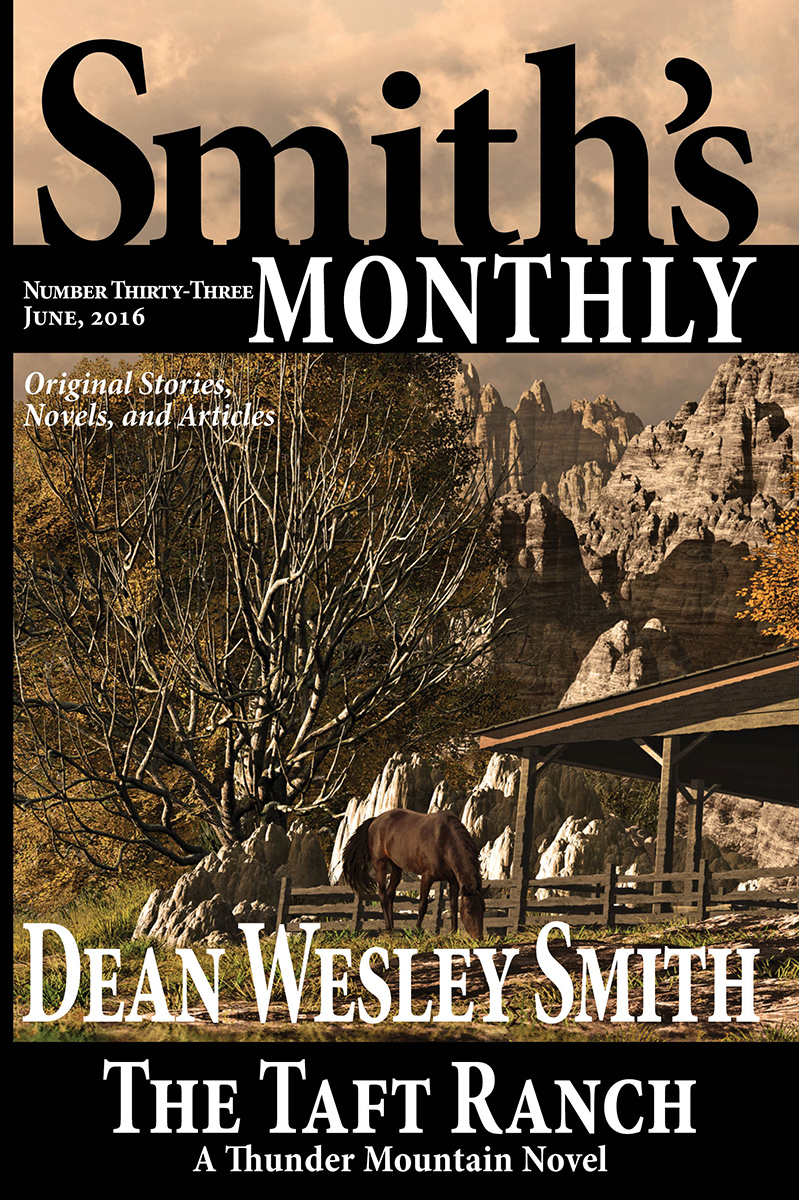 Day 1… 1,050 words.   Total words so far… 1,050 words.
Day 2… 3,300 words.   Total words so far… 4,350 words.
Day 3… 5,250 words.   Total words so far… 9,600 words.
Day 4… 5,350 words.   Total words so far… 14,950 words.
Day 5… 4,350 words.   Total words so far… 19,300 words.
——————
Totals For Year 3, Month 11, Day 19
Writing in Public blog streak… Day 1,005
— Daily Fiction: 4,350 original words. Fiction month-to-date: 44,550 words  
— Nonfiction: 00 new words. Nonfiction month-to-date total: 00 words 
— Blog Posts: 900 new words. Blog month-to-date word count: 11,600 words
— E-mail: 21 e-mails. Approx. 1,400 original words.  E-mails month-to date: 291 e-mails. Approx. 19,700 words
— Covers Designed and Finished: 0. Covers finished month-to-date: 2 Covers
——–
You can support this ongoing blog at Patreon on a monthly basis. Not per post. Just click on the Patreon image. Extra stuff for different levels of support and I will be adding in more as time goes on. Thanks for your support.
Or you can just toss a tip into the tip jar with a single donation at PayPal. Either way, your support keeps me going at these crazy posts.
And thanks.


If you would like to leave a tip just hit Paypal.me/deanwesleysmith (Goes to WMG Publishing account, but I'll get it just fine.)