Getting Refocused
Sometimes, when the world hits with far too many things, we all lose focus. I am no exception to that. But I am pretty good at getting refocused.
So I have two major things I am going to refocus on. I have a marathon I want to at least start in November, so over the next weeks I need to give that some top focus.
So that's first. Very short term. So for the next month I will be reporting at times and doing some more videos on the marathon progress. That starts on Wednesday (today as you read this, tomorrow for me).
Second, going to be bringing back in the writing in a very strong and focused way, but that's going to take a little more time. Not because it's hard, but because still some things in the way that will clear in the next month, including the running push.
So my goal on that is by the middle of November to really be pushing at writing hard, ramping up to that point.
See how you get refocused folks when things drift off? You plan it. Can't just snap back into the chair or into what you have lost attention on. You have to shift slowly but steadily.
Stay tuned.
But first thing is the distance. Tomorrow I go back to trying to hit a streak of 7 miles per day of walking and running. Some days will be much higher, others will be rest days of only walking seven miles.
And with that exercise will come a push to drop ten to twelve pounds as well.
Then the writing gets slotted in.
Other things…
— October workshops started up. If you want to jump in, look back a few posts for the list of October workshops and write me.
— Patreon supporters will be getting two issues of Smith's Monthly shortly. More than likely next week.
— Kickstarter supporters will be getting surveys in a week or so about their rewards. Maybe two weeks. Going to take us some time to get them all together. And Kickstarter has yet to finalize everything.
———————
LAST TWO DAYS OF EXTREME SF BUNDLE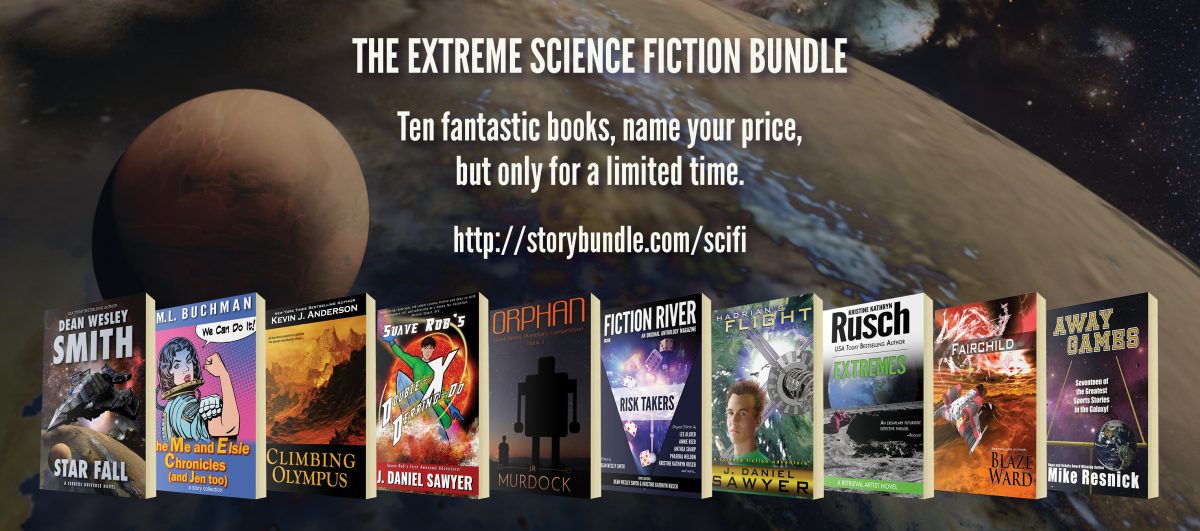 November Online Workshops

Click the workshop tab above for description and sign-up or go to www.wmgpublishingworkshops.com.
Questions about any of the workshops, feel free to write me.
Class #41… Nov 1st … Author Voice
Class #42… Nov 1st … Point of View
Class #43… Nov 1st … Adding Suspense to Your Writing
Class #44… Nov 1st … Ideas
Class #45… Nov 1st … Character Development
Class #46… Nov 2nd … Depth in Writing
Class #47… Nov 2nd … Advanced Character and Dialog
Class #48… Nov 2nd … Cliffhangers
Class #49… Nov 2nd … Pacing Your Novel
Class #50… Nov 2nd …Expectations (Writing on the Rails)
Classic Workshops and Lectures are also available at any time.
If you are wondering what order would be best to take some of these workshops, we have done a curriculum for the workshops. You can see that at https://deanwesleysmith.com/workshop-curriculum/
——————–