Lack of Sleep…
I was tired yesterday, but ended up only getting about five-and-a-half hours sleep because I needed to be out at the south stores very early to meet a collector who was selling us a large collection. So today I was really exhausted. But still got a story done anyway.
The Day
Got up around 8:30 a.m.. Then to the south Pop Culture Store and the North by Northwest Bookstore. When I pulled up the collector had unloaded a dozen large tubs of stuff and was waiting for me to tell him which store to take it to.
I finally left there after sorting a bunch of it by 1 p.m. I did normal business errands, talked with my realtor (anyone want to buy a huge fixer-upper, perfect for a flip, with an ocean view), then got back to the office to work on Pulphouse layout. At five, when the last person there left, I recorded some of the upcoming workshops.
Came home around 7:30 p.m. and did some email, took a short nap, then ate dinner and a little television. At that point I had been going for twelve hours of mostly work outside of a little television.
Did more email stuff, then talked with Kris for a while about the pace of getting things out of this house. Again today I got a full carload out, but it is not scratching the surface of what is here. Going to be a long haul.
Then another quick nap and I got to my writing computer at 11 p.m. even though I had a few things left in email to do, which I hope to do shortly.
Story #4…
Tonight I grabbed for my title sheets and combined two into "A Song For The Old Memory." I liked that title and started typing and out came a Bryant Street story. So after about a hundred words, I went back to the title and added "A Bryant Street Story" as a subtitle.
So by midnight I had 1,100 words done and took a very short break.
By 12:30 a.m. I had finished the story at 2,050 words. Typical creepy Bryant Street story.
Allsyon today did Poker Boy covers for the two short stories I have done, so tomorrow I will do covers for the two non-poker boy stories and start putting up covers.
So even totally exhausted and working solidly for twelve hours over the day, and moving a carload of stuff, I still finished a short story. But I have to say, if it were not for this challenge and short streak now starting up, I would have just said screw it and gone to watch television.
The power of a challenge and a streak.
Tonight I hope to get a full night's sleep.
—-
Day One… Scared Money… 2,700 words…. Total April words… 2,700 words.
Day Two… Rainbow Peak… 4,900 words…. Total April words… 7,600 words.
Day Three… A Beautiful History… 2,300 words…. Total April words… 9,900 words.
Day Four… A Song For The Old Memory… 2,050 words…. Total April words… 11,050 words.
————-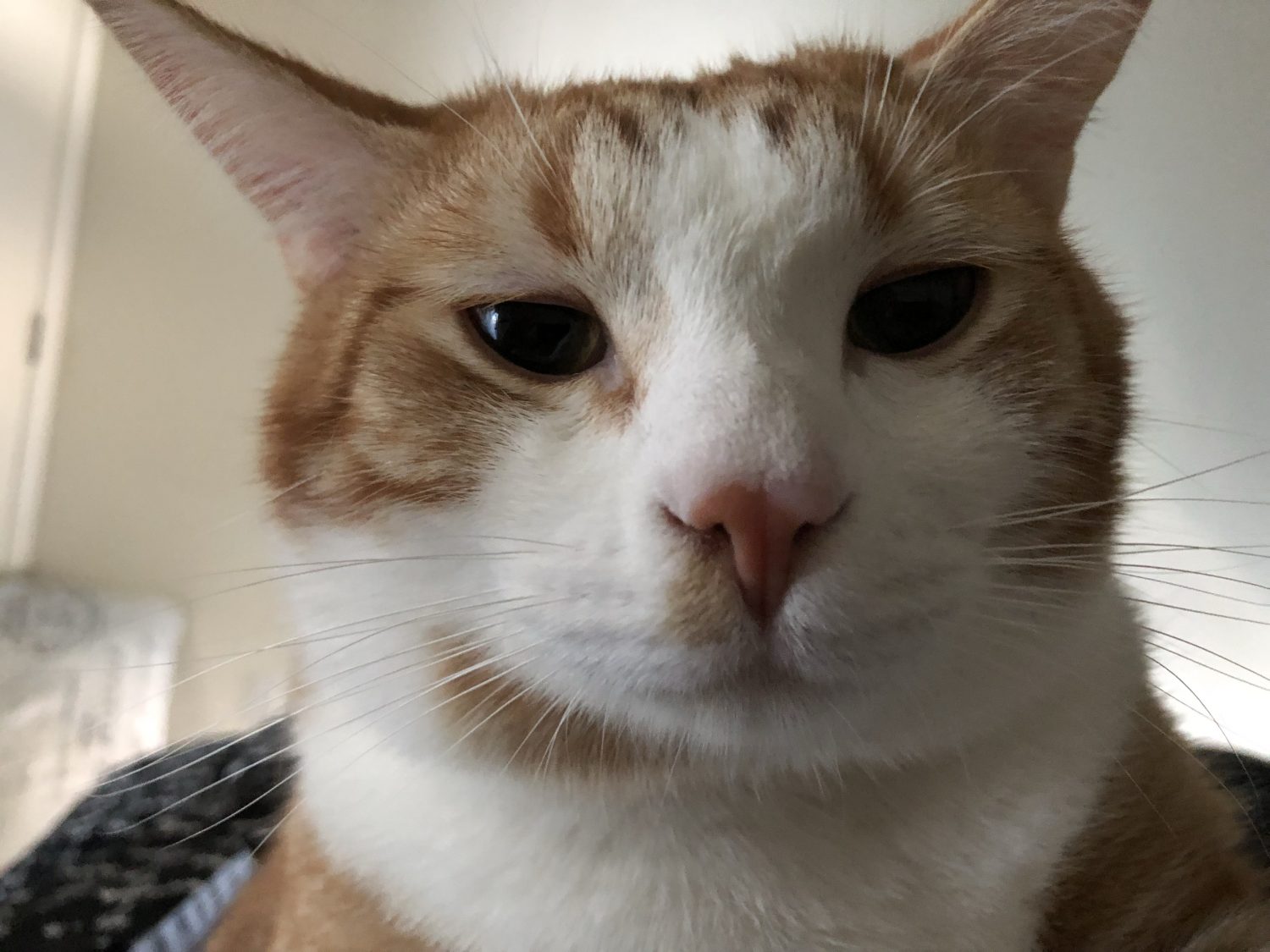 A picture of Gavin that Kris sent me from Las Vegas just because when you are tired, cat pictures are always helpful.
———–
INSIDER'S GUIDE Workshops Now Available…
— Insider's Guide to Selling Short Fiction in 2018/2019 (Starts April 8th)
— Insider's Guide to Writing Successful Space Opera (Starts April 8th)
— Insider's Guide to Writing Serial Fiction (2,000 word parts of a novel) (Starts May 6th)
— Insider's Guide to Writing Detective Fiction. (Starts May 6th)
$300 each, limited to ten writers plus lifetime subscribers. One time workshops. They will not be regular. Sorry. These will fill so don't wait for the last minute on these. And yes, you can use your credits.
THESE ARE NOW ON TEACHABLE TO SIGN UP FOR.
——————
APRIL REGULAR WORKSHOPS ARE STARTING…
Sign up directly through Teachable or if you have a credit, write me. Everyone who wrote me and signed up through me, I have sent out the letter with the code to get into each workshop. If you are using a credit for an April workshop and did not get a letter from me, write me.
Otherwise, you can sign up on Teachable.
And clearly the Time of Great Forgetting is kicking in. Many of these workshops have no one signed up yet.
https://wmg-publishing-workshops-and-lectures.teachable.com
Class #37… Apr 3rd … Think Like a Publisher
Class #38… Apr 3rd … Endings
Class #39… Apr 3rd … Point of View
Class #40… Apr 3rd … Writing Mysteries
Class #41… Apr 3rd … Speed
Class #42… Apr 3rd … Teams in Fiction
Class #43… Apr 4th … Depth in Writing
Class #44… Apr 4th … How to Edit Your Own Work
Class #45… Apr 4th … Character Development
Class #46… Apr 4th … Writing Secondary Plot Lines
Class #47… Apr 4th … Advanced Depth
Class #48… Apr 4th … Novel Structure