Comics and Workshops and Business Diversity
Comics and Workshops and Business Diversity
Last few days was a pretty good example of the business diversity of WMG Publishing Inc. Kind of fun to look at, actually.
It started off a few days ago when the electronic issues of the new Fiction River went out to subscribers. Paper copies will be headed out to authors and subscribers as soon as they arrive, which should be any day now.
I will also have out a few more issues of Smith's Monthly shortly and a new novel this month will go out. All on the publishing side of things. We are publishing about five projects a month now on a normal month. Good pace for a mid-sized publisher.
Then today (Tuesday) the October online workshops are starting up. And we just finished a week-long coast workshop and another one will be starting in under two weeks.
And then to the comics. Most of you might know that WMG owns two brick and mortar collectable stores. We are in a tourist town and I love collectables and books and comics. So those stores put a very solid base under the corporation. Both are doing great, even our new store which we only opened four months ago.
So today I got up a little early and was in Salem loading up my van with boxes of comics. Stuffed it full, actually, with a massive collection. 42 boxes. Well over 10,000 comics. (Both of our stores have very large comic sections and we sell the most expensive comics on eBay in our two eBay stores.)
Let me say this, the comics I picked up today were a good deal. (grin)
So why am I talking about all this? How about I explain that in a topic of the night?
Topic of the Night: Diversity
Kris and I got really, really, really fed up with the push of traditional publishing. Hitting deadlines set in contracts. And in our first publishing company, we got fed up with the constant struggle to hit publishing deadlines.
So seven years ago, as WMG Publishing was growing as a publisher for our work as well as others, we set a pretty simple rule. We would never promote or schedule any novel we didn't have done.
Why?
Simple, actually. This takes all pressure off the writing. It allows us to write what we want, when we want, and take as long as we want. Amazingly freeing simple rule.
And we have now, for seven years, completely held to it, with the only exception me trying to hit a monthly magazine schedule.
Kris and I have also been good at business. And one thing we learned early in publishing is never have all your stuff dependent on one publisher. That is one of the major reasons we wrote for a bunch of publishers in our traditional years. In fact, some years our trips to New York were four days of overeating as we had meetings (usually with one meal or another) with upwards of seven or eight different editors from different publishers.
So as we started into indie publishing, we both looked at the problem of having all our money fish in one kettle, all dependent on the writing. And back came that feeling of pressure.
So we looked at what we are good at, what we loved, to add in some other aspects to WMG Publishing Inc.
We both love the challenge of teaching and helping other writers move forward. So we added in the workshops which were already going before WMG. We rolled them into the company.
And then we bought back a store I had started back in 2008 and then opened another store, neither of which have any connection to writing or teaching.
In general, the publishing and book sales are still the major income stream for WMG Publishing. By far. The stores are a very distant second and the workshops a distant third from there. The focus of WMG is books and writing.
But by having the one rule of nothing gets promoted until the book is done, and by having some cash streams outside of the writing income, we have taken the pressure off of our writing, which keeps it a ton more fun.
This is a new world, folks. You have to be a business person with your writing far more than you used to have to do back in the traditional days. A different form of business person.
So look at your business and do your best to diversify you income streams where possible. Audio, paper, electronic to start with. Translation rights. Other sub rights that you can find. We do all of that at WMG besides the more extended distribution I talked about above.
So where possible, spread out your income streams. That will allow you to float through the down times and it will take some of the pressure off your production of fiction.
And that keeps the fiction fun.
Other things…
— October workshops starting up.
— Patreon supporters will be getting two issues of Smith's Monthly shortly.
— Kickstarter supporters will be getting surveys in a week or so about their rewards. Maybe two weeks. Going to take us some time to get them all together. And Kickstarter has yet to finalize everything.
———————
LAST DAYS OF EXTREME SF BUNDLE
Star Fall: A Seeders Universe Novel is in this bundle. That book is now available as I promised it would be. The official publication date isn't until November, but at the moment it is available in a fantastic bundle called The Extreme Science Fiction Bundle.
Just two days left!!!
Also notice that in this bundle there is a fantastic Retrieval Artist novel called Extremes by Kris. It also has a great novel by Kevin J. Anderson, another by Mike Resnick, and another by M.L. Buchman. Plus two books by J. Daniel Sawyer.
And also an amazing volume of Fiction River: Risk Takers. I edited that and it is a fantastic example of a Fiction River volume.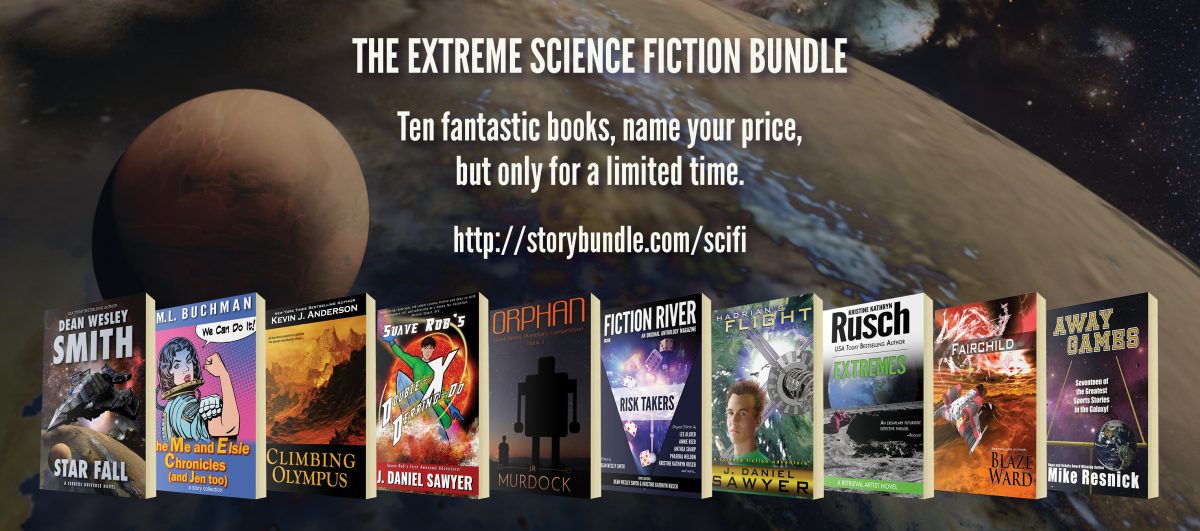 October Online Workshops Starting!!!

Click the workshop tab above for description and sign-up or go to www.wmgpublishingworkshops.com.
Questions about any of the workshops, feel free to write me.
All still have room at the moment.
Class #31… Oct 4th … The Business of Writing
Class #32… Oct 4th … Character Voice/Setting
Class #33… Oct 4th … Writing Mysteries
Class #34… Oct 4th … Speed
Class #35… Oct 4th … Teams in Fiction
Class #36… Oct 5th … Depth in Writing
Class #37… Oct 5th … Point of View
Class #38… Oct 5th … Writing Fiction Sales Copy
Class #39… Oct 5th … Writing and Selling Short Stories
Class #40… Oct 5th … Advanced Depth
Classic Workshops and Lectures are also available at any time.
If you are wondering what order would be best to take some of these workshops, we have done a curriculum for the workshops. You can see that at https://deanwesleysmith.com/workshop-curriculum/
——————–
Totals For Year 4, Month 3, Day3
Writing in Public blog streak… Day 1,110
Total Miles This Month… 14 miles
— Daily Fiction: 00 original words. Fiction month-to-date: 00 words
— Nonfiction: 00 new words. Nonfiction month-to-date total: 00 words
— Blog Posts: 1,000 new words. Blog month-to-date word count: 1,200 words
— E-mail: 31 e-mails. Approx. 2,700 original words. E-mails month-to date: 51 e-mails. Approx. 3,500 words
— Covers Designed and Finished: 0. Covers finished month-to-date: 0 Covers
———-
— Year of Short Fiction Goal: 120 stories (July 1st to June 30th). Stories finished to date: 8 stories.
— Yearly Novel Goal: 12 Novels. Novels finished to date: 2 novels.
——–
You can support this ongoing blog at Patreon on a monthly basis. Not per post. Just click on the Patreon image. Thanks for your support.