Workshop Day
I spent most of today, in one fashion or another, on workshops.
For those of you who missed it, the workshops now have a curriculum, or at least a suggested order to take them. That is under the Workshop Curriculum tab at the top of the page.
The entire things is broken down into core workshops, business workshops, craft workshops, and genre workshops to make them easier to find. I also in two areas suggest order and what you should take first.
And for those of you who signed up for workshops through our Kickstarter drive, the first week of October I'll send out a survey through Kickstarter to get workshops you might desire. And you don't have to decide then either. We can hold workshops off for a future point, no problem at all.
October workshops still have slots in all workshops (they are not included in the Kickstarter program), including the new Point of View workshop. And yes, we will teach you how to float viewpoints and when to do it and when not to. As well as so, so, so much more.
Having control of viewpoints in your story is critical to reader enjoyment. And if you think viewpoints are simple, you are dead wrong. In fact, the Point of View workshop might be one of our most complex.
It will be a fun workshop, that's for sure.
———————
Smith's Monthly
Patreon supporters and Smith's Monthly subscribers, two issues are working through the process with a third one to follow shortly. Stay tuned.
———————
Exercise Today
Got seven miles in and just under a mile running of that seven miles. Slowly picking up speed and distance, even tired and very busy as I was today.
————————
Only One Day Left!!
Just ONE DAY left to grab a fantastic fantasy bundle. It's called The Epic Fantasy Bundle. Kris has a full novel in it called Heart Readers and it also has novels by Allen Drury, Brandon Sanderson and Tracy Hickman, among others. Can't go wrong with that list of writers. Wow!!
And it has Fiction River: Unnatural Worlds in it. Kris and I edited this one and it's a great one.  You can get the bundle at http://storybundle.com/fantasy
Don't wait on this one. It ends in one day and will then go away forever!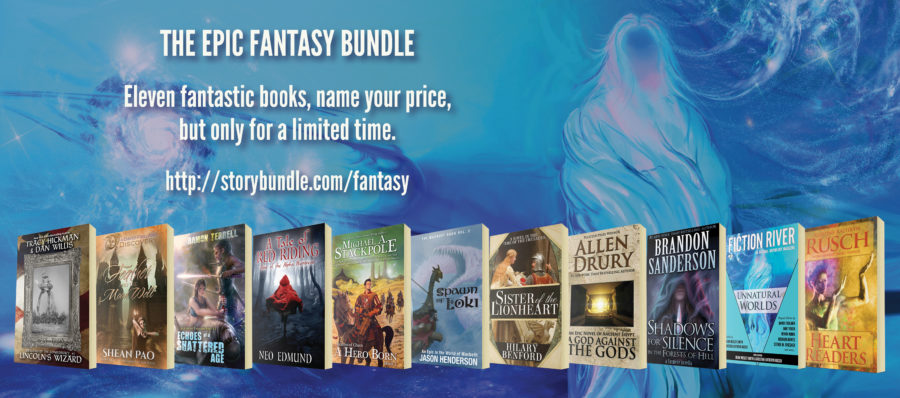 ——————–
Totals For Year 4, Month 2, Day 22
Writing in Public blog streak… Day 1,099
Over 10,000 steps streak… Day 82
Running Miles This Month… 10 miles
Total Miles This Month… 116 miles
— Daily Fiction: 00 original words. Fiction month-to-date: 4,700 words  
— Nonfiction: 700 new words. Nonfiction month-to-date total: 1,500 words 
— Blog Posts: 200 new words. Blog month-to-date word count: 7,000 words
— E-mail: 14 e-mails. Approx. 600 original words.  E-mails month-to date: 331 e-mails. Approx. 21,400 words
— Covers Designed and Finished: 0. Covers finished month-to-date: 0 Covers
———-
— Year of Short Fiction Goal: 120 stories (July 1st to June 30th). Stories finished to date: 8 stories.
— Yearly Novel Goal: 12 Novels. Novels finished to date: 2 novels.
——–
You can support this ongoing blog at Patreon on a monthly basis. Not per post. Just click on the Patreon image. Thanks for your support.