All Workshops Switched Over…
July online workshop list is now up. But a warning, the workshops that have no one signed up might get either pushed back or switched to classic. We will be announcing two new online workshop starting in July. We will only replace workshops with the two new ones that have no one signed up. And right now, that's most of them. (Editing, Endings, and Depth are safe.)
Stay tuned for the announcement of the two new online workshops very shortly, plus I will put up the online workshop schedule for September through December..
————-
Cover Workshop is going great!
All but one has their cover template back and are now working on their series covers. I will post all sixteen covers here that Allyson did. They are stunning.
And yes, I said 16. We were going to cut sign-ups at ten, but after one day had we had 12 and before I could shut down sign-ups, four more had signed up. The Series Branding workshop filled in less than two days. But Allyson tells me she is having great fun. I'm trying to convince her to do a mystery series one and/or a science fiction series one. Time will tell.
——–
Finishing A Novel
I will finally finish that novel tomorrow night. Got some work on it tonight after all the workshop stuff. Then I will turn in two Smith's Monthly editions, take about four days to finish another book that is almost done, and turn in a third issue. Then I want to write a third novel by the end of the month and turn in a fourth issue.
———-
June Short Story Challenge
So far that is going great and a number seem to be on track so far. I have let everyone get a week under the belts before I start responding. I will start tomorrow night on that. No one in May hit the 30 in 30 days, but the four signed up did fantastic!!
——–
MOONSCAPES BUNDLE
Wanted to remind everyone about the great science fiction bundle that is active at the moment. This will end. Some really fantastic summer reading here by some top writers. But if nothing else, grab this to support Ablegamers, a fantastic cause.
https://storybundle.com/moonscapes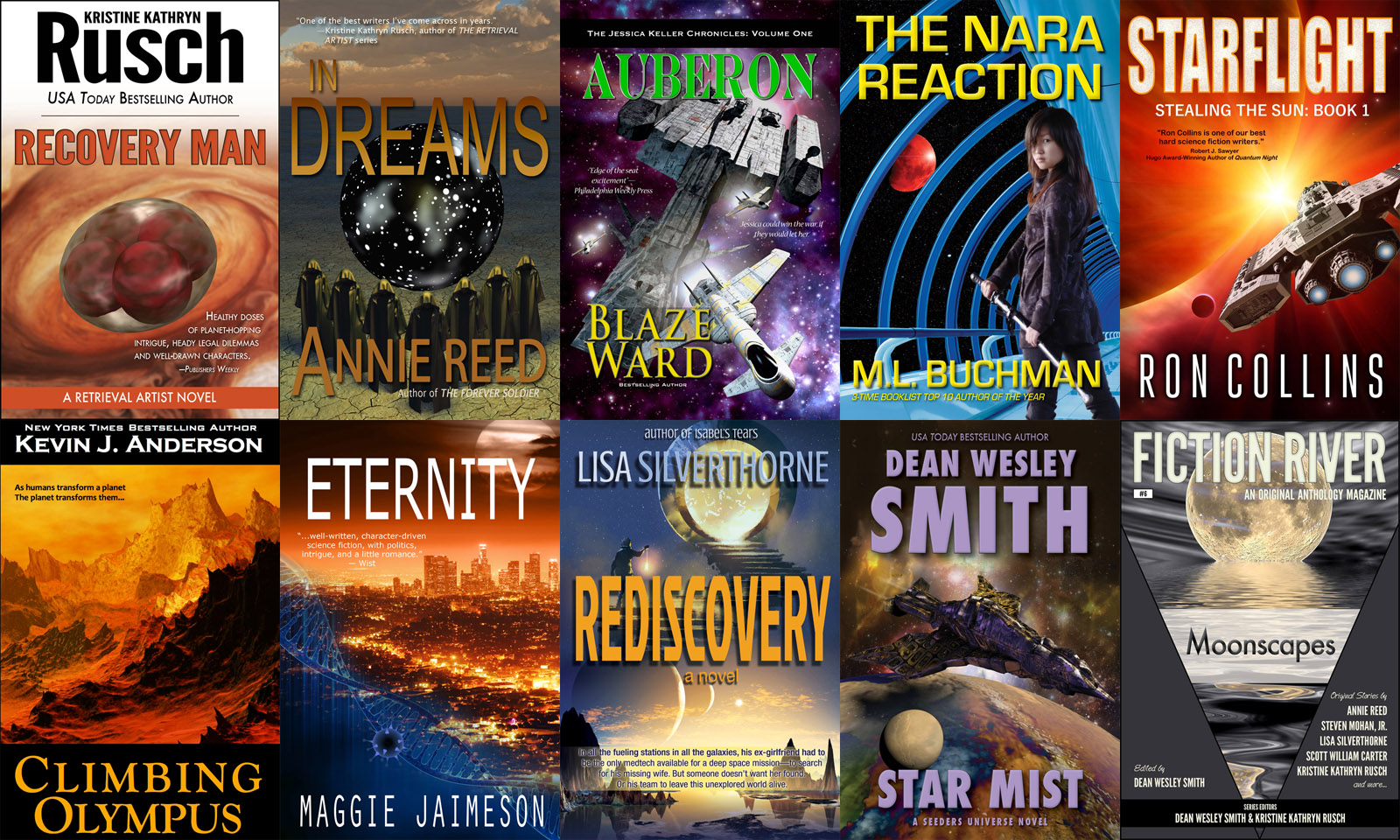 The initial titles in the Moonscapes Bundle (minimum $5 to purchase) are:
Starflight by Ron Collins
The Nara Reaction by M. L. Buchman
Recovery Man by Kristine Kathryn Rusch
Auberon by Blaze Ward
In Dreams by Annie Reed
If you pay more than the bonus price of just $15, you get all five of the regular titles, plus five more!
Eternity by Maggie Jaimeson
Rediscovery by Lisa Silverthorne
Climbing Olympus by Kevin J. Anderson
Fiction River: Moonscapes by Fiction River
Star Mist by Dean Wesley Smith
This bundle is available only for a limited time via http://www.storybundle.com. It allows easy reading on computers, smartphones, and tablets as well as Kindle and other ereaders via file transfer, email, and other methods. You get multiple DRM-free formats (.epub and .mobi) for all books!
It's also super easy to give the gift of reading with StoryBundle, thanks to their gift cards – which allow you to send someone a code that they can redeem for any future StoryBundle bundle – and timed delivery, which allows you to control exactly when your recipient will get the gift of StoryBundle.
Trust me, folks, this is some fantastic summer reading. And for $15 and a few bucks to AbleGamers, you can't go wrong here.
——————–
JULY ONLINE WORKSHOPS
Yes, I said JULY. Wow, time is just flashing past.
All have openings at the moment. Information at
www.wmgpublishingworkshops.com
Any questions at all, feel free to write me. And if you are confused as to which workshop to take first, we have a full curriculum posted on its own page.
Class #1… July 11th … Author Voice
Class #2… July 11th … Business
Class #3… July 11th … Endings
Class #4… July 11th … Writing Fiction Sales Copy
Class #5… July 11th … Writing and Selling Short Stories
Class #6… July 12th … Depth in Writing
Class #7… July 12th … Advanced Character and Dialog
Class #8… July 12th … Cliffhangers
Class #9… July 12th … Pacing Your Novel
Class #10… July 12th … How to Edit Your Own Work
———-
You can support this ongoing blog at Patreon on a monthly basis. Not per post. Just click on the Patreon image. Thanks for your support.