How Long Does It Take Me to Write A Novel?
I Get That Question…
Honestly, most professional writers do all the time. Of course, the question comes from people who never read this blog. And without lying, I often tell them what they want to hear. (I never tell them I have written a full novel in five days while traveling.)
For example, this book I just finished tonight I started back in late December. So to make those who believe in myths, I can safely say it takes me about six months to write a short novel.
Let's not mention that I did a novel in five days while in a hotel room in Las Vegas in January. Or have written two nonfiction books in that same amount of time.
Nope, took me six months to write a novel. Of course, I plan on writing six more in the next three months, but that won't count. If you believe in the myth, this must be my best book ever because it took me six months.
Actually, if that is the criteria, my best book ever would be Star Trek: Next Generation: A Hard Rain. Took me over a year to finish that one. But don't mention I wrote ten other novels between starting Hard Rain and finishing it. (grin)
Damn I love it when a book gives me the truth to a myth on how long it takes to write a novel. I can make so many beginning writers happy now. (grin)
Here is the blurb and cover of the book I just finished. It will be in the next available Smith's Monthly. Finally.
THE DEEP SUNSET: A GHOST OF A CHANCE NOVEL
Attorney Gail Kelly dies suddenly on her way to dinner and within minutes meets Dan Carson, aka Sunset.
A Ghost Agent for over a hundred years, Sunset offers to help train Gail. But somewhere in the lust for each other (yes, ghosts can be horny) they stumble into a plan that could destroy the world.
Dan and Gail and other Ghost Agents must join up with Poker Boy and his team and a bunch of gods to try to save the world just one more time.
USA Today bestselling author Dean Wesley Smith brings you the fifth book in the crazy Ghost of a Chance series.
———–
New Workshops Will Be Announced In A Couple of Days.
July online workshop list is now up. But a warning, the workshops that have no one signed up might get either pushed back or switched to classic. We will be announcing two new online workshop starting in July. We will only replace workshops with the two new ones that have no one signed up. And right now, that's most of them. (Editing, Endings, Short stories, and Depth are safe.)
Stay tuned for the announcement of the two new online workshops very shortly, plus I will put up the online workshop schedule for September through December.
——–
MOONSCAPES BUNDLE
Wanted to remind everyone about the great science fiction bundle that is active at the moment. This will end. Some really fantastic summer reading here by some top writers. But if nothing else, grab this to support Ablegamers, a fantastic cause.
https://storybundle.com/moonscapes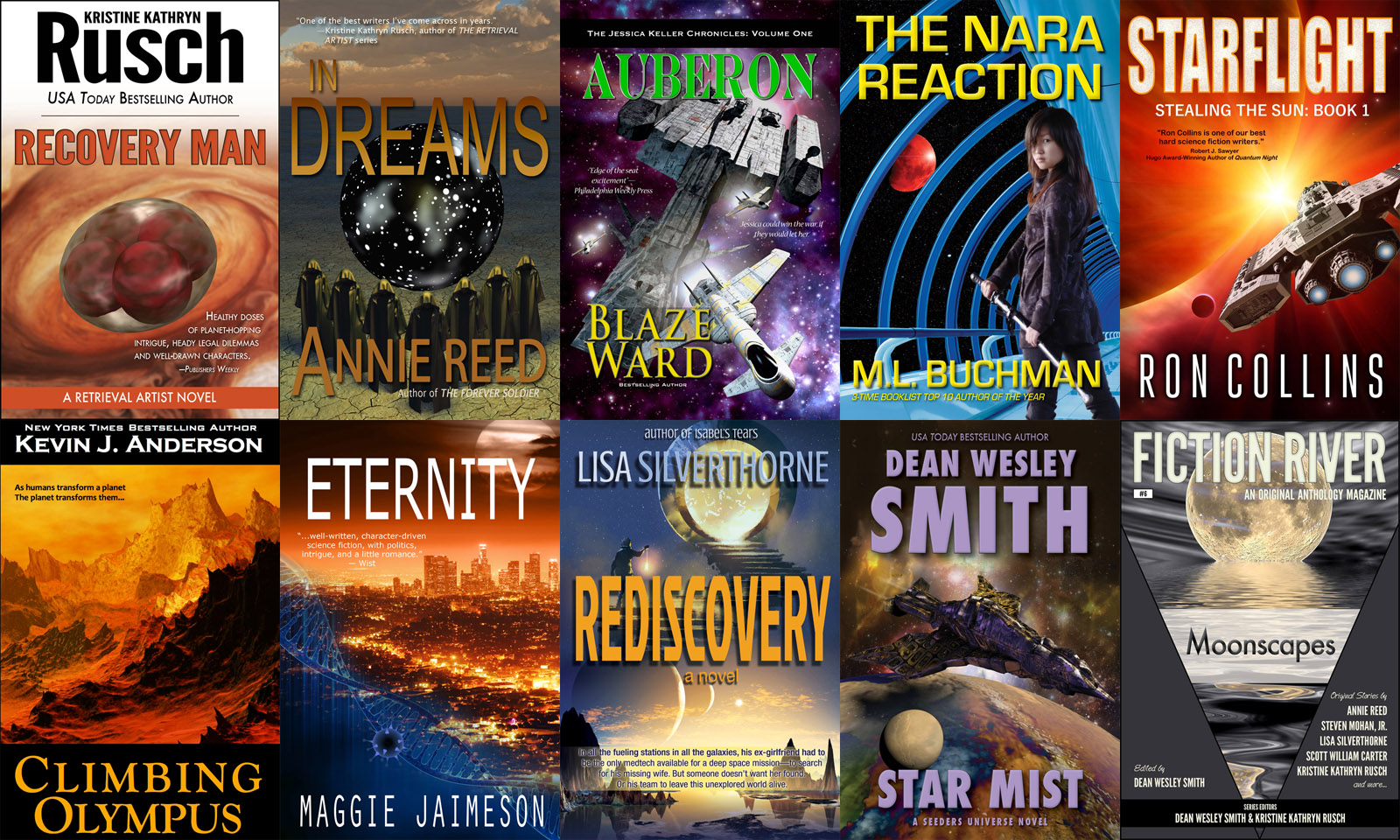 This bundle is available only for a limited time via http://www.storybundle.com. It allows easy reading on computers, smartphones, and tablets as well as Kindle and other ereaders via file transfer, email, and other methods. You get multiple DRM-free formats (.epub and .mobi) for all books!
It's also super easy to give the gift of reading with StoryBundle, thanks to their gift cards – which allow you to send someone a code that they can redeem for any future StoryBundle bundle – and timed delivery, which allows you to control exactly when your recipient will get the gift of StoryBundle.
Trust me, folks, this is some fantastic summer reading. And for $15 and a few bucks to AbleGamers, you can't go wrong here.
——————–
JULY ONLINE WORKSHOPS
Yes, I said JULY. Wow, time is just flashing past.
All have openings at the moment. Information at
www.wmgpublishingworkshops.com
Any questions at all, feel free to write me. And if you are confused as to which workshop to take first, we have a full curriculum posted on its own page.
Class #1… July 11th … Author Voice
Class #2… July 11th … Business
Class #3… July 11th … Endings
Class #4… July 11th … Writing Fiction Sales Copy
Class #5… July 11th … Writing and Selling Short Stories
Class #6… July 12th … Depth in Writing
Class #7… July 12th … Advanced Character and Dialog
Class #8… July 12th … Cliffhangers
Class #9… July 12th … Pacing Your Novel
Class #10… July 12th … How to Edit Your Own Work
———-
You can support this ongoing blog at Patreon on a monthly basis. Not per post. Just click on the Patreon image. Thanks for your support.