Not a Word of Fiction Today…
Also, a link to a great Kris podcast…
Spent all afternoon, after getting up early, working to finish off the areas in the big building, from priming and painting a bunch of walls, plus cleaning floors and so on. And thankfully, Josh did the windows. But it's done.
Then tonight worked on workshop stuff all night, until 5:30 in the morning.
Letters are all out to those writers signed up for the January online workshops. If you thought you were signed up and didn't get a letter from me, write me. And still more than enough time to get into any of the workshops. They start Tuesday and Wednesday.
Also worked on the newly announced Coast Workshops, taking sign-ups and answering questions.
The five coast workshops with openings are these:
Science Fiction… April 2017 (only one left now)
Mystery… September 2017
Business Master Class… October 2017
Anthology Workshop… Feb/March 2018
Fantasy… April 2018.
Any questions at all, write me after reading the details under the coast workshop tab.
__________
Kris was interviewed for a great podcast just lately. Worth the listen, folks. Fun.
http://gorgenewscenter.com/kristine-kathryn-rusch-women-of-futures-past/
—————-
JANUARY ONLINE WORKSHOPS START ON TUESDAY…
All workshops still have openings at the moment. In fact very few people signed up for any of these. Even the new one, Endings Workshop, has lots of room.
That sort of surprises me, actually. I thought endings would be a more interesting topic for a lot of people. Actually, I'm having a real challenge recording it. Very complex topic.
For example, I'll bet most writers don't even understand how pacing can influence an ending, and not just the pacing of the ending. Yup, complex to say the least. And fun for me to figure out and record even though very few people have signed up for it.
www.wmgpublishingworkshops.com
Any questions at all, feel free to write me. And if you are confused as to which workshop to take first, we have a full curriculum posted on its own page.
Class #1… Jan 3rd … Author Voice
Class #2… Jan 3rd … Writing Thrillers
Class #3… Jan 3rd … Endings
Class #4… Jan 3rd … Ideas
Class #5… Jan 3rd … Character Development
Class #6… Jan 4th … Depth in Writing
Class #7… Jan 4th … Advanced Character and Dialog
Class #8… Jan 4th … Cliffhangers
Class #9… Jan 4th … Pacing Your Novel
Class #10… Jan 4th …Expectations (Writing on the Rails)
—————
The Writing of HEAVEN PAINTED AS A SUNSET: A Ghost of a Chance Novel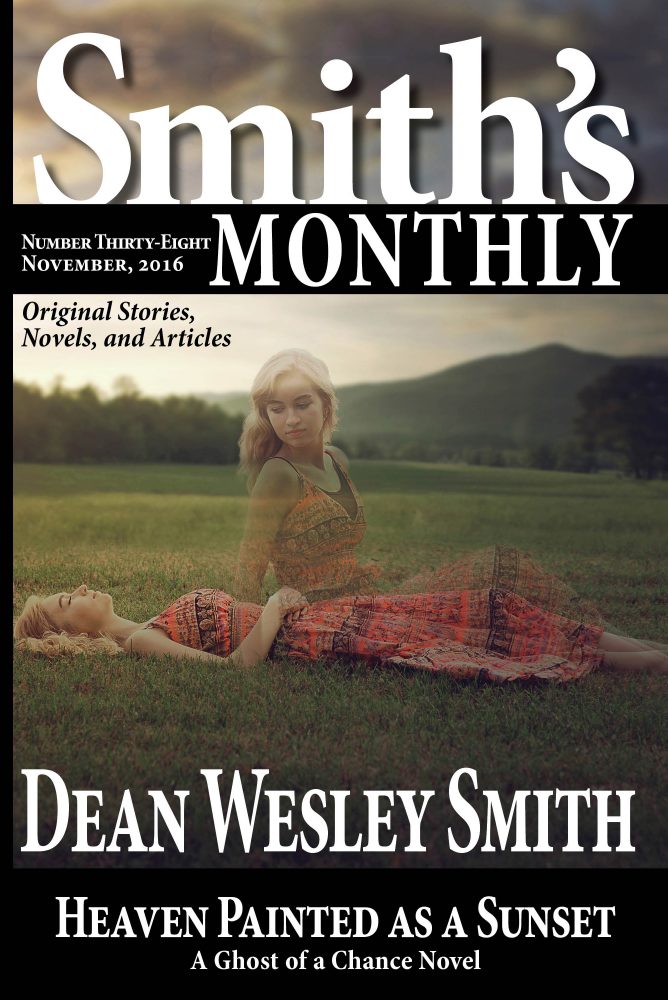 Short Stories Used in Book.  Words… 7,100 words
 Day 1… Words written… 1,100.  Total so far… 8,200 words.
 Day 2… Words written… 3,100.  Total so far… 11,300 words.
 Day 3… Words written… 1,400.  Total so far… 12,700 words.
 Day 4… Words written… 00.  Total so far… 12,700 words.
 Day 5… Words written… 00.  Total so far… 12,700 words.
 Day 6… Words written… 2,600.  Total so far… 15,300 words.
 Day 7… Words written… 00.  Total so far… 15,300 words.
—————–
Tracking Running
December 30, 2016
4 miles. No running.
Weight 189… 19 more to 170 goal.
Month to date distance: 131 miles
14  Days until the first half-marathon…
Note about the exercise day: Just sucks… no focus.
————–
Tracking Word Counts
December 30, 2016
Totals For Year 4, Month 5, Day 30 (Year started August)
Writing in Public blog streak… Day 1,198
——–
— Daily Fiction: 00 original words. Fiction month-to-date: 43,200 words  
— Nonfiction: 00 new words. (from last night) Nonfiction month-to-date total: 2,600 words 
— Blog Posts: 400 new words. Blog month-to-date word count: 11,800 words
— E-mail: 63 e-mails.(I am not kidding.)  Approx. 6,100 original words.  E-mails month-to date: 548 e-mails. Approx. 44,800 words
— Short Fiction Goal: 120 stories (July 1st to June 30th). Stories to date: 8 stories.
— Novel Goal: 12 Novels. Novels finished to date: 3 novels.
Comments About the Writing of the Day: Tomorrow will be a new day. 
—————————
You can support this ongoing blog at Patreon on a monthly basis. Not per post. Just click on the Patreon image. Thanks for your support.