1/10/17 Daily… Some pictures
Another daily post outside of the book chapter…
Compared to the first two days, this was an easy day. Got to Vegas in six plus hours, no issues. All settled in.
Some pictures of where I will be writing. This suite in Vegas is huge and comfortable. I will not be suffering. (grin) First picture is looking from the front foyer past the living room area toward one window. This is a corner suite on the 17th floor. Fantastic views.
Second picture is of where I have the computer set up.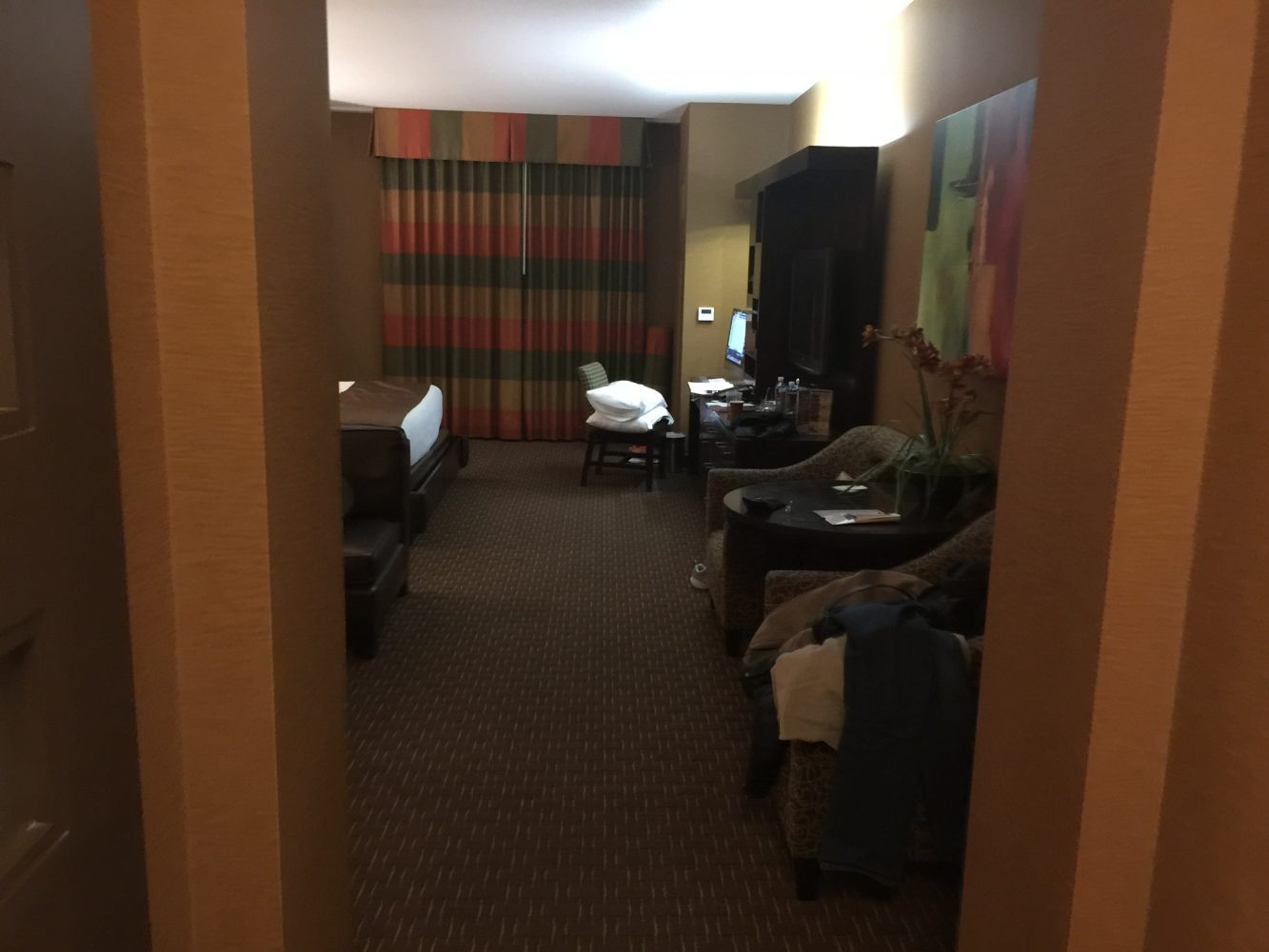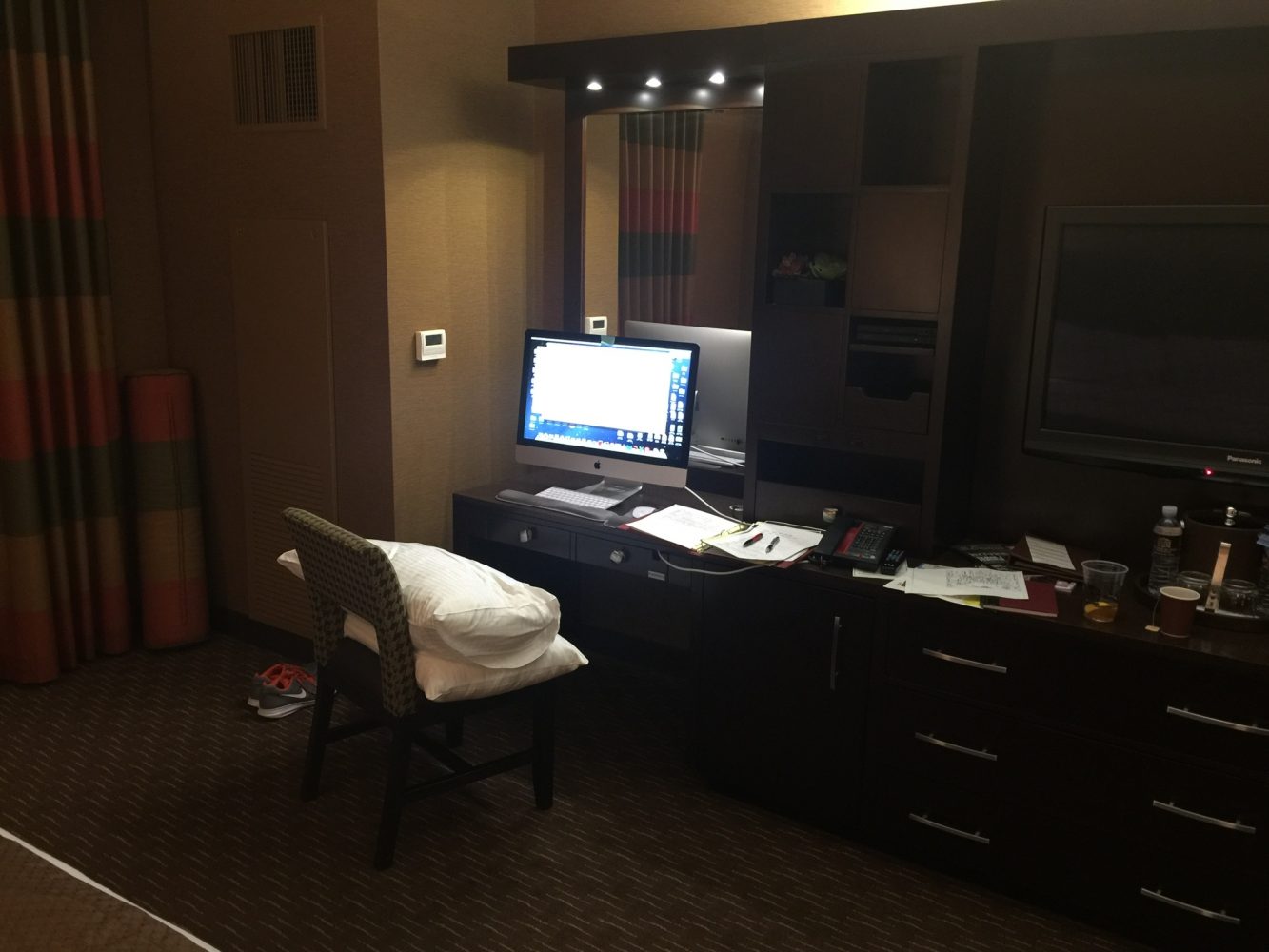 What I Learned Today (Streak Day 10)
For some reason, every time I come to Las Vegas, I realize how much I feel at home here. Not sure why I have to learn that over and over. I suppose it feels like a second home because since 1972 I have been coming here to play poker (and in the early days play in Gin tournaments). And then for a time I played blackjack.
And I paid my way through architecture and law school mostly in this town playing cards.
And no matter how much the town grows, to me it still feels the same. It's good to be back.
Another Picture
Kris and went ten miles down the coast on Christmas Day to do a run along an ocean sidewalk. Beautiful day. And a great picture of the Oregon Coast, Kris in her running gear, and the car I am driving on this trip.  And yes, the license plate does say WMG-3.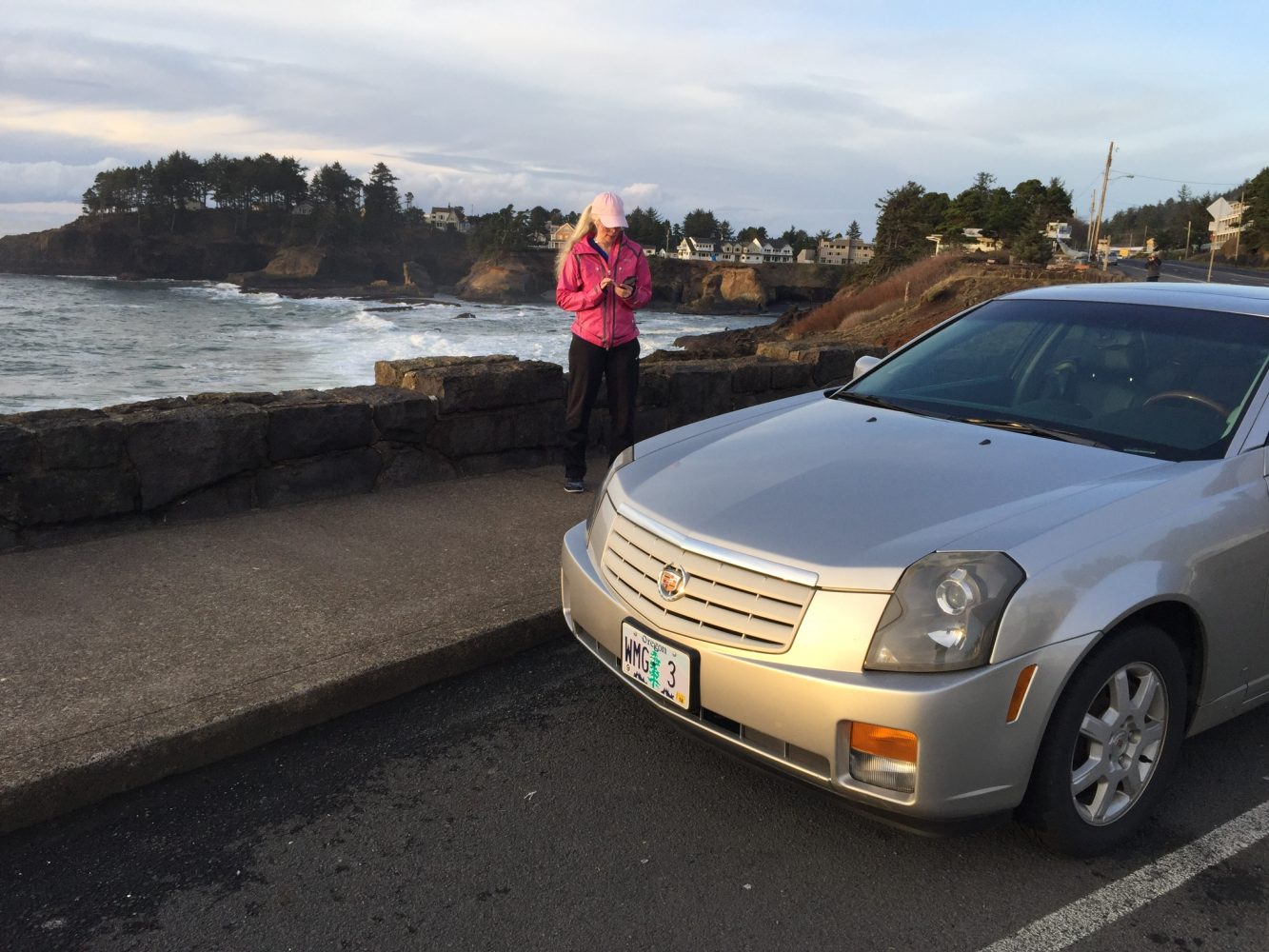 —————-
FEBRUARY ONLINE WORKSHOPS
Even though I am traveling, I am still taking sign-ups for the February and March and April and May online workshops. Got my full set-up with me, same as is in my office. So no worries.
Full lists at:
www.wmgpublishingworkshops.com
Any questions at all, feel free to write me. And if you are confused as to which workshop to take first, we have a full curriculum posted on its own page.
Class #11… Feb 7th … Endings
Class #12… Feb 7th … Point of View
Class #13… Feb 7th … Writing Mysteries
Class #14… Feb 7th … Speed
Class #15… Feb 7th … Teams in Fiction
Class #16… Feb 8th … Depth in Writing
Class #17… Feb 8th … Plotting With Depth
Class #18… Feb 8th … Writing Fiction Sales Copy
Class #19… Feb 8th … Writing Secondary Plot Lines
Class #20… Feb 8th … Advanced Depth
——————–
Tracking Running… January 10, 2017
5 miles. No running.
Weight (no scale on the road).
Month to date distance: 36 miles
3 Days until the first half-marathon…
This half marathon will be painful, at best.
————–
Tracking Word Counts… January 10, 2017
Totals For Year 4, Month 6, Day 10 (Year started August)
Writing in Public blog streak… Day 1,209
— Daily Fiction: 00 original words. Fiction month-to-date: 14,500 words  
— Nonfiction: 1,100 new words. (from last night and tonight) Nonfiction month-to-date total: 3,200 words 
— Blog Posts: 400 new words. Blog month-to-date word count: 3,600 words
— E-mail: 36 e-mails. Approx. 2,200 original words.  E-mails month-to date: 219 e-mails. Approx. 14,500 words
— Short Fiction Goal: 120 stories (July 1st to June 30th). Stories to date: 8 stories.
— Novel Goal: 12 Novels. Novels finished to date: 3 novels.
Comments About the Writing of the Day: Focused forward to a new challenge.
—————————
You can support this ongoing blog at Patreon on a monthly basis. Not per post. Just click on the Patreon image. Thanks for your support.